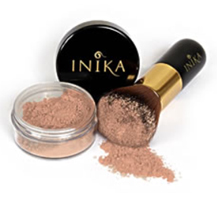 The
Inika Vegan Kabuki Brush
works in perfect harmony with Inika Mineral Cosmetics and Powders and will never drop hair. It is a thick, luxurious brush that is soft and silky to the skin.
Inika's Bronzers
are made from all natural ingredients, they are 100 % Vegan and 100% Cruelty Free. These are beautiful, natural looking, pigment based bronzers which will add colour for all skin types, plus a little summer sparkle for those hot balmy nights out on the town!!
Inika Bronzers add sumptuous, sexy colour to your skin that looks and feels natural, no orange fake tan tones here! With a built in all natural sunscreen, these bronzers can be worn all over the face or body for a gorgeous, natural, sun kissed look. The unique properties of minerals are resistant to water which makes Inika Mineral cosmetics the best thing to wear on a summer's day!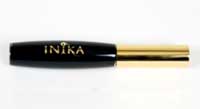 Inika Mascara
is specially formulated for people with sensitive eyes. It does not clump or drop residue that gives you panda eyes. Non irritating and long lasting mascara. This natural mascara has to be tried to be believed. It is super hypo-allergenic and made from the most pure and natural ingredients.
More info on Inika Mineral Cosmetic Range:
www.girl.com.au/natural-make-up.htm
&
www.femail.com.au/inika-natural-mineral-cosmetics.htm
Inika Vegan Brush & Bronzer $59.95
Inika Mascara $29.95
Available through
www.inika.com.au