OPI, recognised internationally as the world's leading nailcare brand in the professional market will be releasing the Australia Summer Collection, on 2nd February 2007, acknowledging antipodeans, down under.
The fair dinkum Australia Collection offers a range of delicate and vivid shades ranging from toffee bronze, soft pinks and vivid reds. The shades have been selected so as to perfectly compliment 2007 fashion trends. The Australia Collection is a true blue reflection of the Australian landscape, culture and free spirited attitude.
With nails like these you'll be Fit for a Queensland - an elegant white with a royal iridescence, or spring into Kangarooby - a deep ruby red you'll jump for!
Didgeridoo Your Nails? Have a sticky beak at this gleaming mauve that hits all the right notes. Hey - you flaming Galah! Fair Dinkum Pinkum is a genuinely sparkling pink!
Say G'Day to Brisbane Bronze - A down under wonderful shade of golden brown. Struth - Don't Melbourne the Toast - this warm pink-brown is just right as it is.
X marks the spot with Red Hot Ayres Rock - A landmark shade of hot desert red. And if anyone asks? The Tasmanian Devil Made Me Do It - a devilish shade of red-orange.
Perhaps something even more dinkie-di? Koala Bear-y - a beary irresistible, bear-y beautiful shade of berry!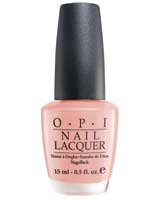 Canberra't Without You - Fair go, no one should miss this barely-there, nude glimmer! And who loves this sophisticated wine shade? Have a gander at Suzi Loves Sydney -a deadest gorgeous ruby rich dark burgundy.
Need some originality? How about A True Aboriginal - express your style in this gleaming coral, with a kiss of pink.
The Australia Collection Nail Lacquers feature OPI's exclusive ProWide™ Brush, designed to hold more Nail Lacquer, spread it more quickly and evenly, and deliver a smooth, streak-free application.
Lacquers RRP $19.95.
OPI's Australian Collection is available from select beauty salons and David Jones Australia wide. For your nearest OPI stockists, please call 1800 358 999.
Review: OPI Nail Lacquers glide on easily for a smooth even colour.