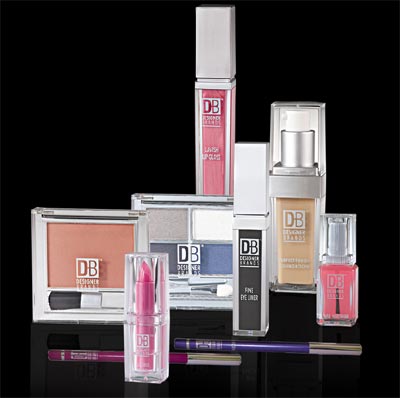 For designer divas - women who both covet and collect designer goodies for their quality, luxury, and luring appeal - there's now a cosmetic collection with haute couture quality at ready to wear prices.

Designer Brands offers designer brand quality cosmetics for every woman. The Designer Brands research team has been on a quest for the past four years, researching the stand out cosmetic brands and products across the globe, with the brief to take the best elements of formulation and design and meld those superior elements into a new and exciting cosmetic collection, with a surprising twist - at a price that every woman can afford!

Designer Brands offers superior formulations in a cosmetic collection that encompasses the most desired and popular products, housed in highly functional and extremely fashion-forward packaging. Whether you are woman who is a devotee of a particular cosmetic brand or one who is in search of the holy grail of cosmetics - makeup artist quality at an everyday woman's price - Designer Brands is sure to appeal.

Celebrity makeup artist, Fiona Corrigan-Robertson, who has worked with high profile celebrities such as Nicole Kidman, Naomi Campbell, Elizabeth Hurly and Liv Tyler, to name a few, is hooked on Designer Brands.

"When I first came across the Designer Brands Cosmetics I was struck by the simple yet stylish packaging. Upon using the products I quickly realised that the formulations were of a professional makeup artist quality.

"The foundations are soft, creamy and dewy and blend really well. They feel like silk on the skin and have an effortless application. The lip glosses come in great fruity flavours and have a lovely slanting application. The blush is silky soft and fine, which allows layering to build up colour without blotchiness. The concealer offers opaque coverage that is creamy yet lightweight with a firm consistency - this won't be shifting once applied! The eye shadows are silky and smooth and blend beautifully - what you see is what you get in terms of colour.

"Designer Brands offers a quality, professional standard cosmetic range that women from all walks of life will embrace - whether it be for its superior formulations, fashionable colours, amazing prices or all of the above!"

Designer Brands Cosmetic Collection debuts with Foundation (RRP $9.99); Concealer ($6.99); Lip Gloss (RRP. $5.99); Fruity Lips ($4.99) Lipstick ($5.99); Lip Liner ($4.99); Bronzing Powder ($7.99); Blusher ($6.99); Eye Shadow ($6.99); Eye Liner ($5.99); Mascara ($6.99); Nail Polish ($4.99).

Enquiries: 1300 765 332

Review: It's hard to believe that this cosmetic range cost so little. The quality and packaging will give so big name brands a run for their money.