Sydney fashionistas are deserting their coffee bars for the British 'High tea' tradition that has been brewing for more than 300 years and is being rekindled by Twinings.
In conjunction with Sydney's Park Hyatt hotel, Twinings is hosting a series of monthly Fashionista High Teas. Each features a different designer presenting a fashion show as guests enjoy a traditional High Tea with Twinings tea and champagne.
High Teas were traditionally served in the late afternoon accompanied by a three tier tray displaying assorted sweet and savory delights such as scones, biscuits, sandwiches and tarts. High Teas were first intended as a light supper to combat hunger pains before dinner. While a steaming pot of flavoursome tea is a must, modern high teas often include champagne too.
"Where afternoon tea focused on sweet treats, High Tea traditionally includes sweet and savory delights. It was enjoyed before dinner or as a pre-theatre meal," says Stephen Twining, tenth generation of the famous tea company which this year celebrates its 300th birthday.
"The term 'High Tea' refers to the high dining tables on which high tea was traditionally enjoyed, as opposed to the low coffee tables used for afternoon tea," says Mr Twining.
High Teas have been re-kindled by the growing number of celebrities showing interest including Madonna, Claudia Schiffer, Victoria Beckham and Kylie Minogue, to name a few.
The Park Hyatt guests will enjoy an elegant menu of fresh seasonal berries, fairy floss, gratinated lemon meringue tartlets, elegant bite sized sandwiches, fresh baked sour dough mini rolls and French pastries at Park Hyatt's harbourkitchen&bar.
At each High Tea, Park Hyatt executive chef, Danny Drinkwater, will create a tea-inspired dish such as Orange Pekoe Tea Friands.
Hosted by corporate stylist, Melanie Moss, each High Tea will feature a different Twinings blend and different designer. High Tea's are held monthly and will feature:
August 16
- Guests will enjoy High Tea with designer, Mrs Woo featuring Twinings Green Tea.
September 6
- Featuring a Nautica fashion show, this month guests will enjoy Twinings Infusions including Camomile and Peppermint during the Rouge Dior Lipstick launch demonstration.
October 5
- While sipping on Chai, one of Twinings' newest blends, guests will enjoy a fashion display of the Trent Nathan Spring Racing line.
November 15
- This month guests will enjoy a fashion show from Christian Dior Couture and Dior Watches for the High Tea finale.
The cost of the Fashionista High Tea, is $55 and guests also receive and a lovely gift bag to take home.
To book, please telephone 02 9256 1437 or email meryn.rayner@hyatt.com.au.
---
Thomas Twining opened his tea shop in London's Strand in 1706. 300 years later, the store stands in the same location, while Twinings tea is served all over the world.
Twinings is one of the oldest tea companies in the World and was one of the very first companies to introduce tea drinking outside of China in 1706. It did so before the first fleet set sail, before the first electric light globe was lit, before the Wright Brothers made their first flight, before James Watt perfected the first steam engine, and before Britain's first railway.
Thomas catered to the men visiting his coffee house and sold dry tea to the well-heeled London ladies eager to serve in their drawing rooms. As the business grew, so did the connections. Royals were major clientele and Twinings was soon exporting to America.
While tea was becoming popular, it was still incredibly expensive and only the wealthy could afford to drink tea.
When Richard Twinings' took over in 1771, he had tremendous negotiating skills and managed to convince the Prime Minister at the time William Pitt to slash tea taxes and make tea affordable for all. This marked the beginning of tea drinking as an everyday part of life for everyone.
In 1837, Queen Victoria granted Twinings its first Royal Warrant for tea. She also appointed Twinings as the supplier of tea and coffee to her household and today, Twinings continues to hold the honour of supplying every successive British Monarch.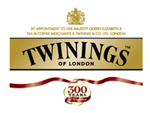 Founder Thomas Twining could not imagine in 1706, when he established the first tea house in London, how his instinct to introduce tea would become an international tea company 300 years later.