Just 200 invitation-only tickets will be issued for an October celebrity fashion fundraising event to create awareness of child abuse at Sydneys Hemmesphere, featuring 30 of Australias most acclaimed designers.
Organised by community group Silent Angels, those lucky enough to get tickets to the October 24 event will have the chance to bid for one-off creations with the auction proceeds helping to fund two childrens charities.
Silent Angels is a community project established by Lyn Yu, of Mosman, to help remove the stigma and shame for survivors of child sexual abuse.
"Child sexual abuse is a tragedy. Often the victims are too scared to speak out and they live their lives in fear and shame, believing that it is somehow their fault. But it isn't. And there are people who want to make a difference to their lives," said Lyn, the Silent Angels founder and director.
Designers will flaunt their talents by decorating and embellishing a Metallicus bodystocking and turning it into a one-off creation. Designers who have signed on to help young survivors so far include: Gabrielle Scarvelli; Sabatini; Milich & Morton; Kirrily Johnston; High Tea With Mrs Woo; Alice McCall; Fleur Wood; Natasha Gan; Bowie; Aylie McDowell; Steph Connolly; Jayson Brunsdon; Kyotap; Marnie Skillings; Tina Kalivas; Fashion Assassin; Ed & Bek; Romance Was Born; Hannah McNicol; N/A by Nicole & Aaron, Valerie Tolosa; Kate Hurst; Pablo Nevada; and Micaela Ezra.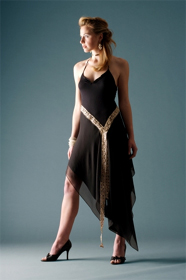 Also inspired to make a difference are 10 Sydney fashion design students from East Sydney TAFE and UTS who will have the chance to model their creations next to their better known colleagues.
The designs will be modelled at a cocktail fashion parade hosted by Channel 7s Sunday Sunrise presenter Lisa Wilkinson at Hemmesphere before the auction.
Silent Angels held its first charity event last November when it raised money for Bravehearts Australia, a counselling service for young abuse victims and their families. Among the guests last year were Jay Kay from Jamiroquai and Alex Dimitriades as guest DJ, who will be taking part again this year.
In 2006, Silent Angels, is setting the fundraising bar higher still. All proceeds raised by Silent Angels will be donated to Barnardos Australia and Bravehearts Inc.
Silent Angels was created when a group of friends decided to take on a community project to create awareness of child sexual abuse. Through community involvement they aim to help break the silence that perpetuates child sexual abuse and encourage survivors to nurture their own awareness, self-expression and freedom.
For details on the event, designer profiles, sponsors and information about childhood abuse, visit the Silent Angels website:
www.silentangels.org.au
---
The facts about child sexual abuse
One in three girls and one in six boys will be sexually abused in some way before the age of 18 years


Girls and boys of all ages are sexually abused and victims are sometimes toddlers, young children and even babies


A recent study of child sexual abuse victims found 32% had attempted suicide and 43% had thought about suicide


Some 70% of psychiatric patients are known to have been sexually abused as children


80 to 85% of women in Australian prisons have been victims of incest or other forms of abuse


70% of all prisoners were abused as children.

*Source Bravehearts Inc


---

ABOUT:

Barnardos Australia is a children's charity that provides services which successfully help prevent and reverse the effects on children and young people of abuse, neglect and homelessness. www.barnardos.org.au

Bravehearts is a Queensland-based charity that strives to make a difference for victims of child sexual abuse. Bravehearts provides professional services for children affected by sexual assault as well as their siblings, parents and caregivers. The organisation is focused on prevention and early intervention as well as healing and advocacy. www.bravehearts.org.au