Energised with crystals of Red Jasper & Smoky Quarts.
This oil blend is an enchanting blend of the finest essential oils, enriched with crystals of the Base Chakra - for an uplifting face and body treatment.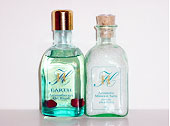 Macadamia Oil
Rich in vitamins A, D & E very nourishing to the skin.
Bergamot
- Citrus aurantium var. begumia fruit peel essential oil.
Frankincense
- Boswellia caterii stem gum essential oil.
Geranium
- Pelargonium graveolens leaf essential oil.
Cypress
- Cupressus sempervirens twig leafy young essential oil.
Heritage Healers
Aromatic Mineral Salts, from the Dead Sea.
For thousands of years from ancient days of Cleopatra to our modern day Spas, the mineral rich waters of the Dead Sea have been used to regenerate the mind, body, soul and skin. Enjoy all the benefits of the Dead Sea in your own home with Heritage Healers Aromatic Mineral Salts from the Dead Sea by adding to your bath for a wonderful relaxing and healing spa experience.
Beauty Consultant's Note:
Calming, relaxing and invigorating to the skin, a wonderful treat or regular beauty regime.
For more information on the Heritage Healers range visit:
www.heritagehealers.com