Happy Mother's Day with -Mother Earth' – GAIA!
In the spirit of Mother's Day coming up on Sunday 11th May, Aussie mum of 3 and creator of GAIA Natural Baby, Michelle Vogrinec, reflects on the inspiration that led to the name of her number 1 selling natural and organic baby skincare range and suggests -giving the gift of great skin' this year to your mum, nan or even a -mum-to-be'.
'Twelve years ago, when I was devising my baby skincare range for my first son Josh, who had sensitive skin and eczema at only 8 weeks of age, I was reading a book that referred to -gaia' – something I had never heard of before. I found out it was pronounced -GUY-YA' and it literally means -spirit of mother earth,' said Michelle.
'It is believed that -Mother Earth' has a living energy spirit called 'GAIA" the creator of all life and all things that come together to form the earth. I felt I had found the perfect description of the principles I was using when formulating my pure, natural, organic skincare range. I was aiming to gently, and effectively, cleanse and care for my baby's delicate and sensitive skin using beneficial natural and organic ingredients and choosing to exclude the unnatural -nasties' typically found in conventional products. That sounded like the -spirit of mother earth' to me…"said Michelle.
'Since then, it has been these same -mother earth' principles I have used to develop my stretchmark solutions after my third baby Max, and GAIA Skin+Body for women, after requests from our loyal mums who loved using GAIA on their babies, ' she said.
'Nurturing your family by nourishing their skin is a wonderful gift to give," said Michelle, ' It brings me great pleasure to offer you my top picks from GAIA's ranges to celebrate -the spirit of mother earth' this Mother's Day…"
For The 'Mum-To-Be'
GAIA Pure Pregnancy Belly Butter
An all natural non-greasy cream to help smooth lines and scars and fade any existing stretch marks. Pure cocoa butter and organic shea butter, replenish skin's vital moisture and organic rosehip and wheat germ oils (rich sources of vitamins) assist with elasticity to help prevent stretch marks and tame itchiness.
RRP$17.95
GAIA PURE Pure Pregnancy Belly Oil

A perfect blend of organic oils to smooth lines and soften scars, improving the overall appearance of skin and stretchmarks, this Belly Oil will leave your -baby bump' soft, supple and smooth. This blend of certified organic oils, all suitable for use during pregnancy, is recommended to use on scarring.
RRP$17.95
Both GAIA Pure Pregnancy products are FREE from petrochemicals mineral oil, lanolin, vitamin A and artificial fragrance.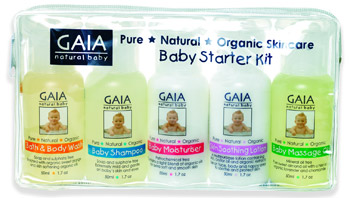 GAIA Natural Baby Starter Kit
These mini refillable sizes are great for taking to hospital ready for baby's arrival, for the nappy bag and for holidays. Perfect size for travel as it complies with the Australian Government's rules for liquids in -carry-on' luggage on international flights. When low, simply re-fill from your larger GAIA Natural Baby product bottles! You can rest assured knowing all your baby's skincare needs are sorted – naturally!
RRP$22.95
For Mum
GAIA Skin + Body Collection
This handy zipped pack with cord pull includes the key GAIA Skin + Body products, created especially for the sensitive skin care requirements of women.
Perfect for weekend's away or travelling this pack complies with the Australian Government's regulations for liquids in -carry on' luggage for international flights. A practical addition to the gym bag – bottles can be refilled again and again, washed in the top shelf of the dishwasher and the bag can be re-used.
RRP$22.95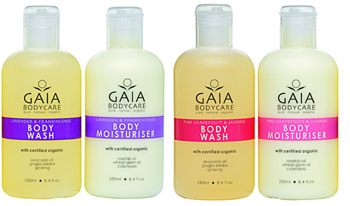 Body Gift Set - Pink Grapefruit and Jasmine
A luxurious gift, this pack contains two essential skincare products for the body: Body Wash and nourishing Body Moisturiser in Pink Grapefruit & Jasmine.
Exclusive Limited Offer: $20
For Nan
Creamy Cleanser
Aloe vera, marshmallow and chamomile soothe and calm hot, dry or irritated skin, while deeply nourishing and hydrating to relax any tightness, making your skin feel calm, soft and smooth. Enriched with apricot kernel oil and vitamin e for an added moisture boost and to keep skin supple and smooth, the appearance of any lines and wrinkles may be reduced. Geranium, known to be soothing to dry skin and delicate capillaries, is teamed with a hint of anti-bacterial bergamot team for a balancing affect.
RRP$12.95
Intensive Moisturiser
Nourishing apricot kernel, sweet almond and rosehip oils alongside cocoa butter and shea butter, for intensive moisturisation and their super skin-softening properties, provide optimal hydration and reduce the appearance of redness and fine lines. Organic green tea, marshmallow, gotu kola and sodium hyaluronate (skin's naturally occurring amino acid) also help retain moisture, keeping skin smooth, soothed, supple and hydrated. Together they create a refreshingly feminine and calming aroma to keep you looking restful.
RRP$12.95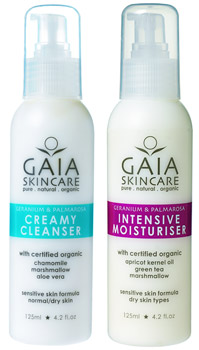 ody Gift Set - Lavender and Frankincense
A perfect all over body treat, this pack contains two essential skincare products: soap & sulphate free Body Wash and nourishing Body Moisturiser in Lavender & Frankincense.
Exclusive Limited Offer: $20
For further information on the GAIA-s natural & organic skincare ranges, please go to www.gaiaskinnaturals.com
Born out of the need for effective products to care her first baby's eczema, Michelle Vogrinec when frustrated at the lack of suitable natural products available, she created GAIA Natural Baby which has been providing parents with naturally gentle, soothing skin care solutions for babies with sensitive or irritated skin since 2002. During her third pregnancy she also developed GAIA Pure Pregnancy to fade her existing stretchmarks and help prevent new ones from forming with much success.