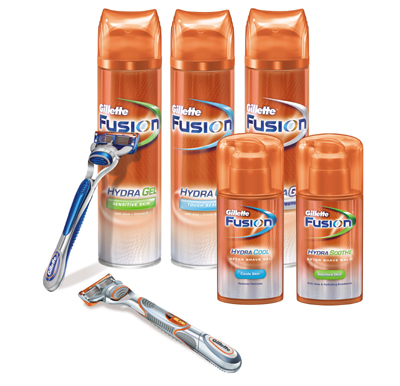 GILLETTE LAUNCHES FUSION: WORLD'S FIRST 5 BLADE RAZOR WITH TECHNOLOGY ON THE FRONT AND BACK

Gillette's Next Generation Men's Shaving System

Gillette announces the launch of Gillette Fusion™ and Gillette Fusion™ Power, revolutionary new wet shaving systems for men and the world's first razors to feature advanced technology on the front and on the back of the blade cartridge.

Both shaving systems feature a breakthrough five blade Shaving Surface™ technology on the front of the cartridge, with blades spaced 30 per cent closer together than MACH3 blades. The combination of adding more blades and narrowing the inter-blade span creates a "Shaving Surface" that distributes the shaving force across the blades, resulting in significantly less irritation and more comfort. A high standard of rinse-ability has been maintained, with redesigned blade supports delivering a level of rinse-ability that is equal to or even greater than Mach 3 Turbo.

The Precision Trimmer™ blade, a single blade on the back of the cartridge, allows men to easily trim sideburns, shave under the nose and shape facial hair with control and precision.

Gillette Fusion Power is the first razor to bring advanced electronics to wet shaving. Its patented on-board microchip optimizes the performance of the razor by regulating the voltage and frequency, maintaining optimal performance throughout the entire life of the AAA battery. The chip also regulates a Low Battery Indicator Light that illuminates when the AAA battery needs to be changed, as well as the Automatic shut-off feature that turns off the razor after approximately eight minutes of continuous operation in case of accidental activation. In addition to the technology inside the handle, Gillette Fusion Power blades feature Gillette's most advanced blade coating technology to provide incredible glide and comfort.

Both the manual and power versions of Gillette Fusion include additional features on the front of the cartridge to improve the performance of the Shaving Surface™. The new Flexible Comfort Guard follows the contours of the face to help the Shaving Surface comfortably shave closer. An Enhanced Indicator Lubrastrip fades to white when optimal shave conditions have been reduced. Both products feature a superbly engineered handle with an elastomer coating to provide a secure grip, better control, and a design that is elegant, highly functional and as next generation as the products' performance.

P&G Vice President for Australia & New Zealand, Pete Manuel, said that the Gillette Fusion is more than just a next generation shaving brand, it's the future of shaving.

"Gillette Fusion extends our rich history of innovation. It's a breakthrough platform that will continue to drive our category leadership," said Manuel.

Consumer testing, in accordance with the industry's most rigorous standards, confirms that Gillette Fusion has raised the bar of shaving performance. Gillette Fusion is significantly preferred over the current best-performing manual shaving system, MACH3Turbo, by 2-to-1 and Gillette Fusion Power outperforms M3Power by a significant margin. **

"The performance of Gillette Fusion and Fusion Power is unprecedented, and testing among thousands of consumers overwhelmingly proves these are the world's best shaving systems," said Mr. Manuel.

"We listened to consumers and developed products that meet the shaving needs of all men, to help them look and feel their very best."

To coincide with the launch of the new razors, Gillette has also released a line of shaving products that complement the new Gillette Fusion™ and Gillette Fusion™Power shaving systems for men. The new collection consists of shave gels and after-shaves that are specially formulated to work in tandem with the new shaving systems to deliver the ultimate in shaving closeness and comfort.

The product line includes Gillette Fusion™ Hydra™Gel, an aloe-rich shave gel infused with hydrating emollients to soften hair and reduce cutting force. Gillette Fusion Hydra™ Gel creates a protective micro-fine layer between the razor and the skin that enables the razor to glide smoothly, reducing friction and drag, while providing protection against nicks and cuts. The new line also includes Gillette Fusion Hydra™ Soothe After-Shave Balm and Gillette Fusion Hydra™ Cool After-Shave Gel, which contain special ingredients to soothe, calm and cool skin, and relieve irritation.

Gillette Fusion and Gillette Fusion Power, along with the new shaving products line will be available in Australia as of February 2007 wherever Gillette products are sold, including leading supermarkets and pharmacies.

The Gillette Fusion razor with two cartridges will be available for a recommended retail price of approximately $13.99, and the Fusion Power razor with one cartridge and a AAA Duracell battery will retail for approximately $16.99. A 4-pack of refill cartridges for Gillette Fusion will be available for a recommended retail price of approximately $18.99, and a 4-pack of Fusion Power cartridges will retail for approximately $21.49. Gillette Fusion HydraGel will be available for a recommended retail price of approximately $6.99. Gillette Fusion HydraCool After-Shave Gel and Gillette Fusion HydraSoothe After-Shave Balm will be available for a recommended retail price of approximately $9.99.