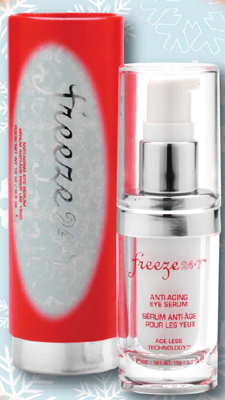 Not seeing is Believing!

An Eye Lift without the Surgery!

Looking tired after too many late nights? Is the party season aging you? Our eyes are often the first to show the visible signs of aging and when we have been burning the candles at both ends, fine lines and dark circles appear more visible.

Banish crows feet and say goodbye to fi ne lines and wrinkles with Anti-Aging Eye Serum by Freeze 24/7™, a groundbreaking eye serum that targets the critical eye area to quickly and effectively remove puffi ness, wrinkles, dark circles and other signs of aging. This revolutionary treatment product is lightweight, fast absorbing and delivers a remarkably smooth and youthful appearance around the eyes... all within minutes.

The Technology
A proprietary blend of GABA and other synthesised ingredients that work synergistically to reduce the appearance of fine lines, wrinkles, puffi ness and dark circles around the eye area. GABA, a muscle-relaxant that does not penetrate the skin, programs gynostemma, a plant extract that does, with its properties to relax the muscles that cause facial wrinkling, hence visibly smoothing the skins surface.

Ingredients

GABA - Gamma Aminobutryic Acid, the bodys natural muscle-relaxing agent

Green Tea Extract

Ethoxydiglycol

Gynostemma Pentaphyllum Extract

Product Benefits

Diminishes the appearance of fi ne lines and wrinkles around and under the eye area within minutes of application

Reduces the appearance of dark circles and puffi ness

Tones and fi rms the under-eye area

Cooling sensation

Usage
Apply a small amount of Anti-Aging Eye Serum to lines and wrinkles around the eye area by tapping a small amount gently into skin with fi ngertip. Allow 2 to 5 minutes to be absorbed prior to applying moisturiser or makeup. Can be used directly under the eye. For maximum benefi ts use in conjunction with all Freeze 24/7™ products or as a powerful stand-alone eye serum with other products.

RRP: $170.00 15gm
Stockist enquiries 1800 004 507
*Freeze 24/7™ is a premium collection of anti-aging treatments that offer an alternative to invasive, costly and sometimesunsafe cosmetic procedures.