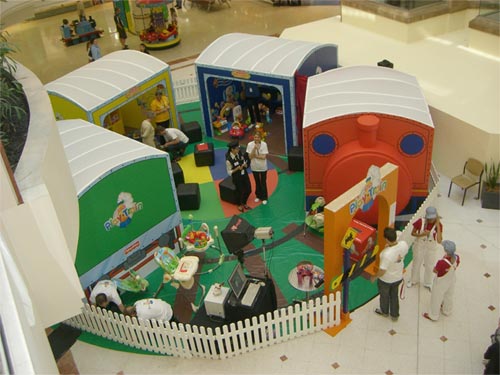 Parents and kids will need to pack their bags and get down to the Highpoint and Knox Shopping Centre Platforms in Victoria this October & Pacific Fair, Westfield Chermside and Mt Ommaney Centre Platforms in QLD this November, to get aboard and enjoy the free fun of the Fisher-Price Playtrain. For the first time ever, Fisher-Price will be bringing a selection of the newest and most innovative toys for children to local shopping centres for parents and children to interact and play with.

The Fisher-Price Playtrain, is a play centre in the shape of a train and carriages, where children and parents can climb aboard and experience a journey of playtime wonder. Parents will have the chance to learn more about the correct toys suited to their child's age and stage of development.

Each carriage of the Fisher-Price Playtrain will be tailored to suit a particular age and stage of a child's development, and will allow children to play with suitable Fisher-Price toys, and parents will have an opportunity to ask questions of the fully qualified staff.

The Fisher-Price Playtrain will have toys for children aged from birth to seven years old to play with including some of the newest and most innovative toys of the moment, such as the Fisher-Price Smart Cycle, which are sure to be on every child's Santa list this Christmas!

While the play areas on the Fisher-Price Playtrain will be fully staffed by qualified personnel, parents will need to remain with their children, while they explore all the Fisher-Price Playtrain has to offer!

A ticket on the Fisher-Price Playtrain is free and all families are welcome aboard. Parents and children can enjoy the different toys and carriages during their 15 minute ride on the Fisher-Price Playtrain.

To ensure a timely departure, please arrive between 9am - 4pm at one of the following locations near you:


Melbourne
Highpoint, 120-200 Rosamond Road, Maribyrnong on October 20 & 21
Knox Shopping Centre, 425 Burwood Hwy, Wantirna South on October 27 & 28


QLD
- Pacific Fair, Hooker Boulevard, Broadbeach on 10 & 11 November
- Westfield Chermside, Cnr Gympie & Hamilton Rds, Chermside on 17 & 18 November
- Mt Ommaney Centre, 171 Dandenong Rd, Mount Ommaney on 24 & 25 November


---

With over 75 years experience as the experts in play, Fisher-Price continues to help mums feel confident in being their own playtime experts. Through their commitment to research and development, Fisher-Priceâ gives mums the tools to help their children play, laugh and grow through every stage of their development from birth to five years.