Emma Lovell Fly Babee Interview
Question: What is the Fly Babee?

Emma Lovell: Fly Babee is the world's first Multi-Purpose Sleep & Sun Cover for all Strollers, Prams & Airline Bassinets. It's an essential item for getting out and about every day with your baby and a must-have for flying and travel! Fly Babee is 100% breathable, blocks 97% of light, can be opened up and used as a sun cover providing UVP of 50+ and is super compact and lightweight. It's fast becoming known as 'The Miracle Cover" for mums that value their babies all-important sleep routine whilst maintaining a healthy outdoor lifestyle.


Question: What inspired the creation of the Fly Babee?

Emma Lovell: My daughter was just 5 months old when I decided to take her to see my mum in the UK for the first time. It was an awful flight as Aimee didn't sleep the whole time and I remember telling my mum that I wouldn't do that again in a hurry. Sadly, during that visit my mum was diagnosed with a life-ending illness and I took the difficult decision to relocate and look after her. During that year, I flew from Sydney to London and back four times… each and every flight was terrible as Aimee was unable to sleep during the flight. The airline provides you with a bassinet, but it is directly under a TV, right next to the toilet where people gather the whole flight and subject to the distraction of passers-by, overhead reading lights and cabin lights. It's really difficult to remove these distractions in order to get baby to sleep. I searched for a product to help overcome these difficulties to no avail. It was after my mum passed away and I started to heal that I started to doodle pictures of a product that may overcome this problem – and there the journey started!


Question: Can you talk us through the creative process of Fly Babee?

Emma Lovell: The initial prototype of Fly Babee would make you laugh. I asked my hubby to make a box the size of an average airline bassinet. Then I went to Spotlight and Bunnings… the prototype was made up of plumbers tubing, black fabric and double sided sticky tape. It was the ugliest thing ever, but it gave me something to photograph so I could start liaising with potential manufacturers. The first manufactured prototype as 80% there first time…. It took a further 18 months to nail the other 20%!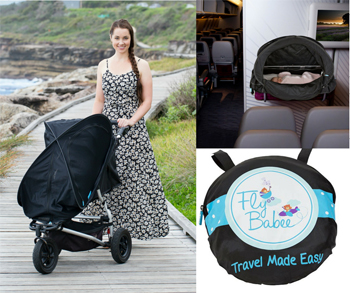 Question: How does Fly Babee help travelling parents?

Emma Lovell: One of our daddy customers recently described it as a breathable sensory deprivation tent which cracked me up! Essentially Fly Babee helps parents get out and about (whenever, not just when travelling) whilst still enabling their babies to stay in their all-important sleep routine. It removes the simulation that prevent babies from drifting off. It also provides sun protection, lots of kick space and awesome cross flow ventilation.


Question: Can you talk us through your Shark Tank experience?

Emma Lovell: It was one of the most overwhelming experiences I've ever had. You get to see around 10 minutes on TV, but we're in that room being grilled by the sharks for well over an hour. However, it was all so worth it, because the experience gained me a mentor that I would never have imagined in my wildest dreams. To have Janine Allis of Boost Juice believe in my dreams was a massive boost to my confidence.


Question: Why is travelling so important, to you?

Emma Lovell: Before I had children, I lived for travel. The travel bug was in my veins and it didn't go away just because I had children. Life experience through travel is unbeatable and exciting and to give that gift to my children is unbeatable.


Question: Can you share your top baby-travelling tips?

Emma Lovell: These are my top tips for Flying with a baby:
A travel stroller is essential - take one you baby can lie down in as bub will probably spend more time in it than usual. I loved having my babu carrier on the plane so I can walk around during unsettled times and perhaps get bub to sleep. They're great at airports to carry and stay hands free.

For the plane, I always pack 1 nappy and 4 wipes in to a plastic nappy bag and prep a dozen of them inside my hand luggage so you can just reach in and grab one at nappy change time - the plane toilets are tight and the less you need to carry, the better.

Don't forget to pack a change of clothes for you as well as bub. Aimee managed to throw a glass of red all over me at the start of a 24 hour trip and I didn't have a spare top!

If you use lullabies to get bub to sleep, make sure you download them on to your phone so you can play them on the plane. The more familiar stuff you have with you, the better. Pack a favourite blanket or teddy – the more you have that's familiar, the more secure they will feel. I took those rings that link together on the plane - Aimee would play with them for ages. Take baby Panadol in your hand luggage. Have some pawpaw on hand for dry lips and nose, the aircon often smashes them.

Most importantly, don't stress too much and go with the flow - it's an adventure for everyone and your bubba will be excited too! Equally, they'll pick up on your angst if you get worked up.


Question: When is the best time to book a flight when flying with a baby?

Emma Lovell: Both day and night flights have the pros and cons – so just go with what suits you!


Question: What's next for Fly Babee?

Emma Lovell: We going International from here and we're so excited to take the world by storm!!


Interview by Brooke Hunter