Ecococoon: Retro Aesthetic, Modern Design
Do you recall the colourful, and practical, little anodized beaker sets of the 60s and 70s? Those funky little aluminium cups were on hand at every picnic, holiday and family outing for generations, withstanding all kinds of wear and tear, and provito be extremely economical. Brisbane mum, Libby Versace, says that it was her fruitless search for these cups that inspired her to create her own range, with multiple improvements on the original, which still maintains that retro aesthetic.
The design principles that Libby brought to this nostalgic product include a material change from aluminium to stainless steel, which is safer to use and even more durable, as well as increasing the volume of the cups to a more satisfying 300mls.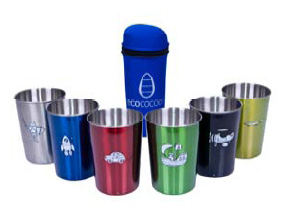 The cups also come in a range of different sets, with standard stainless or retro block colours as well as illustrated sets for children, each set of six with its own neoprene case that is perfect for the glove box.
Ms Versace said, I always loved the anodized beakers of my childhood and sought them out so that my kids could use them however they are no longer manufactured. Ecococoons cup sets pay tribute to that design and bring it into the 21st century.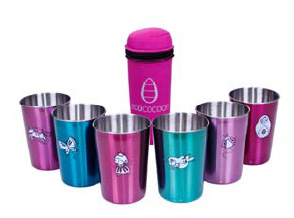 Ecococoon is also soon to launch their range of retro inspired double-walled, stainless steel drink bottles, which will provide a long lasting and safe alternative to plastic sports bottles. All products will be available at selected retailers and online at
www.ecococoon.com.au
Review: 6 cups fit neatly into an travel pouch for easy compact storage. These cups are perfect for the park, picnics, the beach, sport or the backyard. Funky designs in durable aluminum make the perfect gift this Christmas for stocking fillings, workmates or tricky family.