Eat Pray Love
Cast: Julia Roberts, James Franco, Richard Jenkins, Viola Davis, Billy Crudup, Javier Bardem
Director: Ryan Murphy
Genre: Drama

Synopsis:
Elizabeth Gilbert (Julia Roberts) had everything a modern woman is supposed to dream of having - a husband, a house, a successful career - yet like so many others, she found herself lost, confused, and searching for what she really wanted in life. Newly divorced and at a crossroads, Gilbert steps out of her comfort zone, risking everything to change her life, embarking on a journey around the world that becomes a quest for self-discovery. In her travels, she discovers the true pleasure of nourishment by eating in Italy; the power of prayer in India, and, finally and unexpectedly, the inner peace and balance of true love in Bali. Based upon the bestselling memoir by Elizabeth Gilbert, Eat Pray Love proves that there really is more than one way to let yourself go and see the world.

Review:
A powerful journey of self discovery. Eat Pray Love is one of those movies that make you sit up and think about your own life, the choices you have made and the journey that you are on. I thoroughly enjoyed Liz's journey of EAT PRAY LOVE played by Julia Roberts. Audiences who have grown up with Julia will relate to the this seemingly mid life crisis. Don't be surprised if you suddenly feel the urge for real Italian Pizza or Pasta, or if the travel suddenly reignites. The main beauty of this story is that it shows how women & men are not so different, and that we all need a little help to navigate the right path.

Liz's story starts in Bali where she meets a wise man jurmet who foretells her future. When Liz realises that she her marriage isn't working, she rebounds to a young actor. She then embarks on a journey to Italy, India & Bali. In Italy, she learns the language, rediscovers food while making some great friends. In India Liz heals herself and a friend when she learns to calm the mind. In Bali fate steps in to lend a hand and Liz finally learns to love again.


Eat Pray Love
Release Date: 7th of October, 2010
Website: www.EatPrayLove.com.au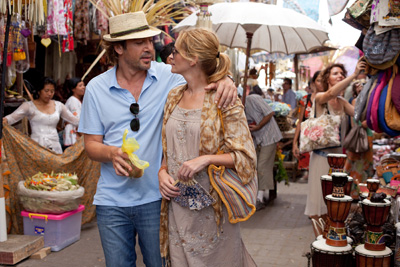 ABOUT THE PRODUCTION

Julia Roberts read Elizabeth Gilbert's memoir Eat Pray Love when it was first released in 2006. She sent it to one of her best friends and they read it at the same time, and both immediately connected with the story. "Everybody has a journey, a moment in their lives when they need to redefine who they are and what they're looking for," says Julia Roberts. "Liz's journey is very specific and very visual, in a way that's very appealing as a story, but it's also a universal story that can apply to anybody."

Gilbert's memoir - a self-described search for everything - has achieved extraordinary success, selling over 6.2 million copies in the United States, and overseas, it has been translated into 40 languages. It is the book that attracted Julia Roberts to the project, along with the chance to work with Ryan Murphy, the film's co-writer/director. "I love the way the book talks about life experience, searching for answers, and how meaningful people can be in our lives. I think that's really such a vibrant story. It's great to be part of it, and part of it with Ryan at the helm of it - it was a delicious endeavor," says the actress.

Ryan Murphy, best known for his work with the Golden Globe-winning television series "Nip/Tuck" and "Glee," has garnered acclaim for his keen and realistic dialogue. He wrote the screenplay with Jennifer Salt, with whom he previously collaborated on "Nip/Tuck." "Ryan and Jennifer did a very reverential adaptation," says Julia Roberts. "Ryan was really in sync with Liz Gilbert and talked to her a lot - they tried to be very true to the book. There comes a moment in any film adaptation where things have to be a little bit different, but we always protected the spine of the story - Liz's journey of self-discovery."

"The beauty of the book - and, I think, the reason we all wanted to do it - is that it says, 'Get out of your box,'" says Ryan Murphy. "I love that idea - that was a very personal idea for me, because I can be very rigid in my choices, repeating a pattern day after day after day. For example, I love the scene in Rome where Julia spends the afternoon on the floor, eating a perfect meal. I think of that in my day-to-day life; I try to savor the little experiences and try not to have an outcome to the day. That's what I learned on a personal level by being part of this project."

"Ryan handed me the book under completely non-movie circumstances - he recommended it as a friend," says Salt. "He said, 'I'm reading this book and I feel like I'm listening to you talk. You're going to love this.' And I adored it, because it was so honest, so authentic. When Ryan told me that he was going to get the rights and he wanted me to write it with him... It was just a magical moment for me."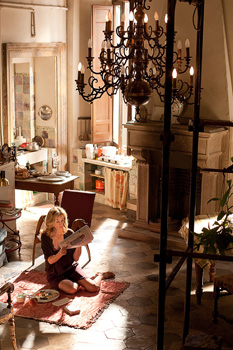 The book's theme of being true to one's self became the driving force behind the story and the script. Though Gilbert makes an exotic and beautiful literal journey, traveling around the world, that is only part of the story. The reason the book has resonated with so many is that her inner journey, her quest for self-discovery, rings true - and it can be done anywhere. Says Gardner, "Liz Gilbert's curiosity for the unfamiliar is one of the things that was compelling to me. You can literally go around the corner and meet someone you haven't met before, or encounter a new language, food, culture, or set of behaviors."

In fact, finding that balance between the external and internal journeys was the key in adapting the material for the screen. The plot that keeps the drama moving forward is Liz's travel from New York to Italy to India to Indonesia, and it was important to the filmmakers to convey to the audience the personal challenge that Liz poses to herself by traveling around the world by herself: "It's lonely, and it's not easy," says Gardner. It's that plot that would bring the story off the page and come alive on film.

As they penned the adaptation, Ryan Murphy and his screenwriting partner, Jennifer Salt, held brainstorming meetings with Julia Roberts and Gardner, each contributing the parts of the book that resonated most with them. There was much overlap, of course, but also some moments that each related to individually. These intimate discussions became the grass roots for the making of the film script.

Another important resource for Ryan Murphy and Salt, of course, was the author, Elizabeth Gilbert. During the writing process, Ryan Murphy and Gilbert had a regular email exchange; whenever they had a question about their character's motivation, they found they had a useful ally in the author herself. For example, when writing the Italy section of the film, it seemed to Ryan Murphy and Salt that the Thanksgiving meal with all of her Italian friends would be the key that would unlock the entire act of the film. What was it about that meal that was so important to Gilbert? The author responded that at that moment - at the very beginning of her journey - she was still not sure she could feel happiness for herself, but she was certain she could be happy for others. "She said this moment was like a spark of life," Gardner says. "It is moments like this that helped us immensely and helped us be able to keep moving forward in the storytelling."

From the very beginning, when Gardner first read the book, the only choice to play Elizabeth Gilbert was Julia Roberts. "It sang out to me as obvious - this should be Julia Roberts," says the producer. "I have never worked with Julia before and I am just awestruck by her talent. In this role, she runs the gamut in tone, from vulnerability to toughness and from indecision to confidence. She understands when Liz is ebbing and flowing."

"Liz goes through a wide range of emotions - as you'd expect, because the story covers a year of her life," says Julia Roberts. "Between going through divorce and dating and traveling and meeting strangers and not knowing what to do, it's a great opportunity to play a complex and fascinating character."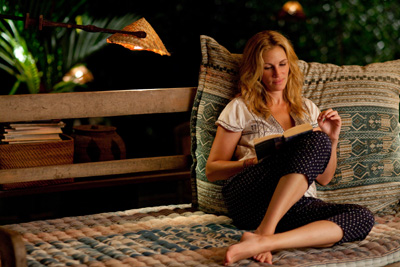 "At the beginning of the movie, Liz is unraveling a bit, and she's not sure why," Julia Roberts adds. "She's a traveler - she's always traveled - so that was an instinct for her to pack her bags. Obviously, not everybody can do what she did, but it's not really about that. It's fun to watch her go around the world in the movie, but it's really about her own self-examination and figuring out what she wants out of life."

Julia Roberts says that kind of reflection isn't easy and it's what makes Gilbert's journey remarkable. "For her to take that time for herself is what is deeply interesting and encouraging to other people," she says. "I think that's courageous and admirable; it's such a busy, rapid-fire world, so to try to stop and figure out what's right for you is a good thing."

Viola Davis, who plays Delia, Liz's best friend in the film, says that she too saw the connection between Liz Gilbert and Julia Roberts. "As I was reading Eat Pray Love, I thought to myself, Liz probably doesn't even realize how fantastic she is. She can make friends as soon as she walks in a room. And I feel the same way about Julia - people are attracted to her spirit. She's a light."

Julia Roberts had the opportunity to meet the real Elizabeth Gilbert in Rome. "Ryan had a relationship with her through pre-production, but I felt it was important for me in portraying her to go with my instincts, to get enough filming done that I was already on a course by the time that I met her," says Julia Roberts. "She's a lovely, lovely person, and she has a great way of talking and very specific mannerisms, and I didn't want to imitate her. She's a beautiful human being."

Like with the casting of Julia Roberts, the filmmakers couldn't see any other choice than shooting in the real locations that Gilbert visited on her journey. "That was our holy grail - we were going to go to as many places as we could where Liz Gilbert went," says Ryan Murphy. "Some were easy, especially some of the famous places in Rome that Liz visited." In other instances, Ryan Murphy says, they were lucky - the production was able to shoot at the real home of Ketut Liyer, a key character in the Bali sequence. "We spent a lot of time in pre-production, going to the different countries three times, finding the exact locations. If we couldn't shoot at a real location for reasons that were beyond our control, we took an unbelievable amount of pictures and we would re-create them. Because the book is so well-known and loved, it was important to me, as the director, to be true to where she went," Ryan Murphy continues.

Richard Jenkins, who takes on a key role in the India sequence as Richard From Texas, explains what it meant to the film that they were able to shoot in these exotic locations. "When I was a kid, growing up in a small town in the Midwest, movies were how I saw the world. I went places in films that I couldn't go in any other way," he says. "So to have this shot in India - you couldn't have done it anywhere else. The heat, the feeling, the air, the people. It's a whole different vibe."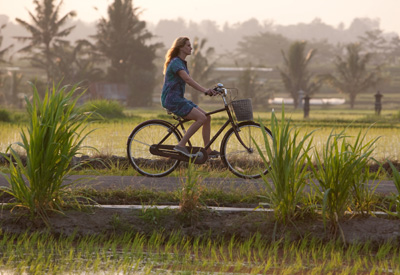 But not only would the production shoot in the real locations. They would also shoot in chronological order - first in New York, then Italy, then India, then Bali. Doing so, Julia Roberts says, added a layer to her performance. "We experienced all the same emotional responses Liz goes through," she says. "It made it an incredible experience."

"In talking with Ryan and Dede, it was clear there was something so special about each of these international locations, and people will want to go on a journey similar to Liz's when they come and see this movie," says executive producer Stan Wlodkowski. "So it was unanimous by filmmakers and studio alike that we would film in New York, Italy, India, and Bali, in the same progression that Liz experiences in her book. I don't think I will ever experience again in my career a schedule like this. We were literally making four separate movies."

One of their first puzzles was in putting together the shooting schedule for the film. Not only would they have to account for the availability of the actors, but local weather, crews, and getting around. Some of the international locations had film infrastructure and had hosted many movies there before, while others, like Bali, had never had a film of this size shoot there.

"When we began shooting in New York, there was always a production office open somewhere in the world. This movie was open for business 24 hours a day. We had casting offices, art departments, construction departments, and wardrobe departments all across the globe," says Gardner.



NEW YORK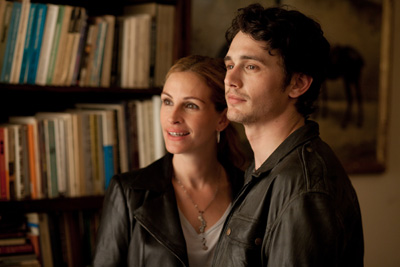 Production began in New York, where the reasons for Liz's need to get away is explored and established through her relationships with two men: her ex-husband, Stephen, and her lover, David.

Casting Stephen correctly was critical, says Gardner. "This is a couple that has fallen out of love - they have material blessings, but they want different things in life. They're not meant to be together, but this does not make their time together any less valuable or worthwhile. Getting the casting right for the role of Stephen was critical, because you need to convey in some way, why they fell in love in the first place, but also, why they fell out of love. And that such a journey is okay, is human, has happened before and will happen again - that such an event doesn't require a villain."

Billy Crudup plays the role. "The story gives you glimpses of their marriage in all its stages," he says. "You get an indication of how they came to be together, but mostly you see the beginnings of the crisis that she's having, and how, in an odd way, Stephen is there to send her on her way, on her journey of discovery."

David, played by James Franco, adores Liz and rekindles her passions that she thinks have disappeared from her life. Gardner strongly believed that if you don't like who she goes off with after walking away from her husband, the story isn't going to work. "There was no one else in the world to play this part," she says. "James is adorable and sexy, but also very cerebral, with an enormous beating heart and generous spirit."

"When David and Liz meet, Liz is searching on a lot of levels," says James Franco. "She's looking for a way to connect to someone romantically, but also some deeper, spiritual meaning in her life. Maybe it's not a relationship that's going to last, but it sets her off on her journey, so there are positive things that come out of it."

James Franco and Julia Roberts had their challenges as they had to dive in very quickly to their chemistry as a couple. Says James Franco, "The first scene we shot together we made out, and by the end of the day we broke up. It was very intense."

Liz's sounding board, conscience, and voice of reason is expressed through her best friend and publisher Delia, played by Oscar®-nominated actress Viola Davis. Delia's character is compilation of a support group of girlfriends Liz writes about in the book. "Delia is open enough to listen to Liz," says Davis. "Even if Delia disagrees with Liz, she's still on her side, rooting for her."

"Viola is such a wonderful actress," says Gardner. "She is very funny and she dazzles in the parts of her role that need that. But she also brings gravity to the scenes in which Liz says, yes, she's really going to travel around the world."

Reading the book, Davis immediately saw what made it strike a chord with readers all over the world. "A friend of mine gave me the book at a time in my life when she thought it would help me. It was a revelation - it was accessible, and appeals to people because it is brave and honest, too deep, and not too deep all at the same time."

Ryan Murphy's intent from the beginning was for the New York portion of the film to feel claustrophobic, as if Liz is dying to break out of her surroundings. Locations in and around New York City spanned from Manhattan city streets to Tribeca (Delia's office) to Brooklyn (Delia's brownstone apartment and Laundromat) to the East Village to Cold Spring Harbor on Long Island. The confrontational scene between Stephen and Liz in front of the divorce lawyer was filmed on the 36th floor of an office building on 6th avenue with a stunning view of the Empire State Building in the background.

Then, for 40 Americans, it was bon voyage for an Eat Pray Love trip around the world, working with local crews along the way.



ITALY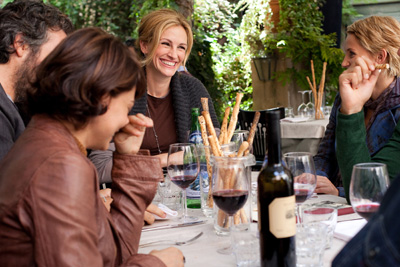 Italy, and specifically Rome, was the beginning of nourishment of Liz Gilbert's soul. She took time out of her life to enjoy the simple pleasures of eating, philosophizing with friends, and the joy of "dolce far niente" - the sweetness of doing nothing.

"Rome welcomes you with open arms," says Julia Roberts. "I have been lucky to work there several times. It's a very welcoming place and a great choice for Liz's first stop on her journey."

"Rome is all about living in the moment - something Americans tend not to do very well," says Gardner. "But Rome forces you to live in the moment. There's tremendous value in that, and once you get past the frustrations and settle in, you think Italians might be on to something."

Liz Gilbert's friends were played by a charming, eclectic ensemble of European actors. Gardner says that you can't fake the kind of chemistry that Julia Roberts and her fellow actors exhibit to portray Liz and her Italian confidants. Actors like Luca Argentero, who plays Giovanni, were a perfect fit. "Every time you cast an actor, you hope the bond with whomever they are befriending in the narrative will exceed what's written on the page," says Gardner. "This gets even harder when casting a group of friends, but the actors we cast are tremendous - at their craft and as human beings - I always wanted to be at their table."

Argentero says, "Italians are a people of travelers, open to everybody. We Italians think of stress like a bad illness. Liz learns you can stop and think, enjoy, and be self-indulgent and not worry. It's what makes Italy so perfect as a first stop on her journey."

In Italy, Liz was suddenly conscious of other people's joy. She watched her close friends Giovanni and Sofi (who is played by award-winning Scandinavian actress Tuva Novotny) develop an attraction for each other. She watched her friends Giulio (Andrea Di Stefano) and Maria (Elena Arvigo) in their blessed marriage and their children. She listened to advice from Luca Spaghetti (Giuseppe Gandini), and Giovanni's judgmental mom, Ruffina (Lydia Biondi). Through all this, there was a plate of delicacies being consumed with delight.

Di Stefano says, "Eating is a ritual for us Italians. Italian culture has everything to do with food. This part of the culture is passed on from generation to generation."

Novotny says, "Liz and Sofi are both fish out of water, finding their way in this foreign place. Italian culture is an open culture where you are allowed to hug and kiss and express yourself. I think both Sofi and Liz find that refreshing, even though they are both at completely different stages in their lives."

"The group that becomes Liz's peer group in Rome are really vibrant characters," says Julia Roberts. "All the scenes were very fun to shoot - speaking in Italian at a thousand miles a minute with lots of pasta and wine around."

The accomplished food stylist Susan Spungen, who previously provided her expertise on the hit film Julie & Julia, was on hand throughout the shooting of the Rome sequence, providing all of the delicacies seen on film. She also had the challenging task of spearheading the pivotal and poignant Thanksgiving meal scene with all the trimmings; Spungen prepped twenty turkeys for the filming of this scene sequence.

On set each day, the cast and crew chatted about the delicious pasta, fish, and meat they enjoyed the previous evening. Restaurant recommendations were rampant, and so was the weight gain for all on location.



INDIA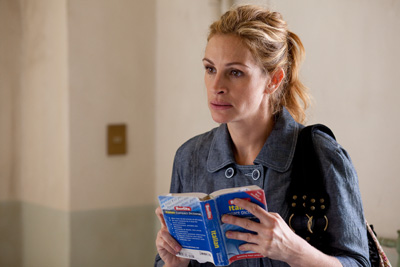 If Rome was about Liz letting go of her old life and learning to be happy being alone, then India was stepping into another world. Having learned she can enjoy life, Liz feels the need to become grounded once again. As Gardner explains, Liz moves from dolce far niente - the beauty of doing nothing - to experience something much more profound. "India is a hectic place, yet Liz was there to be still," says the producer. "Her goal was to meditate and look inward, and that is certainly what the Ashram represents, and what Richard from Texas is constantly saying to her. She had to stop trying to control things. Just stop."

"Liz enters India like a young girl with a backpack, with this dream of going to an Ashram and finding peace," says Julia Roberts. "What she finds is that it doesn't really come that simply."

In scripting this sequence, the screenwriting team was able to rely on personal experience: Jennifer Salt, as a young woman, had studied at an ashram in upstate New York. "That part of the story is very personal to me, so I had the biggest ambition for it," she says. "At the ashram, you learn the meditations and practices to purify the mind and heart and gain the kind of love and understanding you want. But it's also about being in the presence of the guru, someone who has gotten there. It's hard to explain, but when you're there, you know what love feels like and you feel it in yourself, because you're around it."

Through all the chaos was a breath of fresh air as the cast and crew welcomed Oscar® nominee Richard Jenkins, who played Richard from Texas, Liz's unlikely friend and confidant at the ashram.

"Suddenly in our midst, weeks into shooting, was this terrific human being, Richard Jenkins, who so deftly plays this character," says Gardner. "He and Julia were on the same page from the first scene they did together at the Ashram dining hall where he calls her 'groceries' for the first time."

Says Richard Jenkins, "Richard From Texas is very passionate about what he believes, says what he thinks, and won't back down - and Liz is tough, too. He sees a lot of himself in her and he just will not relent."

"Richard From Texas and Liz clash when she first arrives at the Ashram - he mocks her, right off the bat," says Julia Roberts. "It's his way of nudging her along - he sees parts of himself in her. Richard Jenkins portrays him with such humor. It was a wonderful experience to constantly be up against that man. It was really a pleasure."

Before playing the role, Richard Jenkins had the opportunity to speak with the real Richard From Texas before he died earlier this year. Like many actors who play real people, Richard Jenkins wanted to bring his own interpretation to the part, as written, but after reading the script, he says, "I thought, 'I've got to meet this guy.' I called him up - he was so nice, so funny, and I asked him a lot of questions. He lost a lot in his life, mostly from his own making. How do you come to terms with that? How do you make peace with your life, let it go and move forward? That's why he was at the Ashram. He was an incredible man, Richard From Texas."

"The Ashram is for people who search, who try to grow, who face their fears, who re-examine their own lives," says Richard Jenkins. "They want to find some peace - we all do, but some people are a little more proactive about it. It's not easy; it takes work."

Also starring in the India portion of the film is the young Rushita Singh, who plays Tulsi, a seventeen-year-old Indian girl who befriends Liz at the Ashram. Tulsi is about to have an arranged marriage to a man she has never met. Even though they are from two different worlds, Liz sees some of herself in the young bride and their friendship takes on a special meeting as they confide in each other.

Julia Roberts says, "To see Rushita as Tulsi in her Indian wedding attire was just beautiful. She was so stunning. The whole production and costume design of the wedding sequence was so intricate. This is just another example of costume designer Michael Dennison's and production designer Bill Groom's extreme talent."

Most of the Indian portion of the shoot was spent inside the Ashram. It was difficult to find an Ashram to shoot in because of the devout Hindu practices in the country. Says Groom, "I went with our executive producer Stan Wlodkowski to India about a year before shooting began, and for two weeks we scouted Ashrams all over the country. Then our Indian art department got word that there may be an Ashram about two hours outside of New Delhi that would allow photography inside. We met with the Swami of this Ashram who said we could film inside his Ashram as long as the daily activities of the Ashram went uninterrupted. So that is what we did."

A day didn't go by where school wasn't in session or parishioners weren't intermingling with the film shoot. It was quite a juxtaposition of cultures, but ended up working harmoniously. Some of the structures built for the film inside the Ashram were left standing after filming finished and are now being enjoyed by students at the Ashram.

Says Wlodkowski, an executive producer, "Whenever filming is to happen in a spiritual or religious organization, there is always a challenge. You have a job to do, but you are also capturing something very personal and you want to make sure you do it respectfully and correctly. All of the crew were constantly aware of the customs that needed to be observed on and off film."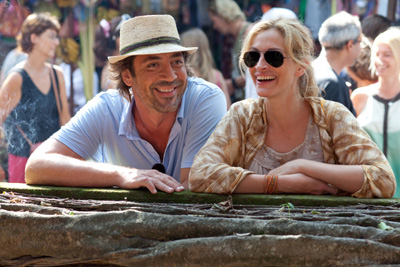 INDONESIA
Only after learning the joy of indulgence in Italy and the power of inner peace in India is Liz ready to receive the messages of Bali: balance. "Liz had been to Bali before," Julia Roberts notes. "She had heard a prophecy that she'd return one day. I think that guided her to the final leg of her journey. And the lesson she learns in Bali - seek balance - is something she isn't quite ready to receive when she first arrives, but we all need to learn that life is not linear or logical."

What Liz isn't expecting when she arrives in Bali is to meet a new love. One of the reasons she felt she had to upend her life is that she has also been in a relationship or just getting out of one; now, in Bali, she has just figured out how to be happy on her own. But when she meets Felipe, she can't get him out of her head. Is she ready to risk her newfound strength by letting him fully into her life?

"The physics of this love story are as tried and true as time," says Gardner. "Liz questions the new love she is feeling and runs away from it, only to realize she can't live without this other person and goes back to get him, hoping it is not too late. The chemistry between Julia Roberts and Javier Bardem, who plays Felipe, is a perfect match."

"I was very intrigued but also very nervous about working with Julia Roberts," says Bardem. "I truly admire her and am a fan of her work, but I had never met her personally. I was coming into the film late in the game, and I didn't want to change the rhythm of things. But Julia was so welcoming and as human as a person can be, and funny as hell. She is so present when she is working, it almost hurts."

Julia Roberts says that as the long shoot - literally around the world - reached its final days in Bali, Bardem infused fresh energy into the project. "He gave all of us a new joyous sense of purpose," she says. "He is so great in the part of Felipe, because he really is just so human and natural."

Bardem, a Spaniard, practiced a Brazilian accent for the role. During rehearsals in New York, the Academy Award®-winning actor had dinner with the real-life Jose Nunes, whom the Felipe character is based on.

"The role of Felipe isn't your a typical Latin lover, and Javier wasn't interested in playing it that way," says Gardner. "The fact is Felipe has grown children and once suffered from a broken heart. He is calm and funny, and lives his life with simplicity."

"I read the book right after I read the script," says Bardem. "It talks about something very common to all of us, which is broken hearts and how to overcome the pain. But there is humor in the story too. I could relate a hundred percent. We are always trying to be somebody else, either because we are not happy with what we are, or because we want people to love us and accept us. Felipe is just pure, and it is so striking and refreshing for Liz to meet someone who gives her permission just to be the way she is, and in the process falls in love with her for it. That is very powerful."


Balinese healer and medicine man Ketut Liyer, whose name literally translates to "bright light," played by newcomer Hadi Subiyanto, is instrumental in Liz's journey in Indonesia. After meeting Ketut on her first visit to Bali, his words and wisdom propel her to return. Their friendship is an exchange of expertise, in which she transcribes some notebooks and teaches him English, and in return he listens to her, offering healing advice when needed most. "Ketut is a really important role, as he is the catalyst that prompts her to go back and find Felipe," says Gardner. "This is the moment when Liz is at the crossroads, and she has to make a decision. She can talk herself into it or out of it. But the truth lies only within herself and no one else."

Finding an actor to play this pivotal role was a challenge. Then, one evening, at a hotel in Jakarta, a flute player named Hadi Subiyanto caught their eye. They asked him if he would like to read for the role even though he had never acted before - or if he even knew who Julia Roberts was. Nonetheless, he soon found himself on a plane for Bali. "This is a big occasion for me, to get this job," he says. "It is the second biggest thing to happen to me in my life. First I was born, and now this. I am very happy."


Eat Pray Love Costumes & Design
www.femail.com.au/eat-pray-love-costumes-design.htm


Buy it now at