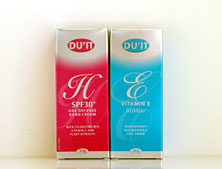 VITAMIN E FACE CREAM
DU'IT E face cream is a high potency defense against the elements. This protective and nourishing cream helps the skin to remain radiant and hydrated around the clock. With a high concentration of Vitamin E (200iu per gram), DU'IT E assists in the reduction of the visible signs of premature aging. Plus helping to diminish the appearance of stretch marks and scar tissue, an intensely nourishing product that soothes and moisturises even the driest of skin.
The DU'IT E has the ability to neutralise free radicals such as pollution, smoking and air-conditioning which can damage the skin. DU'IT E will aid the skin's own barrier function to greatly improve elasticity and skin texture, ideal for pre and post natal use, it contains no fragrance, lanolin, paraben or petroleum.
Applied whenever needed in a gentle upward circular motion, under make-up and for all skin types, DU'IT E will make a difference to your skin.
Beauty Consultant's Note:
A deliciously scented cream with the oils of grape fruit and mandarin clearly evident on application. Very enjoyable to apply, easily glides over the skin resulting in a swift transformation from tight dull skin after cleansing and toning to glowing and hydrated. Real lasting moisturising power, plus cleared blemishes quickly.
SPF30 AGE DEFENSE HAND CREAM
A powerful hydrating cream that smooths and protects the hands with the added protection of broad spectrum SPF30. A serious moisturising cream which penetrates deeply into the skin to nourish and soften the hands leaving them younger looking. Enriched with essential nutrients such as AloeVera and Calendula Oil, Cocoa Butter and Avocado the DU'IT Age Defense hand cream helps to prevent the signs of premature skin aging.
Infused with the highly effective anti-oxidants, Vitamin E and Q10, the product protects against damaging free radicals. Used as often as needed the DU'IT Age Defense hand cream provides instant hydration and softness.
Beauty Consultant's Note:
A truly luxurious product which gave an instant lift and renewed appearance to my hands. As with the Vitamin E face cream a long lasting moisturising effect and soothing feel to be thoroughly enjoyed. Definitely an improvement in the suppleness and texture to the skin, making my hands appear considerably more youthful. A very impressive product that will protect and renew.