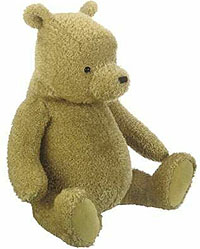 Baby Target has a delightful range of "Classic Pooh" products currently available in store.

Classic Pooh, not to be mistaken for Winnie the Pooh, is based on the original delicate illustrations from A.A Milne books. The range of Classic Pooh merchandise and products reflects the warmth, comfort and simplicity of the original Milne stories and uses subtle colour and delicate lines of the original E.H. Shepard watercolour designs.

The Classic Pooh range available in Baby Target includes plush, ceramic moneyboxes, picture frames and music boxes as well as a range of baby and toddler clothing.