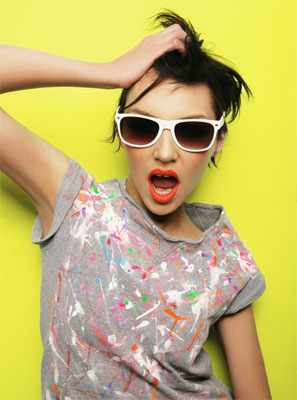 Cheeky, Fun and Passionate are three words that describe Claire Clarke, a singer and songwriter from Perth, Australia.

Claire is a girl who knows what she wants, and when it comes to her eagerly awaited NEW music, she had one very clear goal in mind, to have fun!

Our Australian Pop-punk dynamo has captured the high-spirited, full-throttle energy that she loves to unleash on stage. With saucy lyrics and cheeky attitude her new single is a deliciously addictive SMASH HIT!... 'Shut Your Mouth' with the extremely catchy lyrics "Shut Your Mouth... and Kiss Me!"

It's a marked departure from the darker, more introspective tone of Unhinged which Claire wrote when she was 17 years old; being an artist with a keen and well-trained ear for powerful, magnetic pop melodies the new album is a collection of songs that reveals just how far she's evolved as a singer and song writer. Claire's at a new stage in her life; she's passed through the shadows of teen angst and emerged in the spotlight, ready to have Fun and Rock Out!

Claire has played her own sell-out shows and supported Shannon Noll, Vanessa Amorois and Kate Miller-Heidke. Shut Your Mouth is written in Los Angeles by multiple Billboard number one hit song writer Klaus Derendorf and produced by Australia's won pre-eminent rock producer Lindsay Gravina at Birdland Studios!

Claire is our answer to Katy Perry; she is sassy, fun and her music rocks! Claire has the look of a cheeky teen with large red lips and black spunky hair, all of her clothes are bright and funky! Fashion is a passion for Claire; she looks the part and has released her own range of tees! The exclusive fashion tees which you may have already seen in fashion magazines all over Australia have just been released. Claire's exclusive shirts that read "Shut Your Mouth and Kiss Me" are making a huge impact in the fashion world. The stunning shirts come in various colours: blue on white, pink on purple, yellow on blue, yellow on pink, pink on white and green on black. Tee's are available in small, medium and large. Due to the great slogan and various colours they really are the fashion accessory of the season!


Claire Clarke Interview
Describe your style?

Claire Clarke: Fun Cheeky colourful!


Whose music do you admire most?

Claire Clarke: I really enjoy John Mayer, generally any songwriter who has something to say.


Favourite shop?

Claire Clarke: We have a great designer shop called Merge in Subiaco Perth, it carries all the local fashion designers, you can always findsomething very special and individual to wear.


One rule you live by?

Claire Clarke: Never go to bed without taking my makeup off first!


How does it feel to hear your CD?

Claire Clarke: Terrific! Realising all the hard work over the past year and knowing that it's all come together the way I wanted is very satisfying!


Did you have any pre-conceived ideas about the music industry?

Claire Clarke: Not at all, I have had to learn very quickly the way things work. It's a very interesting and complex industry, and you have to always be on your toes.


Do you write your own songs? What's your inspiration?

Claire Clarke: Yes and I love it. I had the opportunity to travel and co-write my new album 'Shut Your Mouth', which was a new experience for me as I wrote my last album 'Unhinged' by myself. Throughout the writing process I went into every session with a blank piece of paper. I wanted every song to be fresh and direct, no messing around!


What music/artists do you listen to when you are not playing your own?

Claire Clarke: I love listening to chilled out music.. John Mayer, Kings of Leon, Corinne Bailey Rae and James Blunt. I've also just downloaded The Script and Paulo Nutini's album!


Why did you decide to create a T-shirt line?

Claire Clarke: I absolutely love fashion, and I think the "SHUT YOUR MOUTH AND KISS ME" slogan from my song is undeniably one of my all time favourites! What better way to let your crush know what you are thinking… or just make a cool statement when out and about. They are so cute and sexy, I wear mine all the time!


Do you prefer performing live or recording?

Claire Clarke: They are very different so it's hard to say which my preference is. Recording is like being in a different world! Locked away for 12 hours straight for a couple of weeks, it's really cool! And I love performing live, it's such a rush, especially interacting with my audience and getting to see all my fans enjoying the music.


What/who was your inspiration to go into the music industry?

Claire Clarke: When my dad passed away I dedicated a song to him at a school concert and that was when I first started singing. It wasn't until my early teens that I started songwriting. I remember my first gig when I was 16 with all my original music, the feeling of being completely at home on stage with my own music really inspired me to want music to be my life and career.


What has been your favorite part of becoming a music artist?

Claire Clarke: There are so many amazing things, writing, recording and making music videos, travelling all over Australia and meeting lots of exciting new people. There isn't just one thing I love… every day is a rollercoaster ride!


If you could collaborate with another artist, who would it be?

Claire Clarke: It would be super cool to be in the studio with Timbaland, he's certainly the ultimate producer of our generation.



60 Second Quiz:
Full Name: Claire Clarke
Nickname(s): Claireabelle, bobby
Star Sign: Pisces
Music Talent: Singer/Songwriter
Favorite Food: Italian!
Favorite Film: Romeo & Juliet
Favorite Actor: Leonardo DiCaprio and Rachel McAdams!
Pet: Stormy my gorgeous kitten!
Describe yourself in 3 words: Crazy, Caring, Creative
Best Feature: My eyes
Worst Feature: My knobbly knees!
Person You Would Most Like to Meet: I'd love to meet some of my favourite musos - John Mayer or actors like Leo. Meeting Madonna would be pretty amazing too.
Hobbies/Interests: Watching movies, reading, video blogging
First Job: Front counter at McDonalds!
Are you a Pub, Bar or Club kind: Bar girl.
What is the first thing you think of when you wake up in the morning:


Claire has been graced with a beautiful voice, popular looks and a very catchy tune that will have you dancing wherever you are! Check her new single Shut You Mouth out now.