Lah Lah
What do you get when you put an Australian trained Opera Singer, an ARIA winning gypsy band double base player together, plus a man with a saxophone who is often seen on stage with Guy Sebastian, a keyboard player who has travelled Japan with Australian film composer, Mario Millo and a percussionist who did the musical recordings for the soundtrack of Baz Luhrmann's film, Australia?
The newest, most exciting kid's entertainers since The Wiggles…
Come sing and dance with Lah-Lah and Buzz as they join the band for some of the grooviest toe tapping tunes in town. A dancing double bass, singing saxophone and an accordion that sneezes when he squeezes! Welcome to Lah-Lah, a fantastical new kid's band introducing children to the magical world of music.
Lah-Lah is the loveable and fun central character who loves life and music. Together with her buddy Buzz the Bandleader and their instrument character friends Lola Double Bass, Mister Saxophone, Squeezy Sneezy and Tom Tom they explore a variety of musical styles from pop, jazz and world music, to a touch of Mozart which will have parents joining in tapping and jiving to a whole new beat!
Lah-Lah was created to promote the love of quality music performance and the intimate knowledge of a wide range of musical instruments and styles for preschoolers and their families. Lah-Lah appeals to boys and girls aged 2-6 years but will have the whole family singing and dancing along.
Lah-Lah Productions was created by Tina and Mark Harris, professional musicians in Sydney, Australia. Their aim is to promote the highest quality original music for preschoolers. Lah-Lah features some of Australia's premiere performers in the fields of jazz, classical and pop music.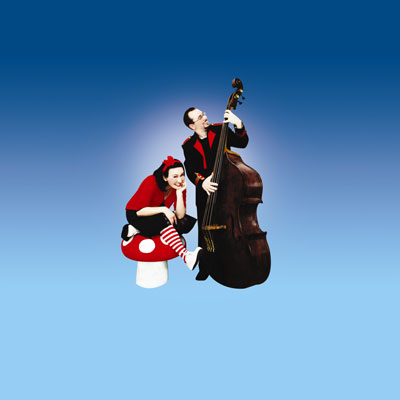 Meet the Band
Tina Harris
is a mother, teacher and performer, Tina combines her love of children with her love of music. Having graduated from both Wollongong University (Bachelor of Creative Arts), the Sydney Conservatorium of Music (Diploma of Operatic Arts, Master of Performance) as well as holding a TEFL certificate from the English Language Centre in London, Tina's music and teaching background is vast.
Tina has led an exciting career in teaching and music all around the world. She has sung with Opera Australia and has taught children both locally and internationally - she was based in Japan for two years teaching English to children.
On returning to Australia, Tina started her award winning music school for young children; Bassandsop Music presents Kindermusik, which is now the largest and fastest growing Kindermusik School in Sydney. More recently, with husband Mark, Tina created Lah-Lah. When she's not bouncing around as Lah-Lah or teaching Kindermusik, Tina is listening to music, playing music and performing as a soloist - and of course there was that backing vocals gig for the recent Michael Bublé Australian Tour!
Tina's fun approach to music and life means she's not short of fans. Bringing her love of music and singing to children, Tina is a passionate performer and educator. Tina's goal in life is to bring the world of music into the lives of little people and make music accessible to children of all ages!
Gary Daley
is best known for his virtuosity as a jazz pianist but it is on the piano accordion where his role in Lah-Lah shines. Gary has been a leading player in the Australian music scene for over 20 years performing and recording with jazz, soul, funk, world music leaders in each field. He has appeared and recorded with Renee Geyer, Kristin Berardi, Kristen Cornwell, Lily Dior, Adrian Cunningham, Edoardo Santoni, Daryl Aberhart, Richard Maegraith, and Doug Williams, among others. Gary held a residency at Sydney's famous Basement with Doug Williams for almost five years. Gary can also be heard on television and radio ads, and his CD of original music, World View in 2000 was sponsored by Jim McLeod's Jazztrack and received national airplay.
Internationally, Gary has toured Japan with award-winning Australian film composer Mario Millo performing in concert in Tokyo and Osaka.
In 2003 he received a composition commission to write and record original project "In the Palm of Your Hand", an hour-long gospel/ jazz piece for jazz ensemble, choir and lead vocal. "In the Palm of Your Hand" was recorded with wife Joy to critical acclaim.
Gary is James Valentine's Quartet, which will be releasing in October. He also performs with Kristin Berardi and the Orghanum Trio. Gary is well known in the music scene as a music educator teaching at St Paul's Grammar school.
Matthew Ottignon
is one of Sydney's busiest saxophonists. His versatility and flair for performing sees him sought after by bands of many different flavours and styles. He has appeared on the recordings of Katie Noonan, Jackie Orszazcky, and Mike Nock and has appeared on stage with international legends Lou Reed, Brian Wilson, Steve Cropper and Donald Duck Dunn.
Ever since moving to Sydney from his hometown of Auckland NZ, Matthew has been in demand for his ability to add something special to bands, DJ's and recording artists from all over the world, in particular because he spent some time with jazz master Mike Nock. His skills as a multi instrumentalist have landed him in triple ARIA winning band Monsieur Camembert, and Matthew is often seen on stage with Guy Sebastian. His own jazz trio project 'Informal Troupe' released their debut album in 2007 to critical acclaim.
Matthew is currently Artistic Director for Sydney's Jazzgroove Association and is involved in the Compass Sax Quartet, Crusty Suitcase Band, Hipstones, Splinter Orchestra, Java Quartet, and John Pochee's Space Cadets.
Matt plays with the Musica Viva in Schools Touring program and teaches at the Australian Jazz Workshop. He is passionate about music education for children and loves working in the school environment.
A permanent fixture in the Sydney jazz scene for many years now, Matthew adds his individual tenor sound to many outfits.
Mark Harris
graduated from the Sydney Conservatorium of Music with a Bachelor of Music (Jazz) in 1996, Mark joined the Mark Isaacs Trio performing regularly at major Jazz festivals and Sydney Jazz clubs. While studying at the Conservatorium, Mark developed his love of singing and in 1998 returned to the Conservatorium to study in the opera department.
In 2001 Mark relocated to Paris where he played with the Chris Cody Coalition and also as a regular at Les Sept LĂ©zards Jazz Club with Chris and also saxophonist Steve Potts. From Paris to Tokyo, Mark performed various concerts with local artists as well as Australians Sean Wayland and Mark Isaacs. On returning to Sydney in 2003, Mark began a two year stint performing with the James Morrison Sextet.
In 2005 Mark's debut solo album Entrée with his accomplished band Mark4 was released to critical acclaim by Jazzgroove Records. In the same year Mark joined the triple ARIA award winning band Monsieur Camembert as bassist and vocalist. In 2007 they released Famous Blue Cheese, a double album of Leonard Cohen works. In 2008 they were special guests at the International Leonard Cohen Festival in Canada.
As an educator Mark teaches both electric and double bass at Sydney Grammar School where he has been a tutor for over 10 years. Mark has worked extensively with Musica Viva in their educational schools program, touring both locally and interstate.
In 2009 Mark graduated with a Master of Music (Performance) from the Sydney Conservatorium of Music.
Jess Ciampa
trained at the NSW Conservatorium of Music from 1983-86, completing a Bachelor of Music Education. He began majoring in trumpet changing later to orchestral percussion. Jess is a multi-instrumentalist who has played and recorded in a wide variety of styles.
Jess has played, toured and recorded with a wide variety of classical groups, including the Sydney Symphony Orchestra, The Australian Chamber Orchestra, The Australian Brandenburg Orchestra, Sydney Philharmonia, The Seymour Group, Synergy Percussion, Bolshoi Ballet, The Royal Ballet, and Sydney Dance Company.
Jess' theatrical credits include The Lion King, Summer Rain, Miss Saigon, Secret Garden, Fame, and Oh, What A Night. He played in the 2008 season of Bubble at the Studio, Opera House with the Legs on the Wall company. His jazz skills are regularly used with the Bernie Hayes Quartet, Dog Trumpet, Monsieur Camembert, and Margaret Urlich. Jess has played percussion on The Whitlams CD Love This City, the Ian Moss CD Let's all Get Together, a Jeff Duff recording, and a Blind Man's Holiday recording. Jess has played with Don Burrows, Dale Barlow, Deborah Conway, and The Catholics. Recent soundtrack recordings include Happy Feet, Walking with Dinosaurs and musical recording for the soundtrack of Baz Luhrmann's film Australia.
Jess has played Timpani on Australian Idol as well as recording and touring nationally with ex-Idol contestant, Bobby Flynn. He has also played Percussion for Tina Arena.
As well as jazz, classical, and popular music, Jess also has a strong involvement in the salsa scene playing Latin percussion, backing vocals and bass. He has played with Salsation, Batuka, Saraguey, Saoco, Candela, Barrio Salsa, Matanza, Espirito, and Mano a Mano. He is currently a member of Mucho Mambo and Salsa Rica.
Jess has been involved as a musician for the Flying Fruit Fly Circus for many years, including a six week season at The New Victory Theatre on 42nd St, Broadway, New York. For the last 19 years Jess has been performing in schools around Australia and Singapore for Musica Viva.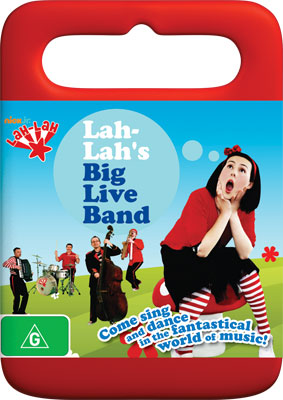 Lah-Lah's Big Live Band DVD
Available to own from 6th of May
Rating: G
Running time: 36 mins
RRP: $19.95
Lah-Lah's Adventures Live at The Opera House
Performance Dates: Sat 15- Sun 16 May, Tues 18- Sun 23 May
Times: 10am, 11am & 12pm
Running Time: 35 minutes
Venue: Utzon Room
www.sydneyoperahouse.com
Interview with Tina and Mark Harris
What is different about Lah-Lah compared with other children's entertainment?
Tina and Mark Harris
: Lah-Lah is a live band for kids with a particular focus on the instruments and how they are played. Lah-Lah features voice, piano accordion, keyboards, drums, percussion, saxophones, clarinet, flute, and of course Lola the dancing double bass. Also, Lah-Lah covers a very wide range of musical styles from jazz, gypsy, world, Latin, pop, and even classical.
How will Lah-Lah appeal to children?
Tina and Mark Harris
: Lah-Lah's music is designed to get children toe tapping and finger snapping from the first note. The melodies are instantly singable and the dance moves are also very doable for little bodies. The lyrics appeal to the preschool age group with songs about each instrument's funny character, sneezing and even brushing your teeth. The look of Lah-Lah is very bright and fun with lots of interesting instruments to see ... And touch!
Can you please explain how Lah-Lah is educational as well as fun?
Tina and Mark Harris
: While we spend a lot of time working with Lah-Lah, Tina and Mark also run Lah-Lah's Music Place, Sydney's largest Kindermusik school for preschool age kids, teaching a curriculum developed using methods of Dalcroze, Laban, Kodaly and Orff. Over the years our performances have been informed by our school (and it's wonderful enrollees) with great ways to get musical messages across to our audience. Our music is always written with global musical principles at the forefront in a featured way, such as loud and soft, fast and slow, high and low, stop and go - and all in a wide array of styles. The children not only love these contrasting elements of the songs, but they are learning about the most basic concepts of composition and form along the way.
What inspired you to begin Lah-Lah?
Tina and Mark Harris
: Firstly our own two beautiful daughters, who were both preschool age when we began (and one still is). Secondly our Kindermusik school gave Tina in particular a wealth of experience with the age group in addition to her experience with Opera Australia's in school program. Thirdly is Mark's membership in the triple ARIA award winning band Monsieur Camembert and his colleagues there who, like Mark, have all worked extensively with the Musica Viva In Schools program. Last but certainly not least is our love of kids, writing and performing.
How did you go about approaching the 'Big Live Band' members?
Tina and Mark Harris
: As mentioned above, Mark works with them all constantly. We've both been performing musicians in Australia for longer than we care to mention and along the way we have met some amazing musicians and performers. It was not a case of casting the band, just calling our friends and saying, 'hey, we've got this great idea...'.
Tell us a little bit about the character of Lah-Lah:
Tina and Mark Harris
: Lah-Lah is the lead singer of the band and best friends with Buzz the bandleader and of course all the other band members. She loves to sing and dance and has an insatiable curiosity about everything musical. Together with the band Lah-Lah leads the audience on a lighthearted and playful journey across a musical landscape. Lah-Lah loves red and stripes and you'll always know it's her by her cute red headband and red and white striped socks.
What music can audiences expect from the show?
Tina and Mark Harris
: On the DVD program 'Lah-Lah's Big Live Band', audiences will find a collection of twelve of our favourite songs performed by Lah-Lah and the band in a gloriously designed cartoon world. Together with some very special segments about music and instruments the DVD features Lah-Lah, Buzz, the band and also some wonderful young guest stars. The Live Show at the Opera House in May 'Lah-Lah's Adventures' is a proms format show as were our previous seasons, whereby there is no stage or barrier separating the performers and the audience. The Utzon room is very intimate and enables very up close and personal interaction for all and we even bring the instruments out into the audience at the end of the show so everyone can touch them and hear them played up close!
Tina, did you previous teaching career make it easier to construct a show for children?
Tina Harris
: Definitely. Having the pleasure of singing and dancing with preschoolers on a daily basis has taught me what musical and dance elements and subject themes the children really relate to. For example they love physical comedy so we incorporate a slapstick routine where all the band try unsuccessfully to fit into a little combi, even with the big double bass! We also approach the show's construction with an awareness of what parents want and expect for their kids, we have written fun and non-preachy songs about issues parents face like teeth brushing and bedtime.
Mark, do you think that being a father makes it easier to perform for children?
Mark Harris
: Being a father of young children has given me the experience of how they react to different things that are presented to them. For example, when I'm performing for adults I feel terrible if I see someone yawning, as though my playing is boring them. With kids, who haven't yet learnt the social conditioning of being an audient, I take a yawn as a compliment - that I have contributed to the child's feeling of relaxation and comfort. Prior to having my own kids I was daunted at the prospect of entertaining children, however now I just tap into my own inner preschooler.
Is this show only for Australian audiences, or will children worldwide appreciate the show?
Tina and Mark Harris
: Lah-Lah is a very international ensemble. At this point in Lah-Lah's life there is no particular focus on any one culture. Lah-Lah lives to explore music and music is, like all art, completely global. Of course certain genres of music tell a specific cultural story, however the wide range in styles performed by Lah-Lah ensures that we are never in one place for very long. The Lah-Lah clips are currently on air not only in Australia but also across South East Asia, New Zealand and parts of the South Pacific, with new areas of the world loving Lah-Lah every day.
How important is it to you than children experience entertainment such as this show?
Tina and Mark Harris
: It is extremely important that in this world where computers generate so much of what we see and hear, and often brilliantly so, that young people are still given the knowledge that music is something that everyone can do without one. With a commercial recording industry narrowing the scope of what music we are exposed to and from a younger age for greater record sales, it is crucial that children are shown a wide range of styles of high quality music so that they can develop their own taste and hunger for art. Many people are wholly unaware of the most exquisite musical experiences from the farest reaches of the globe that are now more than ever readily available to them, thanks ironically to technology. Popular preschool entertainment has the opportunity to open some of these doors to our youngest and most impressionable and has an obligation to do so.