Felicity Urquhart
It takes an extraordinary artist to emerge on each new album with a fresh, original and dynamic sound - yet at the same time stay completely true to herself. But integrity is a vital part of Felicity Urquhart's music as her new album, Landing Lights, shows.
Produced by highly respected producer Brad Jones (Bob Evans, Josh Rouse, Richard Julian), this is an album that transcends musical boundaries, combining Felicity's exquisite voice and extraordinary songs with a simple thread of truth.
The album's title track Landing Lights was co-written with ex-pat Aussie musician Jedd Hughes and touches the soul in the gentlest possible ways. The metaphoric description of finding comfort in that solid heart that awaits on ones return and gives balance to life.
Like Landing Lights, the album offers a collection of songs that reveal the many aspects of this remarkable singer and songwriter. "Little Cricket is open to interpretation - that is the beauty of songwriting. It was co-written with Robert Lee Castleman, who's written a number of hits for Alison Krauss. He rarely co-writes, so when he offered I was thrilled. I love what 'Little Cricket' says, and the way it says it," Felicity said.
The highly autobiographical "Girl in the Mall", co written with Mark Seymour (of Hunters and Collectors fame), is both heartfelt and powerful.
Mark Seymour and Jedd Hughes are just two of many musical luminaries to join Felicity on this landmark album. Others include Kim Richey, who co-wrote and sang on the exquisite "All Good Fun", one of the album's standout tracks, along with Randy Scruggs, who wrote and performed on "Rollercoaster", and The Greencards' Kym Warner, who played on "So Go On" and "Girl in the Mall". "Ernie's Daughter", co written with Melbourne musician Chuck Jenkins and Weddings, Parties, Anything's Mick Thomas. Pedal steel legend Al Perkins and the extraordinary Fats Kaplin also left a memorable mark on the album.
"With this album, I wanted to open myself up to possibilities - to do something totally different, to take a risk," Felicity said. "Thanks to Brad Jones, every song had the chance to be what it needed to be - to be honest, vulnerable and true to itself. Brad is a very sort after producer and for him to choose to work with me and my music was such a compliment."
Felicity's step into the unknown is very evident on her first single, the powerful, edgy "I Fall", co written with The Badloves' Michael Spiby. "It's a very different song for me. I like taking new ideas and just going for it. Every album is uncharted territory, and should be fresh. Each song is absolutely me," Felicity said.
It's not surprising that Felicity is so grounded, yet so comfortable stretching the boundaries. She's an artist who's at ease in her own skin. For Felicity, recording Landing Lights was a chance to do what she loves most - making music - in between a hectic schedule that includes being a presenter on Channel 7's Sydney Weekender, other TV and radio roles such as being the regular fill-in host on ABC radio's Saturday Night Country, and being the face of The Heart Of Country for Tourism NSW.
Felicity has supported John Mellencamp, Sheryl Crow, Willie Nelson and the late Waylon Jennings, and toured Australia with international music icon Kenny Rogers. She has been songwriting with some of Australia's leading writers, including James Blundell, James Reyne, Ross Wilson and Nick Barker.
Her single "Two Wheels" (#2 Top 30 Country Tracks / Top 10 CMC video chart) is a collaboration with highly respected Melbourne artist Nick Barker - Rhythms magazine compares Felicity to Kasey Chambers, and Bernard Zuel (SMH) says "Two Wheels…gritty sexiness".
The latest single "Roller Coaster" (#7 Top 30 Country Tracks) is the track nominated for her Female Artist of the Year in the 2010 CMAA Golden Guitar Awards, alongside "Girl In The Mall" APRA Song Of the Year nomination.
Felicity Urquhart places a soulful sense on the country music genre with her classic, yet stunning vocals and poignant lyrics. The whole album, Landing Lights is a pleasure to listen to and you can hear Felicity wholeheartedly created her upbeat tune through passion.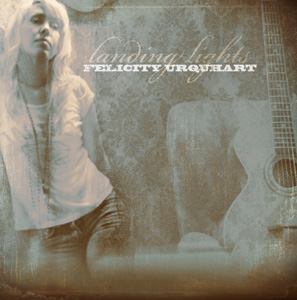 Track Listing
1.Little Cricket
2.So Go On
3.Two Wheels
4.All Good Fun
5.I Fall
6.Girl in the Mall
7.Old Man Trouble
8.Time for a Change
9.Roller Coaster
10.Bed and Breakfast
11.Ernie's Daughter
12.Landing Lights
Interview with Felicity Urquhart
How did it feel to hear your song played all over the airwaves?
Felicity Urquhart
: Weird...I find it hard to listen to myself. I remember hearing myself in the supermarket for the first time in the cereal isle. I picked up the wrong box totally distracted.
Did you have any pre-conceived ideas about the music industry?
Felicity Urquhart
: Not at all… When I started I just wanted to play my guitar and sing my song to people and hope they would clap.
Do you write your own songs? What's your inspiration?
Felicity Urquhart
: The songs I write come from a personal point of view or experience. I have a strong family bond and I use them for ideas in a lot of songs. It's helpful when there's a subject matter I feel strongly about so I use lyrics to make a point or get an idea or feeling across that sometimes I wouldn't say in conversation.
What music/artists do you listen to when you are not playing your own?
Felicity Urquhart
: Good music... all kinds. Lots of singer songwriters and quite a lot of Bluegrass.
What's next? Tour/Album/Single?
Felicity Urquhart
: Touring with Troy Cassar-Daley locally in Victoria at the moment and then off to Germany for a tour ending in France.
Was there a moment you contemplated throwing in the towel?
Felicity Urquhart
: Yes, when I was dropped by EMI records.
Do you prefer performing live or recording?
Felicity Urquhart
: Live because of the energy and feel you get with an audience. It's immediate.
What/who was your inspiration to go into the music industry?
Felicity Urquhart
: Growing up in a festival town. Seeing live shows and being totally drawn to the stories and the musicianship.
What is the biggest challenge you have faced along the way to your musical success?
Felicity Urquhart
: Being heard is the biggest struggle as a singer songwriter.
What's a typical day like?
Felicity Urquhart
: At the moment there is no typical day...My perfect day would be to work on a song idea, go for a long walk, drink cups of tea, read the paper, sit down on the couch at the end of day .
What has been your favorite part of becoming a music artist?
Felicity Urquhart
: Doing gigs with some of my heroes like Willie Nelson, Waylon Jennings, Sheryl Crow ,John Mellancamp and Kenny Rogers.
If you could collaborate with another artist, who would it be?
Felicity Urquhart
: Alison Krauss- amazing singer/ bluegrass musician /producer.
Are you single? What do you look for in a partner?
Felicity Urquhart
: Newly married.
Do you have a website fans can visit?
Felicity Urquhart
:
www.myspace.com/felicityurquhart
Can you tell us 5 things required for a happy healthy & enjoyable life?
Felicity Urquhart
: Family, 5 close friends, Honesty, Good food and Faith.
What message would you like to say to your fans?
Felicity Urquhart
: Thanks for coming to gigs and buying the music.
60 Second Quiz
Full Name: Felicity Ann Urquhart
Nickname(s): Fliss
Star Sign: Taurus
Music Talent: I sing, play guitar, piano and banjo
Favorite Food: Thai
Favorite Film: O'Brother
Favorite Actor: Cate Blanchet
Pet: Don't spend enough time at home, to have one at the moment
Best Feature: My smile
Worst Feature: The rest
Person You Would Most Like to Meet: Alison Krauss
Hobbies/Interests: My nephews (Geordie & Tully)
First Job: Stripping furniture in my Dad's workshop- he's an upholsterer
Are you a Pub, Bar or Club kind: Pub
What Can You Never Leave Home Without: My Guitar
What is the first thing you think of when you wake up in the morning: Food.