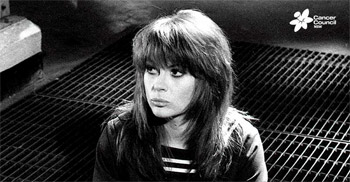 Chrissy Amphlett's I Touch Myself Campaign
Ten of Australia's greatest female singers unite to transform Chrissy Amphlett's 'I Touch Myself' into a breast health awareness anthem.

Almost one year ago, Australian rock legend Chrissy Amphlett, of the infamous band the Divinyls, passed away following her battle with breast cancer at the age of 53. Chrissy was passionate about spreading awareness around the importance of early detection of breast cancer and wanted her song 'I Touch Myself' to become an anthem for women's health around the world. As a tribute, Chrissy's family and friends, Cancer Council NSW and communications agency JWT Sydney have come together to turn her divine dream into reality by launching the I Touch Myself Project.

On the 13th April 2014, a music video will be launched featuring leading female artists – Olivia Newton-John, Megan Washington, Sarah McLeod, Katie Noonan, Sarah Blasko, Suze DeMarchi, Deborah Conway, Kate Ceberano, Little Pattie and Connie Mitchell – in a tender rendition of Chrissy's song. Marking the first anniversary of Chrissy's passing on 21st April 2014, the campaign will ask women to 'touch themselves', reminding them to get to know the look and feel of their breasts. Through the combined support of the female vocalists and celebrity ambassadors including Deputy Opposition Leader Tanya Plibersek, celebrity chef Kylie Kwong and RocKwiz's Julia Zemiro, the campaign is set to become a media and social media circuit-breaker.

Chrissy's husband Charley Drayton is passionate about making sure Chrissy's legacy lives on to help women better detect breast cancer: 'Chrissy voiced it clearly – she wished for all women to be mindful of themselves when they heard the tune; to be good to themselves, inside and out.'

Kathy Chapman, Director of Cancer Programs, Cancer Council NSW said, 'We know that by the age of 85, one in eight Australian women will be diagnosed with breast cancer. However, detecting breast cancer early is the most important factor in beating this disease. Through this campaign we are encouraging women to get to know their breasts better, to know what is normal for them and to participate in breast screening if they're in the right age range. At different ages there are various steps women can take to help detect breast cancer early, however at any age if women have any concerns they should contact their doctor'.

The I Touch Myself Project will share Chrissy's worldwide hit song of the same name as a way of reminding women to be in touch with their bodies and, if something's not right, see their doctor.

The campaign is supported by a website: itouchmyself.org; and a social media campaign that encourages people to share how they've been touched by breast cancer using the hashtag #itouchmyselfproject on Twitter, Instagram, Facebook & Google+.

The I Touch Myself Project is a passion project for all those involved. Chrissy's family, co-songwriters, and her husband, Charley Drayton, kindly donated the infamous song, while the female artists, celebrity ambassadors, directors, agency and crew donated their time and talent.

The I Touch Myself Project is the brainchild of advertising agency JWT, who worked in partnership with digital agency Soap Creative, production house Collider, and Hill+Knowlton Strategies.