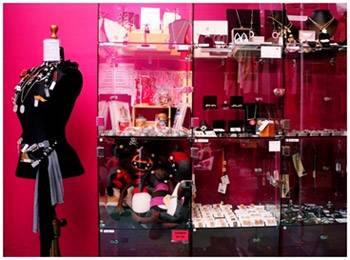 in.cube8r
in.cube8r is certainly different. The shop stands out for the business model that its owner, pink-haired Isy Galey has pioneered, almost as much as for the huge range of hand made products that can be found inside.

in.cube8r sells a huge range of handmade work by Australian artists. For many of them it is their first experience of retail. The only proviso is that the products must be made by hand – in Australia – by the artist. So every product is different from the next.

Isy's background prior to starting the business was certainly eclectic – she was a nanny, ex-kindergarten teacher, glass blower and general Girl Friday. However she had always wanted to support artists and designers who craft beautiful, handmade products. And she has managed to do just that, but without taking any commission on their work.

She created in.cube8r after attaining funding from a private philanthropist on the back of her NEIS training, and armed with a 50 page business plan and 100 market research surveys. She wanted to allow people to retail their hand made products in a cost effective way. It's brilliant.

Isy never takes a commission from the artists that lovingly hand make the products she sells; she just rents them out their own glass cube, 2D partition or rack in the store for an affordable amount ($20-$60 per month) and the artist can do their own merchandising and decide their own prices. They get 100% of the money that is made from purchases. As you can imagine, Isy has had extensive waiting lists since day one!

Business model aside, the shop is an absolute treasure trove of gorgeous handmade jewellery, clothes, books, art and much, much more. With hot pink walls and an eclectic mixture of furniture inside, it's a treat to just walk in the door. The quality of the work produced by many of Melbourne's undiscovered artists is very high. It's well worth a look!

in.cube8r can be found at 321 Smith St, Fitzroy, just near the corner of Johnston St, or for more information, check out the website at www.incube8r.com.au. There is also another store in Brisbane.