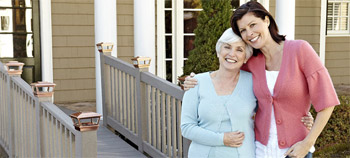 Ageing In One's Own Home
Surveys from USA have identified a hugely popular Ageing In Place trend where the vast majority of people aged over 65 (90%) reported that they would prefer to stay in their own home as they age. This trend is as relevant to Australians as it is to the rest of the Western world.

It is no secret that our ageing population is increasing rapidly, with baby boomers now reaching the retirement age. In 2012, there were 4.5 million Australians over the age of 60 representing 19.6% of the population and by 2050, this percentage will increase to 28.9%. Boomers will require healthcare and end of life care at a level never seen before.

Ageing in place is a term coined over ten years ago to describe a person living in a residence of their choice for as long as they are able. For decades, Seniors have had no choice but to move in their twilight years to a facility often far away from their friends and family to cater for their ageing needs.

'Older Australian's generally want to remain independent. They want to be in control of how and where they live and to stay connected to their families and maintain contacts in their community that they have forged over decades. They also want to have a choice in the type of care they want to receive," said David Goding, Director Morris Goding Access Consulting.

In response to this Ageing In Place trend, Morris Goding Access Consulting has specifically designed accesshomes.com.au, offering free, practical advice and certification for the modification of homes for seniors so that they can remain in their own homes and reduce the amount of time spent in hospitals and nursing facilities.

David Goding stated that the Ageing in Place model through better accessibility and safety in the home for senior care will lead to a large decrease in hospitalisation and therefore a significant reduction in healthcare spending.

accesshomes.com.au provides:
Free advice on home modifications and best design practice
Directory for nursing, occupational therapists, homecare, financial assistance and builders
Information on the latest technological equipment to assist the aged in their home
Up to date news on aging, blogs and general information.

'We are in a period where enormous strains are being placed on housing due to the ageing population. There will be many people who will be able to be accommodated in nursing homes; conversely there will be many more that will not," said David Goding.

'Ageing in Place may well be the most financially prudent and essential housing option for those seniors with the physical ability to remain at home. '

Access Homes website is there to help Seniors put in place the right modifications to their homes and help find the best local support networks to ensure a safe and well lifestyle in their own home.