Forty Winks: Buyer's Guide To Bedding
The bedroom is a place to rest and unwind and a good night's sleep is crucial to total wellbeing. A comfortable mattress and bedroom setting is an essential ingredient to sleeping restfully, but getting it right can be an overwhelming and difficult task.

Forty Winks Group Manager, Kara Norris says with almost a third of our time spent sleeping, it's important the environment in which we do so is appealing, yet relaxing and comfortable.

'Consumers are becoming far more educated about the importance of sleep and the different options available in mattress surfaces and bedroom furniture," says Kara.

A number of factors affect how long your mattress will continue to provide optimum comfort and support. 'The lifespan will vary considerably depending on its quality; its frequency of use; the wear and tear it receives and how well it's been cared for.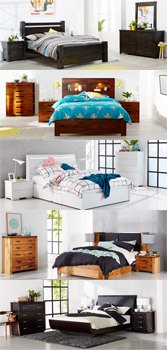 'As a general rule, a good quality mattress, with normal use, should be expected to last around 7-10 years."

'Be sure to do plenty of research to know the different options available and always head in-store to talk to a bedding expert before making the final purchase."

Updating the bedroom can be easily achieved through a few simple design updates. 'Clever colour selections and complimenting surrounding furniture and furnishings can transform a dull and uninviting space into a bedroom sanctuary," says Kara.

Forty Winks bedroom makeover tips:
Bring the outdoors inside with fresh plants, open windows and plenty of light.
Consider clever storage solutions which maximise space.
When choosing colour, consider tones that make you feel comfortable and complement bed linen, carpets, curtains and soft furnishings.
Introduce an accent wall behind the bed for a feature.
Consider the bed linen theming you have chosen. You can highlight some colours from your linen to tie in the whole setting together.
Accessorising with pillows and throws is a great way to introduce bursts of colour.

For more bedroom information or advice visit www.fortywinks.com.au