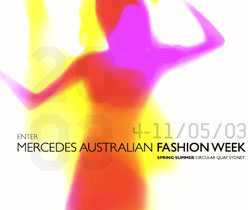 CHARMAGNE MEWING SPRING/SUMMER 2003

Acclaimed local couturier Charmagne Mewing will present her 2003 Spring/Summer Collection at 11.30am Tuesday 6th May as part of Mercedes Australian Fashion Week.

Known in the industry as one of Australiašs most promising young designers, Charmagne Mewing has developed a fluent and individual style that has set her apart from her peers and shows talent beyond her 23 years.

Charmagne has received much acclaim for her hand detailing and exquisite construction. This season she has incorporated a seductive edge into her already unique and distinctive style.

Please join us on Tuesday 6th May for what promises to be a highlight of Mercedes Australian Fashion Week.