Diamonds are a Girl's Best Friend Gala Dinner
Where: Palladium Room, Crown Casino, Melbourne

When: 28th June 2007

Time: 6.30pm

Includes: 3 Course Dinner, Champagne, red & white wine & soft drinks

Dress Code: Glamorous

Price: $120pp (inc gst)

Bookings: Sold Out


Need a good excuse for a 'Girls Night Out', the Challenge 'Diamonds are a Girl's Best Friend Gala Dinner' annual event is on again.
A sell out for the last 6 years, the Challenge Gala Dinner 'supports kids with cancer'.
The event is held to assist parents, in particularly mothers, who are caring for a child living with cancer or other life threatening blood disorders.
This is a fantastic all female event and one that every woman wants to have on their calendar.
The event is designed to be a great girls night out and some of the features of the event include champagne bar with the chance to win diamonds valued at over $10,000, beauty salon experience upon arrival, goodie bag for every guest valued at over $100 plus great entertainment.
Besides all of the fun, glamour and excitement surrounding this event, Challenge hosts this event to support our Women for Challenge (WFC) program. The Women for Challenge program provides mothers with the opportunity to:
*
Socialise with other mothers, allowing them to share their experiences in a supportive and open manner
*
Enjoy "personal time" to re-focus and re-energise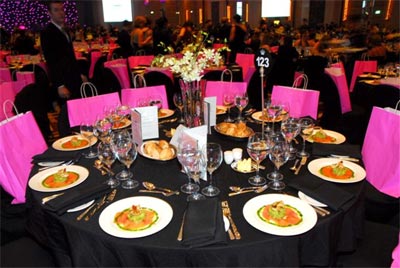 2006 saw Challenge further extend their support for mothers, including six weekend retreats, for both current and bereaved mums. These weekends offer a small group of mums the opportunity to take time-out and indulge themselves in two days of rest and relaxation. Following the Diamonds Dinner in 2006, over 60 mums benefited from these retreats.
Monies raised last year also allowed Challenge to increase their provision of home help services, with more than 100 hours of assistance accessed by Challenge mums. This allowed parents to spend quality time with their children when they get home from hospital, without having the stress of cleaning the house, mowing the lawns or getting the ironing under control.
One of their most recent initiatives was to provide lunches for groups of mums living in regional areas, such as Bendigo, Ballarat, Berwick and Geelong. These lunches gave mums who may have felt very isolated and alone, the chance to meet other mums living nearby and who are facing the same day-to-day issues.
These important services would not be possible without the support from the annual Diamonds are a Girl's Best Friend Gala Dinner.
On the Night
A chance to win elegant diamond jewellery from P.H. Diamonds

Courtesy hair and make-up available in the crown palladium foyer from 6.30pm

Every lady receives a fabulous gift bag full of goodies valued over $100.00

Auctions and a major raffle will be held on the night.

If you have an product you would like to include in the showbags or donate for silent auction at the event Email: femail@femail.com.au.


Challenge - Supporting Kids with Cancer