Casey Affleck Gone Baby Gone Interview
Q: What research and preparation was necessary before you starting filming Gone Baby Gone?
Casey Affleck
: I had the advantage of growing up in this area and being familiar with the accent and the attitude of the people that live there. That was more helpful than I thought it might be. I tried to learn what a real private investigator does on a daily basis and what these cases are really like. I knew they would not be glamorous but more mundane. They spend most of their time sitting at a desk, working on a computer and calling people. When I came to the project it was about working with Ben and trying to find the character together and making sure we were on the same page.
Q: Working with your brother raises the notion of whether there was almost some kind of ESP going on because you are close?
Casey Affleck
: I wish there had been ESP because it would have saved us four fights a day. Unfortunately we have to vocalise our thoughts. We disagree and because we are brothers we openly disagree. So there would be quite a few times when people would be sitting around the set waiting for us to work out our disagreements. I think it actually helped in the long run because we could arrive at the same page.
Q: What do you think of Ben as a director?
Casey Affleck
: I think he did a great job I am very proud of him. He has won the respect of people like Morgan Freeman, Ed Harris and John Toll all of whom have won Oscars. I think that says more than I ever could. He is a natural leader, which is a very important quality in a director. He did it with dignity and grace.
Q: How has parenthood affected you when you do a dark film like Gone Baby Gone?
Casey Affleck
: It is pretty disturbing. I always felt I was a sensitive person. You never understand how children can make you feel till you have them you become very vulnerable to the kind of deep sadness and tragedies that affect children. It was the kind of thing I did not like try to think about much. Luckily in this film my character is sort of naively more focused on the case and being vindicated.
Q: One of the toughest scenes to do must have been when they discover the pedophile nest?
Casey Affleck
: I t was disturbing. They had a very life like dummy for the child's corpse and that was a horrible thing to see. I have seen real things in life that are horrible and they are unshakable. When I first read the script I thought who is going to want to see this but I think that Ben found a way to pout it in a context where it id not necessarily as upsetting. He makes it bearable. The movie asks a lot of difficult questions - like can it ever be ok to take someone else's life. Those are hard questions to answer.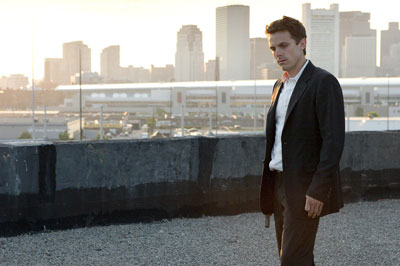 Q: What was it like filming in the areas of Boston where the story is set?
Casey Affleck
: It is a lot like where I grew up. It is very tight-knit. I think the movie is a little bit of a love letter to Boston. It depicts Boston realistically but also with great affection and that is something I am really proud of. Through the lens you can see Ben's passion for the people and his love for the streets and neighbourhoods of Boston. It comes through and is moving and is very close to my heart. So it was a great thing to be part of for me. I think the people of Boston think it is a positive thing overall and realistic depiction of their city.
Q: But you must have had to go into some pretty bad areas?
Casey Affleck
: That's true. We would show up and do a scene and a group would gather. But I was never scared. I felt very comfortable. We were a little bit freewheeling. Ben did not wait for the whole machine of the movie to get ready. A lot of people who worked on the movie were ex-Boston cops.
Q: How was working with Michelle Monaghan?
Casey Affleck
: She did a great job and she had her work cut out, She isn't from Boston and everybody else was. She had to learn our language and often did not know what we were talking about when we ere referencing people from years ago.
Q: And was it a thrill to be alongside actors like Ed Harris and Morgan Freeman?
Casey Affleck
: Those guys were heroes of mine. I knew every single line of Morgan Freeman's from Glory so it was a thrill to meet them. It is like opening the hood of a Ferrari and you realise THAT is what it is that makes it go so fast.
Q: What do you think about the moral ambiguity of the scene where Casey's character shoots the child molester? Is the movie saying that was the right thing to do?
Casey Affleck
: No, I never felt the movie was saying that this is the right thing to do. I always hoped that it asked more questions than it provided answers.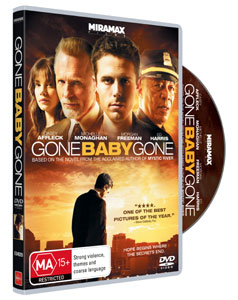 Gone Baby Gone
Starring
: Casey Affleck, Michelle Monaghan, Morgan Freeman, Ed Harris, John Ashton, Amy Ryan, Amy Madigan
Director
: Ben Affleck
Genre
: Drama
Rated
; MA15+
Running Time
: 109 mins
Critics are calling Ben Affleck's directorial debut "mesmerising." When two young private detectives (Casey Affleck - Good Will Hunting, and Michelle Monaghan - Mission: Impossible III) are hired to take a closer look into the mysterious disappearance of a little girl, they soon unravel a multitude of twists and turns where nothing is what it seems. Ultimately they must risk everything - their relationship, their sanity, and even their lives - in the search to find her. Casey Affleck and Morgan Freeman are electrifying, and Amy Ryan (Capote) delivers "a vibrant, knockout performance" in this edge-of-your-seat crime drama. Gone Baby Gone "will have you talking long after it's over."