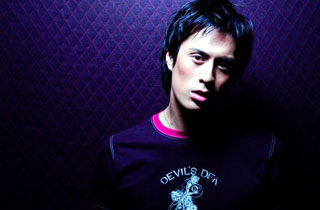 Founding member of Atlantic Records group LMNT
Top 10 finalist from Season 1 of "Making The Band"
He first came to the music scene as a finalist on ABC Television's music reality phenomenon "Making the Band" and went on to create his own group - LMNT - that took the U.S. pop scene by storm. Their debut single 'Juliet' was this 2003's most requested and most played song on the Radio Disney Network and continues to run on top 10 countdowns throughout the U.S., Europe and Asia. In between two successful tours - including one with Britney Spears - they managed to record for several recent soundtracks, including the multi-platinum album for The Lizzie McGuire Movie, which featured the title ballad "Open Your Eyes to Love". Their music video "It's Just You" from Disney Channel's Kim Possible soundtrack airs daily on the national network and continues to rate in the weekly "Kid's Vid Picks".
Now working on his first solo project, Chan is poised to break into the international music scene with his distinctively rich voice and unique writing ability. His early influences of gospel, pop and classic rock have led to an enchanting hybrid style of rock and soul. This singer/songwriter has been compared to the power of James Ingram, the pleading intensity of Train's Pat Monohan, and the unmistakable ability to deliver a pop ballad like Edwin McCain.
Like the more recent wave of Latin artists that have crossed musical boundaries - Ricky Martin, Jennifer Lopez and Enrique Iglesius - Chan is poised to break as one of a number of emerging Asian artists that will ultimately create the newest wave in international music. Yet his ability comes not just from a powerful voice that can fill a room, but also his ability to sell it. A charismatic charmer on stage, his reputation for playful banter mixed with self deprecating modesty only makes him more endeared to his broad and ever growing fan base.
Interview:
How did it feel to hear your song played all over the airwaves?
Hearing our music on the radio for the first time was surreal. I remember walking through the kitchen on a Sunday with a bowl of cereal in my hands when I heard the first beats of "Juliet" hit the speakers. I threw the bowl in the sink, called my roomates downstairs and cranked up the stereo.


Did you have any pre-conceived ideas about the music industry?
I knew from the stories that I heard and the things you read about that it's a tough place to be...you have to have a thick skin and a lot of persistence. I think knowing that made me cautious in the beginning... I mean I'm still cautious, but at the same time you kind of have to take chances and risk the big falls in order to really make things happen.


Do you write your own songs? What's your inspiration?
Yeah I write a lot of music, but I also record other writer's songs when I find something that I really am crazy about. In fact I just recorded a song called "I Want It All" written by a great friend of mine Scott Davis...I was sitting in the living room before Christmas with him when he first played it for me and he was half way through when I said "Stop.... I'm recording that song for my album" - everything about it struck me, the melody, the lyrics...I know that there are a lot of great songs out there and a lot of songwriters a lot more talented then I am - there's no ego about it, It just matters to me that I sing songs that I am passionate about.


What music/artists do you listen to when you are not playing your own?
I like a lot of singer/songwriter music. Right now I am listening to Maroon 5, Josh Kelley and John Mayer.


What's next? Tour/Album/Single?
Well I have to finish my album first and we just started writing and recording last month. I don't set timelines on these things, they just kind of happen when they happen...but so far everything has been going really fast. I'll probably have to finish the album, release a single then go out on tour...but you never know - things can happen in wacky orders sometimes.


Was there a moment you contemplated throwing in the towel?
No


Do you prefer performing live or recording?
Definitely performing live, there's no greater energy then performing for a live audience that knows your music. If they don't know your music or don't like your style of music it can be worse then having your fingernails pulled off one by one.


What/who was your inspiration to go into the music industry?
I guess it's my choir directors..they were always so supportive and really encouraged me early on to take solos and do ensemble work. If they hadn't pushed me I wouldn't have had the experience and stage presence that got me here in the first place.


What is the biggest challenge you have faced along the way to your musical success?
Trying to keep LMNT on the train tracks. It's really hard when you have four different minds all wanting to have the same imput on one end result. Everyone has their idea of how it should happen, when it should happen, what it should sound like...there are some really frustrating times. Luckily for us, we came away with a collboration of some pretty amazing stuff that I am proud to have worked on.


What's a typical day like?
rehearse, record, travel, gym, sleep. Somewhere in there they feed me bread and water and an occasional carrot.


What has been your favorite part of becoming a music artist?
The feeling you get when someone comes up to me and says that they really enjoyed my music or my performance. As an artist that's the icing on the cake. The cake is being able to make a living off doing something so creeative that you love, the icing is having other people like it as much as you do.


If you could collaborate with another artist, who would it be?
I would love to sing with Christina Aguilera. That girl could sing me into the ground and do runs that make my head spin, but I'd love every minute of it.


Are you single? What do you look for in a partner?
Yes I am... I guess someone that could put up with my schedule and the fact that I sleep in till noon on my days off.


Do you have a website fans can visit?
yeah, www.bryanchanonline.com... in about a month we're going to post some of the music we've been working on so that fans can give us some feedback. I'd love it if everyone would visit us in February and check it out.


Can you tell us 5 things required for a happy healthy & enjoyable life?
Family, Love, Health, Success, and Protection. In that order.


What message would you like to say to your fans?
I love you guys... thanks for being so supportive. I can't wait to finish my album and come play it for you live.


60 Second Quiz
Full Name: Bryan Robert Chan
Nickname(s): Chanman
Star Sign: Cancer
Favorite Food: Thai
Favorite Film: Goonies
Favorite Actor: Julia Roberts
Pet: Dog
Describe yourself in 3 words: Dependable, Hard Working, and Klutzy (spelling?? maybe the last one should be illiterate)
Best Feature: I always have warm hands
Worst Feature: I have chia pet hair...it takes a LOT of pomade to tame this thing.
Person You Would Most Like to Meet: Katie Holmes
Hobbies/Interests: Sleeping, movies, swimming.
First Job: delivering the Dollar Saver newspaper every Wednesday afternoon when I was in Junior high
Are you a Pub, Bar or Club kind: neither - I can't stand being in places where there's smoke or you have to yell in order to talk to the person right next to you.
What Can You Never Leave Home Without: my cell phone