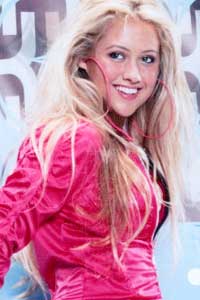 Hot new singing sensation Angel Faith is already making waves with her model looks to match her amazing talent, we talk to this young new artist that is set to sizzle the airways and music videos.
Interview:
How did it feel to hear your song played all over the airwaves?
It was awesome! My mom cried!


Did you have any pre-conceived ideas about the music industry?
I did. Some have been true and some haven't.


Do you write your own songs? What's your inspiration?
I do write my own songs. My upcoming album will have several that I have written. My inspiration hmm.... probably things that have happened to me with school, friends, family.


What music/artists do you listen to when you are not playing your own?
I like Justin Timberlake, Nivea, Beyonce, Christina Aguilera.


What's next? Tour/Album/Single?
My tour starts March 1st. My single comes out in the spring and my album in the summer.


Was there a moment you contemplated throwing in the towel?
Nope - there have been tough times but I never felt like giving up!


Do you prefer performing live or recording?
I love them both. I don't think I can choose. However I really likes seeing all my friends/fans when I'm on tour. They're the best!


What/who was your inspiration to go into the music industry?
I would have to say Mariah Carey. She is sooo talented.


What is the biggest challenge you have faced along the way to your musical success?
The whole situation with No Secrets. It was very hard to deal with. The girls fought alot and there were tons of management problems.


What's a typical day like?
I get up at 6:00AM and get ready for school. School starts at 8:15AM but is about an hour from my house. I get out of school usually at 1:00PM to go to the studio, sometimes earlier depending on my schedule. Then I usually record, rehearse, etc until around 10:00PM. Then I do homework and get to bed around midnight.


What has been your favorite part of becoming a music artist?
Learning all the aspects of the music business, recording, writing, producing. And getting to meet some of the coolest people.


If you could collaborate with another artist, who would it be?
Justin Timberlake, he is amazing. We have the same choreographer so you never know!


Are you single? What do you look for in a partner?
I am single. I too young for a boyfriend. lol But I like guys that are real and have a great sense of humor.


Do you have a website fans can visit?
Yes. The official site is www.angelfaith.net. Some other good sites are www.angel-faith.net and www.angelfaithfans.com.


Can you tell us 5 things required for a happy healthy & enjoyable life?
Family, friends, music, humor, food!


What message would you like to say to your fans?
Thank you so much for supporting me!! I think you're gonna love the new album and I can't wait to see you all on tour. xoxo Angel


60 Second Quiz
Full Name: Angel Marie Faith
Nickname(s): none
Star Sign: Capricorn
Favorite Food: Pizza and ice cream
Favorite Film: Cruel Intentions
Favorite Actor: Ryan Phillippe
Pet: 2 cats, Missy and Flower
Describe yourself in 3 words: energetic, fun, silly
Best Feature: sense of humor
Worst Feature: my hands
Person You Would Most Like to Meet: Beyonce
Hobbies/Interests: snowboarding, swimming, dirt bike riding, dancing,
First Job: professionsl dancer with Sketchers
What Can You Never Leave Home Without: lip gloss
What is the first thing you think of when you wake up in the morning: more sleep!!!