by Paul Fischer in Los Angeles.
VETERAN DANNER MOVES ONWARDS AND UPWARDS TO 'KISS' REMAKE.
Blythe Danner may have won her well deserved Emmy Award this week for her portrayal of an alcoholic mother in Huff, but ask her about the critically acclaimed show's unexpected and inexplicable cancellation, and the veteran actress, about to be seen on the big screen in The Last Kiss, breaks down. "I am very sad about it - I really loved it, and there's a point that I really felt I was in a repertoire company. I don't want to compare it to Chekhov, but there were certainly elements of the comedy, the tragedy and all the spectrum of colours that was really gratifying to play, and every day there would be another great scene to work on, and I loved it." In The Last Kiss, Blythe Danner plays another emotionally turbulent character suffering a marital crisis amidst a sea of past regret and an affair she tries to unsuccessfully rekindle. She laughs when it is suggested that the character bears an uncanny resemblance to Huff's tragic-comic Izzy character. "What does that say about me? Dark, deep things? I think I have always been attracted to complex characters because I started out in the theatre playing Chekhov, Tennessee Williams, and playing the playwrights who are so challenging and really delve deep," Danner explains. "I feel so fortunate that later in my life now - I am certainly past the mid-point, I am just being given more opportunities to play these people. I think life experience helps and gives you courage to bear those emotions, and I think there is a power that I have in my acting that I am just so appreciative of, that allows me a liberation."
Blythe Danner describes these women, mostly souls she has played, "as living a vicarious life. I certainly understand parts of them. I'm sure that I have a lot of versions of these women in me, although it is interesting how we perceive ourselves."
Part of Blythe Danner's life's experiences that she has taken into some of women, especially the character in Last Kiss who is coping with life at 60, includes the tragic loss of her husband, renowned director Bruce Paltrow. Even now, discussing her late husband remains difficult and emotional. "The loss of my husband four years ago has been devastating," she says, breaking down and apologising in the process. "It all brought it home last night because he never saw me win an award, except a Tony years ago, but he was so proud of me, and he loved all of that. I don't really love that part of the business - I love the work; which is to me the biggest challenge. And I have always said to my children, 'It is the work; don't think about the fame and the glory and the rewards, because that is so----". She trails off, trying to find the right words. "I was only nominated, just before he died - our last date was actually the Emmies and at least he saw the nomination. He loved all of that - he loved the business. He loved all parts of it. He used to say to me, 'You do the art and I'll make the living." Four years later, and Blythe Dannerr won her Emmy and sitting in a Los Angeles hotel room, the still radiant actress is dismissive of the pressure many actresses in Hollywood feel as they get older. "I am 63 - I don't care. The thing is, I wasn't terribly conscious of it until we did Huff and they used this dreadful High Definition which makes anybody over fifty look as if they are eighty. So, I got very self-conscious about that. Yes - we all get a little help, a little bit of this or that - not tremendous amounts, and I hate the idea of doing real invasive stuff, and I am not trying to look forty, because there were some shots on Huff I was just appalled - I don't think I am terribly narcissistic, but you don't want to look your worst." Her daughter Gwyneth is often on hand, even living in London, to giver her some contemporary advice. "She is my great found of wisdom and information, has a tremendous sense of herself, and is practical and smart, very much like my husband. Thank God she inherited his good sense." Asked if the actress would ever marry again, she is emphatic on that score. "I have no desire, because when you've had the best, why look?"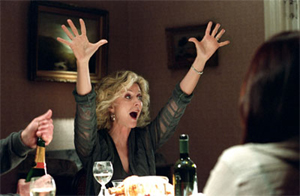 As for being a grandmother, Blythe Danner smiles. "I have been very blessed. I see them much more than I ever thought I'd see them and this will probably be the longest stretch I would have gone since Apple was born, because I am going to do Suddenly Last Summer at the Roundabout in New York. I've spent so much time with them and I just keep saying to them, 'Just tell me if I have overstayed'."
Blythe Danner shifts to and from the theatre as much as she can, returning to the New York stage later this year. For this actress, whose life as an actor began on stage, it's paramount that she returns to her theatrical roots as much as possible. "That is where I began. It is interesting because Tony Goldwyn, our director on Last Kiss, started at the Williams town Theatre Festival. My husband was sort of instrumental in getting him up there. I met Tony when he was ten, and Gwyneth and I acted together with Tony in Picnic." Blythe Danner adds that if the opportunity presented itself, she would love to act again with her daughter, either on stage or screen. "We had a wonderful time doing Sylvia. Bruce had just died, and it was great because we could fly away to New Zealand. I think when something like that happens you just want to get as far away from the familiar as possible, so that was a good thing."
Blythe Danner says it's unlikely that she will return to television any time soon. "I don't imagine that another great part like Izzy will come along, or even that wonderful part on Will and Grace that I loved where I had so much fun. I have been really blessed."
Interview with Zach Braff:
www.girl.com.au/zach-braff-the-last-kiss-interview.htm
Interview with Jacinda Barrett:
www.girl.com.au/zach-braff-the-last-kiss-interview.htm
Interview with Rachel Bilson:
www.femail.com.au/rachel-bilson-the-last-kiss-the-oc-interview.htm
Interview with Blythe Danner:
www.femail.com.au/blythe-danner-the-last-kiss-interview.htm
More Female Interviews:
www.femail.com.au/interviewsfemaleactors.htm
More Male Interviews:
www.femail.com.au/interviewsfemaleactors.htm
DVD Releases:
www.femail.com.au/dvd_video_releases.htm