Bandana Bibs
The solution for dribblers!
Rather than just keeping your baby or todller dry all day, bandana bibs become partof their ourfit - a must have accessory.
lima bean's bandana bibs have an absorbent top layer and a layer of fleece underneath to draw moisture away from the skin.
The bandana bibs are suitable for all ages and are fully machine washable.
Designed and made in Australia.
Bandana bibs come in 7 colours/designs - navy, navy/wite stripe, red, red/white stripe, baby pink, baby pink/white stripe and cherries in pinks.
RRP: $13.95 each
RRP: $25.95 for twin pack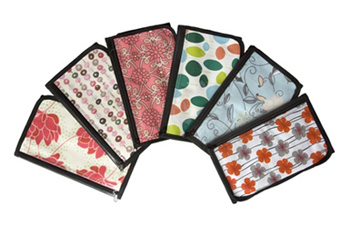 ChangeMate
Lima Bean's ChangeMate is a nifty wallet that unfolds to a water resistant change mat with mesh pockets to store your nappies and travel wipes.
The ChangeMate is a stylish item in itself and is as compact as the essential wipes and nappy can be.
The beautiful fabrics are what set this product apart and there are plenty of designs to choose from.
It is gorgeous enough to carry on its own but small enough to toss into your favourite bag or hang on the handle of the stroller.
* Easily unfolds to a change mat, with built in pockets for nappies and baby wipes travel case
* Large zip pocket for essentials - keys, mobile and nappy disposal bags
* Wipes clean with a damp cloth
* Ideal for new mother gift
RRP: $34.95
For more information on ChangeMate & Bandana Bibs visit
www.limabean.com.au