Baby Day Bed
Inspired by warm sunny days, the Baby Day Bed features pink and lime butterflies positioned delicately in an undulating pattern.
The Baby Day Bed has been designed with the comfort of your baby in mind. When filled with polystyrene balls, the Baby Day Bed will provide your baby girl with cloud-like comfort and dreams shell wish lasted forever. The polystyrene balls mould around your babys body and create raised walls which provide your baby with a sense of security.
The Baby Day Bed features a unique double-layer design. The inner layer is designed to store the polystyrene balls and the outer layer is designed to provide your baby with added comfort and support. The outer layer is removable and machine washable and made using 100% cotton. Both the inner and outer layers feature a child safety zipper which ensures your child cannot open the Baby Day Bed and spill the polystyrene balls.
Not only is the Baby Day Bed incredibly safe and practical, it features a design that is sure to capture the attention of all your friends and family.
The balls mould perfectly to the babies shape allowing a very comfortable and soft sleep. The Baby Day Bed is designed for use from Newborn to approx 4 months or 6kg/13 lbs.
L75 cm x W50 cm x D16 cm
"After becoming a first time mother 12 months ago I felt there was a need for a product like the Baby Day Bed and after months of careful designing the Hannahbannanah Baby Day Bed was born. Our product was inspired by our first child Hannah (hence the name Hannahbannanah being a cheeky monkey) who was our first guinea pig for the Baby Day Bed." said Louise.
"I removed the lid from my sewing machine and started to produce 20 samples which were given out to expectant mothers from friends and family. Our initial thoughts were well and truly confirmed with amazing reviews. We knew we had to go to full production ASAP and here we are!!!"
"The Baby Day Bed gave me the freedom to have Hannah with me in any room of the house and also visit friends and family and allow her to sleep comfortably whilst we were out and about. The polystyrene balls are safely contained in an inner bag with child safe zippers on both the inner and outer covers."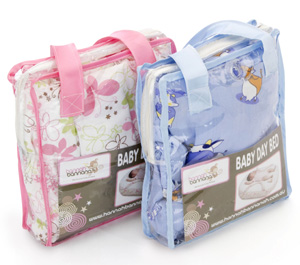 For a seriously practical and seriously cute gift for new mums, the Baby Day Bed from Hannah Bannanah is irresistible. Providing important comfort and support for small babies the Baby Day Bed is really handy and moulds to your baby.
RRP: $49.95
Baby Day Bed is available in girls & boys pattern from
www.hannahbannanah.com.au