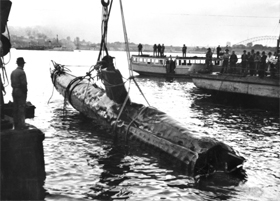 Australian National Maritime Museum, Darling Harbour

17 March-11 June 2006

Anzac Day (25 April) is a day of national commemoration where all Australians remember the roles our armed services have played in different conflicts, and also reflect on the many different meanings of war.

On this important day the Australian National Maritime Museum invites you to recall and reflect on a time when the Second World War came to our door and many experienced the terror of air and sea attacks.

Australia under Attack 1942-1943, an Australian War Memorial travelling exhibition, brings together a fascinating collection of artefacts, photographs, paintings and posters from a time when many Australians believed their country was in imminent danger of invasion.

From a baby's gas helmet and Japanese 'invasion money' to bomb fragments and an aircraft spotter's chair, the exhibition evokes the impact and the fear of the Japanese raids on Darwin, Broome, Townsville and Sydney in 1942 and 1943.The Australian War Memorial has brought together many relics never before seen by the public, including an original Anderson air raid shelter unearthed in the backyard of a Sydney home.

The period from 1942-43 was a significant time in Australian history. In 1942 Singapore and the Netherlands East Indies fell to the Japanese. Immediately after, Darwin was bombed with heavy loss of life. Other attacks followed, leading many to think their country would be invaded.

While some people still recall the harrowing sights and sounds of the attacks, the exhibition presents the raids and the national war effort in a way that younger Australians can understand.

Australia under Attack 1942-1943 is on show at the Australian National Maritime Museum until 11 June 2006, when it will travel to Adelaide, Perth and Geraldton.

The Australian War Memorial Travelling Exhibitions program is funded by Saluting Their Service, the Federal Government's commemorations program, honouring the contribution of Australia's servicemen and women.

The Australian National Maritime Museum, at Darling Harbour, is open daily 9.30 am to 5 pm. Entry to the museum's exhibitions, including Australia under Attack 1942-1943, is free. All inquiries (02) 9298 3777.