HOPKINS DOES THINGS HIS WAY.
EXCLUSIVE by Paul Fischer.
At 70, Sir Anthony Hopkins shows no signs of slowing down. As an actor, he is still preparing to play Alfred Hitchcock in a biopic, sill be seen next month in the all digital Beowulf, and his second directorial feature, Slipstream, will be released several months following its Sundance bow. Talking on the phone from the Southern Californian town of Ojai, the vacationing Anthony Hopkins says that Slipstream, a fragmented tale of lost dreams and illusion, came about at the right time in his life. "I'm gonna be 70 at the end of the year and I wanted to do something which was provocative, and unusual. I've always wanted to do a film that was experimental and knocks everything, that knocks all the rules out of the window, so when I wrote it three years ago, I did it as an experiment in writing, without any preconceived ideas. I just wanted to do something that was unique to me and unedited."
Slipstream is not an easy film to define. A non-linear narrative, its core plot has Anthony Hopkins playing Hopkins Felix Bonhoeffer, a Hollywood screenwriter whose latest project seems to have somehow roamed free from its fictional underpinnings. Bonhoeffer himself seems to be living multiple lives - on the one hand, enjoying a friendship with young, blond Tracy (Lisa Pepper), while at other times being with wife Gina (Anthony Hopkins' real life spouse Stella Arroyave). But Gina is also a niece accompanying her aunt Bette (Fionnula Flanagan) on a road trip and sometimes she is an actress in the film that Felix is writing. Ray (Christian Slater) and Geek (Jeffrey Tambor) are killers who dress like '40s mobsters and tool around in a '60s-era Corvette Stingray, but Ray and Geek are also characters in the movie played by actors named Matt Dobbs (Slater) and Jeffrey (Tambor). If this sounds confusing, it wasn't as much for a challenge to write his illusory, experimental script, but then having interviewed him a number of times over the years, the Oscar winner often has a matter-of-fact attitude towards his work. "Well, there were no challenges for me," Anthony Hopkins remarks, who says he has learned to confront his fears about taking on other facets of his artistic endeavours of his life "like painting and writing music. When I wrote it, I thought, what sort of thing can happen to me if I write a bad script? Are they gonna put me in jail? What happens if I do it? Well, maybe I will, maybe I won't. And it'll be nice if I did it, if I didn't - at least I've written it. When it was finished, I thought, 'Well, this is interesting' "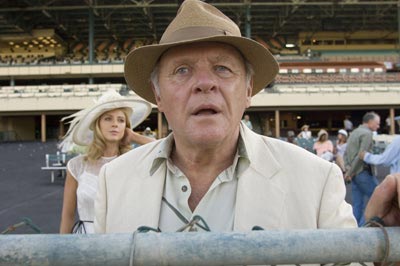 Anthony Hopkins says he didn't expect anyone else to get it, as it was a personal exercise in self-reflection. "I knew what it meant for me, personally and so you can figure it out for yourself. I believe that if you do things without fear or anxiety, you can do sort of anything and that's applied to myself first from movies, and then painting in my life." Not to mention music, the score of which he wrote for Slipstream as well. "When I'd completed the shooting of the film, and then went to the editing rooms and did all that stuff, my producer, Robert Katz said, 'You're gonna write the music.' so I wrote it, composed it and had no fear. If the music doesn't work, are they gonna put me in jail? I think when you do things without fear, all kinds of freedoms come up and you can express yourself in any way you want. Besides, it's nobody's business anyway."
It's Anthony Hopkins' very blase and pragmatic attitude about his work that keeps his life, and its current act, in perspective. Anthony Hopkins says he is far more fearless now than when he started out as an actor some four decades ago. "Now I don't give a damn. I mean, I'd always had an attitude of life being so intense important but we know it's not important at all, but to have the fun with it." He sees that as a theme ion the film with Christian Slater playing an actor that "takes himself so damn seriously it killed him, so it's a kind of light-hearted poke at the movie industry and the actors who take themselves so seriously. I watch the red carpet parade and I say to myself, 'Oh, God, give us a break. It's only a stupid movie, in the end.'" Anthony Hopkins is never one to suffer fools, and for someone who probably took himself seriously at the genesis of his own career, these days, he scoffs at his younger counterparts, both actors and directors, who take themselves too seriously. "You watch these interviews on television and you think, what are you talking about? Who cares? After all, Joe in the street doesn't care and after all, it's not such a big f****ng deal. That's why I left the theatre, because I can't be pumped up doing that stuff day and night, it's not important to me."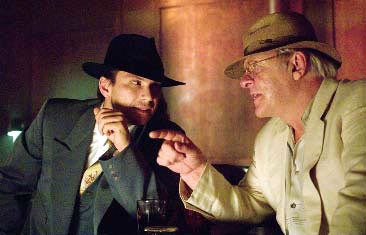 Anthony Hopkins is not driven by any love of his craft, which is why he has no intention to set foot on a stage again any time soon. "Somebody asked me, 'What's your idea of happiness?' I said, 'Never having to play King Lear again,' " Anthony Hopkins recalls, laughingly. "Our lives are so short, so why ponder the depths of all that stuff? I mean, who cares about Hamlet in the end? Just either kill your uncle or forget it, and stop whining around the stage all day. People sit in these theatres, watching various performances of these great plays, and I think, 'Oh, God, give me a break. I'm not into it. Who finally cares?' "
Anthony Hopkins gleefully says that his priority these days is "just being above ground" as he contemplates life at 70. "When I was a younger actor, I was obviously intense and do the best I could. Now I look back on it, and I think, 'Oh, well, thank God I don't have to do that any more.' "
As Anthony Hopkins approaches his 70th birthday, the contemplative actor plans on returning to his home town of Margam in Wales to celebrate the big affair. "and meeting childhood friends I haven't seen in 65 years. They're all coming to my party, people I am meeting for the first time after many, many years, young girls I used to play with in the streets and now they are all these lovely women." As much as the actor loves Wales, he doesn't miss his homeland "but it's nice to go back there. I came out here many years ago because I loved the climate, and I was a refugee from the British theatre."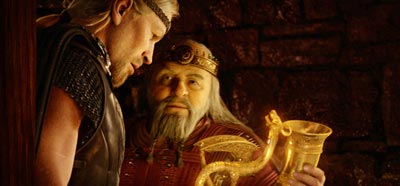 Apart from returning home, Anthony Hopkins the actor continues to keep busy. He just completed Robert Zemeckis' Beowulf, his second all-digital feature, in which his actors were required to work totally against a green screen while their performances were motion captured. Anthony Hopkins recalls the experience. "We got dressed in these kind of wet suits every morning, like a diver suit, and then they stick on these reflecting little pillows all over the face, hundreds of them. It was fascinating. Zemeckis really is an extraordinary guy, a very nice man to work with, and there is no set, because it's all on one stage, one big room, and they have about 100 different cameras, in a big circling grid. Then you go on the set, and you have to do these certain poses that they give you: put your arms up there, and turn sideways and all that, so that the computer can take in all the information through your body. But the amazing thing is that Zemeckis has refined the technique after Polar Express, because they wanted to make sure the eyes were as real as possible, so they put these little things all over the eye socket, so that the movement's picked up. I mean the experience was amazing. I play Hrothgar, the original king of the Britons, this big drunken king and I had a ball. It was a lot of fun doing it, and working with Ray Winstone, who's terrific along with Robin Wright Penn and John Malkovich. I really enjoyed it." But beyond the shooting, Hopkins says that's where his enthusiasm ends. "I hear it's very good. A lot of people have seen it and say it's gonna be one of those big blockbusters. People get excited about things, but I don't get excited any more. I just have fun."
Next for Anthony Hopkins is the long gestated and delayed Hitchcock biopic "and the making of Psycho." directed by Ryan Murphy. Before that, Anthony Hopkins will go to London "to do Wolf Man with Benicio Del Toro in February. I play his father, Wolf man Senior."
As for future directing plans, Anthony Hopkins will only say that he has written another script, that he began work on some timer ago. "I wrote about 65 pages, forgetting it for a while. I just want to take a rest from it but it's another weird movie." One would expect nothing less from an actor who does everything his way!
---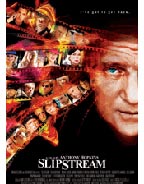 Slipstream
Starring: Anthony Hopkins, John Turturro, Christian Slater, Stella Arroyave, Camryn Manheim, Lisa Pepper, Gavin Grazer, Michael Lerner, Fionnula Flanagan, Michael Clarke Duncan, Jeffrey Tambor
Director: Anthony Hopkins
Anthony Hopkins channels his inner David Lynch for this MULHOLLAND DRIVE-like descent into the warped mind of a Hollywood screenwriter. Felix Bonhoeffer (Hopkins) appears to be losing his grip on reality. After he witnesses a highway road-rage incident go deadly, Felix's world begins to spin out of control. For one thing, the characters he's written into his most recent script have begun to appear in his actual life. Two of these figures (played by Christian Slater and Jeffrey Tambor) happen to be evil hit men who have just knocked off another seemingly innocent victim (Michael Clarke Duncan). But when Slater's character drops dead on set, the maniacal studio boss (John Turturro) sends Felix to the Mojave Desert to rewrite the script and resolve the situation. Along the way, he struggles to separate reality from fiction before the two blur together to the point where he no longer knows what world he's living in.
With SLIPSTREAM, Hopkins delivers a truly experimental film that will confound many viewers. By the film's conclusion, however, all of the cinematic trickery will make sense. Using a striking assault of visual and sonic tricks--quick-cutting, sound distortion, seemingly nonsensical stock footage--writer/director/composer Hopkins burrows into the mind of a man in a way that most films would never dare. The result is a confounding yet exhilarating satire of Hollywood that features standout performances from its all-star cast.
---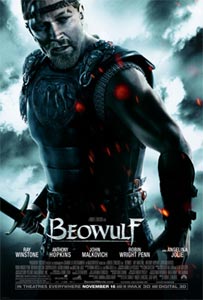 Beowulf
Starring: Ray Winstone, Anthony Hopkins, John Malkovich, Robin Wright Penn, Brendan Gleeson, Crispin Glover, Alison Lohman, Angelina Jolie
Director: Robert Zemeckis
Beowulf's groundbreaking animation, stunning visuals, and talented cast make for an extremely entertaining time at the movies.
In a legendary time of heroes, the mighty warrior Beowulf battles the demon Grendel and incurs the hellish wrath of the beast's ruthlessly seductive mother. Their epic clash forges the timeless legend of Beowulf.
Groundbreaking director Robert Zemeckis offers a unique vision of the Beowulf saga in a way that it has never been told before.
---
Beowulf Interviews
Angelina Jolie -
www.girl.com.au/angelina-jolie-beowulf-interview.htm
Ray Winstone -
www.girl.com.au/ray-winstone-beowulf-interview.htm
John Malkovich -
www.femail.com.au/john-malkovich-beowulf-interview.htm
Anthony Hopkins -
www.femail.com.au/anthony-hopkins-beowulf-interview.htm
Costas Mandylor -
www.femail.com.au/costas-mandylor-beowulf-interview.htm
Anthony Hopkins Interviews
World's Fastest Indian -
www.femail.com.au/anthony-hopkins-worlds-fastest-indian-interview.htm
Anthony Hopkins The Human Stain Interview -
www.femail.com.au/anthony_hopkins_the_human_stain.htm