HOPKINS BACK IN TOP FORM
EXCLUSIVE by Paul Fischer in Los Angeles and Park City.
These days it seems there are two sides to Oscar winner Anthony Hopkins. Whether one is chatting with the celebrated actor in a closed off tent in Park City in the midst of the Sundance Film Festival, or in the quieter confines of a Beverly Hills hotel, Anthony Hopkins casts a more relaxed figure than one is used to. But then perhaps as Anthony Hopkins frequently confesses, he has little to prove. On screen, Anthony Hopkins takes centre stage as a wily antagonist in the Hitchcockian thriller Fracture opposite Ryan Gosling, as an aeronautical engineer who murders his adulterous wife in cold blood, confesses to the killing and then pursues the prosecuting and ambitious assistant District Attorney by going after his flaw. For Anthony Hopkins who can pick and choose, or not act at all, Anthony Hopkins found the idea of playing this wily killer too irresistible. "When I opened the script and read it I phoned my agent and said 'Well this is a rare one'" Anthony Hopkins sees Fracture as being "reminiscent of movies like Primal Fear, Jagged Edge, or Presumed Innocent, that kind of slick, slick commercial entertaining popcorn film. I think that's great because nowadays we're so busy with a camera, we can't see what's going on so what I like is this is the kind film that just unfolds and tells its story. I like the way it's written, which is so precise as told by the grammar, with the colons, semi-colons or the periods. There's just not too much descriptive stuff going on."
Anthony Hopkins admits that these days he can afford to be selective, admitting "I don't rush into things like I used to. People say I'm always working but I'm not. I take a lot of time off, I paint and I write music and I play piano every day and stay fit." The entrenched Californian resident is as involved in painting and music, as he is in acting. This month, Anthony Hopkins launches an exhibit of his paintings in Las Vegas, and he also composed the score for Slipstream, his second directorial feature which he wrote. A quietly original meditation on life and death, Anthony Hopkins says that Slipstream came about at the right time in his life. As the film explored the notion of mortality, Anthony Hopkins, as he approaches 70, told me at Sundance that he has become increasingly aware of his own sense of mortality, "which I think is very healthy. I'm not preoccupied with it, but aware of it., so I live life to the full but I'm also aware that it can turn on a dime." But Anthony Hopkins says that thematically, Slipstream is more than that. "It's actually my perception of life and existence. 'I'm not trying to make it heavy, but I think it's all strange" he muses. Almost forty years after making his film debut in the classic The Lion in Winter, it took him that long to both write and direct his first feature. "I've been in mainstream movies I suppose and never had the time or didn't have the inclination." It was his wife, Stella "who encouraged me to write this. My mother just died about four years ago and I was a little kind of in limbo and a bit disillusioned with things - not the acting business - just a bit tired. I thought 'What do I do?' We just got married and she said 'Why don't you just write a script' and here we are."
Anthony Hopkins now laughingly refers to himself as "a guerrilla filmmaker at 69", and isn't ruling out making another film, not caring at the response his work receives by the critics. Slipstream did get mixed reviews at Sundance, but Anthony Hopkins remains philosophical. "Well the website reviews have been very good and I think we're getting a distribution out of it as well, so I'm very happy with it. But look if it works, it works and if it doesn't it doesn't and there's nothing I can do about it. I didn't expect people to like it because of what an odd, quirky movie, but I got a lot of reviews which were really good."
If the financing comes through, Anthony Hopkins' next outing in front of the cameras will be playing legendary icon Alfred Hitchcock. "He was a very unhappy man because he always felt a failure. Psycho was smashed by the critics, his Vertigo was destroyed. North by North West had a fairly good review, so he felt most of his life a total fraud and a failure." While not drawing on how he intends to play the Master of Suspense, he admits that it will be tough to avoid imitating many of his classic mannerisms. "Well I'll have to do a little bit of that. I've got a lot of footage of him talking and being interviewed, but of course Hitchcock is very specific."
An actor now for four decades, Anthony Hopkins says he is at his most content, never realising that when he first stepped in front of the cameras, he would end up in the position he has attained today. "I had no idea - you can never second guess yourself, you never know what the future's going to hold so I was hoping I could have a long time in the acting business and that I've lasted this long is terrific." And Anthony Hopkins assures me he has no intention to retire any time soon.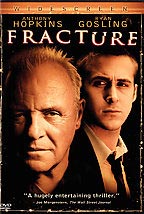 Fracture
Starring: Anthony Hopkins, Ryan Gosling, David Strathairn, Billy Burke, Rosamund Pike, Embeth Davidtz, Cliff Curtis, Fiona Shaw, Xander Berkeley, Joe Spano
Director: Gregory Hoblit
In director Gregory Hoblit's 2007 thriller, FRACTURE, one thing is clear--highly successful engineer Ted Crawford (Anthony Hopkins) has shot his wife (Embeth Davidtz). What is not clear, though, is how Willy Beachum (Ryan Gosling), an assertive assistant D.A. on the verge signing with a major law firm, will convict Crawford, since the calculating suspect is masterfully exploiting legal loopholes that may keep him a free man. As Beachum becomes more and more determined to beat Crawford at his own intricately setup game, he risks losing both his shot at the lucrative job and his new love, Nikki Gardner (Rosamund Pike).
Easily Hoblit's finest film since 1996's PRIMAL FEAR, FRACTURE benefits from a similar sense of suspense, which is heightened by the fascinating interplay between Hopkins and Gosling. While Hopkins verges on Hannibal Lecter territory, he never makes the leap to that villain's macabre persona, instead making Crawford a chillingly detached criminal who finds room for occasional moments of disarming humor. And as Beachum, Gosling embodies young, aspiring swagger, making his character the polar opposite of his lost, drug-addled Oscar-nominated role in HALF NELSON. Aided by a smart script (courtesy of Glenn Gers and Daniel Pyne), Hopkins and Gosling take what could have been a decent courtroom drama, and elevate it to the level of a mesmerizing chess match.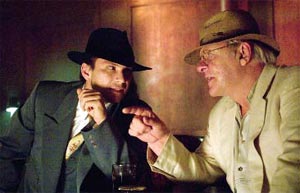 Slipstream
Starring: Anthony Hopkins, John Turturro, Christian Slater, Camryn Manheim
Director: Anthony Hopkins
Slipstream is the debut into independent filmmaking by Academy Award-winning actor Anthony Hopkins. If it is ever possible to sense the liberation and creative passion unleashed by such a newfound freedom, we can experience it with Hopkins's inventive and multilayered work. The film features a sterling ensemble cast, including Christian Slater, John Turturro, Stella Arroyave, Jeffrey Tambor, and Hopkins himself. Aided by acclaimed cinematographer Dante Spinotti and celebrated costume designer Julie Weiss, Hopkins takes on us an incredible journey into the combustion of a writer's mind and the nature of the creative process.
At times, this film appears to be a conventional, concrete, and straightforward tale about a screenwriter, Felix Bonhoffer. Then it turns riotously hallucinogenic, taking off on tangents and down rabbit holes into dream worlds and streams of consciousness. As the characters from the writer's fictional universe begin to appear in his "real" world, the audience starts questioning the limits of the human brain. We are given an opportunity to see into the vortex of a creative mind fulminating in "madness."
With a structured elegance, at times an overwhelmingly visceral kinesthesia, overflowing with film and artistic references, Hopkins announces he is a filmmaker with an unwaveringly artistic vision on a mission into the ineffable.