by Paul Fischer at the Toronto Film Festival.
SIR EASY RIDER.
Its rare to find Anthony Hopkins in a good mood. A reluctant star, the Welsh Oscar winner is relaxed, in a Toronto hotel room, the morning after his latest film, New Zealands World Fastest Indian, enjoyed a standing ovation at the Toronto Film Festival. In years past, the usually quiet, no-nonsense actor, has insisted acting is merely a job, but as he laughingly begins to imitate both this writers Australian brogue, the actor still feels that, even when it comes to one of the most delicious roles of his career, playing a New Zealand bike enthusiast in 1960s rural New Zealand.
"I dont want to get too serious about it, but the foundation for it all for me is the lines, its just the text, like learning a dance. Im not a dancer, but if you dont know the steps you cant dance. For me the most important thing is the text, just to get it and, ahh, if its a really good script then, thats fine." He trails off, smiles and concedes that in the case of Worlds Fastest Indian, already a hit in New Zealand as it arrives to Australia and elsewhere, "its all the better when you have a director like Roger [Donaldson] whos written it, and who left me to improvise." Hopkins, who rarely, of late, has been allowed to show off his penchant for comedy, shines in this laconic true story of Burt Munro a New Zealand man who spent decades perfecting his classic 1920 Indian motorcycle. At age 68, he risked everything, including his own life, taking the bike to the Bonneville Salt Flats in Utah to break the world speed record.
Hopkins attacked the part with an obvious relish and being able to improvise with a distinctly New Zealand tone, he says, "gives you the freedom." Yet Hopkins was also determined to remain as authentic as possible to the real character, first introduced to the world in a documentary Donaldson made about Munro over 20 years ago. "I had that documentary that Roger made, and when I looked at it I thought, well, I dont look like Burt, except for white hair/blue eyes, so Ive got to accept the way I look." Then Hopkins was faced with a much bigger challenge, to replicate the southern New Zealand accent. "Id listened to the DVD, get a couple of sounds and Roger said always watch the rolled R. I said it doesnt sound like north New Zealand. He said, no, this is southern so its more Scottish and Irish and a mixture of Cornish. He sounded like a Devonshire man to me. Then Id look at the original Burt and he had certain head movements and during the filming Roger said, "Tony", he said "Wheres Burt today". I said, "Oh, okay". He said, "You gotta channel Burt". Because sometimes, its just like turning a little tuner in my head." I said, "I forgot the head". So once I do that I can feel Burt."
But its equally clear, talking to the 68-year old actor, that there was more to this performance than mere technique. Here was a character he could relate to in some way. "Thats why I accepted the part." But it also meant working on something less depressing or intense than the likes of Prof, which he just finished. "Proof was a nice film, and an interesting part, but my wife, Stella, said to me 'You know, you say that you dont take this into your system any of these parts but you do and you seemed very depressed.' I always dismiss it and say, 'Yeah, I just learn the lines', but I suppose I take it into my subconscious, so I was a little bit down during that. and then when Roger sent me this script, which Id read just before when he was trying to raise the money, I thought this would be a real change for me because Ive never played a sort of outlandish, outdoors guy - especially a mechanic and a motorcycle fanatic - nothing Id ever experienced before. I just wanted to do that sort of movie, because, as Ive been cast as intellectuals, disturbed people and all that, but its boring, because Im not like that." At the same time, Hopkins hastens to add hes not exactly sports loving either. "I dont do sports, but I love being outdoors, I am very strong and I love the vigorousness of life, and so Burt Munro was just my cup of tea."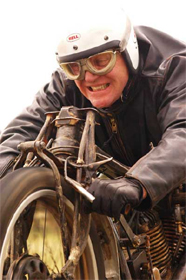 Never one to suffer fools gladly, Hopkins has had his tie feuding with directors and taking roles about which he was not impassioned. But Hopkins remains more quietly reflective and determined to work on things that really speak to him, and with directors he trusts. "I realized recently that I dont need to work like that anymore. And the funny thing is by relaxing and taking life more easy, I enjoy what I do." And that extends beyond just acting. "I became involved in music and composing and am working with Dave Stewart on something." Reluctant to elaborate, when pressed, Hopkins adds that "Im doing some sort of quasi-symphonic music for a big show in Vegas. So I spend 8 hours a day twice a week with a wonderful musician guy, who helps me with the computers and all that sort of thing - because hes got a computer and a keyboard. So all these songs are coming out." Hopkins estimates well have to wait for 2 years to see the end result, which will include his first music CD. "The funny thing is the more I do that the more the work comes in. The work becomes the sort of interruption to my life now."
In the meantime, Hopkins film career continues to go at full force, beginning with the now delayed remake of All the Kings Men, which he filmed in the devastated New Orleans, "so its going to be very interesting when it comes out, because you think, whoa, I wonder how this is going to look because its the biggest American tragedy of all time. A disaster thats so heartbreaking because what a city and piece of vital American history."
For a guy who was not the brightest school student, Sir Anthony Hopkins has carved quite the life for himself, and given his childhood, he remains humbled by his success. "Its true that I wasnt the brightest student so as a kid I thought Ill show them, Ill do something different so I became an actor. Ive accomplished everything I wanted to do and I look back and I think what happened, its just amazing, given the fact that I wanted to be a musician originally." Asked if he ever intends to add published author to his artistic repertoire, the actor smiles. "Ive been encouraged to write and I started writing an autobiography but I thought who needs another one? But maybe I could do it, because Ive got a lot of stories about my past and about the actors Ive worked with like Olivier, Hepburn and all those people."
Hopkins also insists that his days in the theatre, remain well and truly behind him. "It just takes too much of your time. I love the life I have. I love the travel. I love the open air. I admire people who can do it like Judi Dench and people like that. Maybe Im too itchy, and too restless." His remaining ambitious is to play Lear on screen, and hopes to realise it sooner than later. "We get Tom Stoppard to write the script, so Id love to do it just once more. Gwyneth Paltrow could play Cordelia and get Meryl Streep or Susan Sarandon as the two sisters, with Morgan Freeman as the fool."
It seems as though Tony Hopkins has a plan, and laughingly scoffs at the notion of retirement. The actor is busily working with Robert Zemeckis on the computer stop motion film, Beowulf, "which is in that peculiar style, and its the original epic poem. I play Hrothgar the visionary King, and Beowulf comes to defeat Grendel, the monster who is destroying our men." Then the actor joins the ensemble cast for Bobby, directed by Emilio Estevez "which is about the Ambassador Hotel on the day Bobby Kennedy was shot - its like Grand Hotel."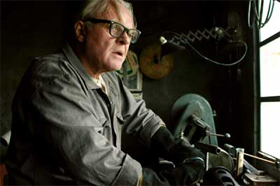 Anthony Hopkins, who made his screen debut almost four decades ago in The Lion in Winter, seems to finally appreciate his life as an actor, commenting, modestly, that its been a wonderful life. Yet, near 70, the once irascible and temperamental star says that "over the last few years Ive really begun to appreciate the life that Ive had. You know when you look back, youre too busy living, and I never really appreciated what a great life Ive had until recently looking back and I thought this has been amazing. My wife said to me, she said, 'Youre amazing. Youre 68, you should be retiring but youve got two films in this festival, youve got two coming up and then another one in January'. And she told my agent, 'Its amazing how lucky he is'. And I thought, God, yeah, Im still here and, it beats working for a living," Hopkins says, laughingly.
Anthony Hopkins Beowulf & Slipstream Interview -
www.femail.com.au/anthony-hopkins-beowulf-interview.htm
Order Now from Dstore
Order Now from Top Shop
Order Now from Chaos
Order Now from Sanity
Anthony Hopkins The Human Stain Interview -
www.femail.com.au/anthony_hopkins_the_human_stain.htm