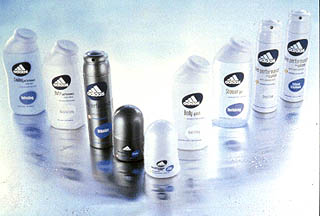 adidas launches a new range of body care products that focus on performance - on and off the field. adidas PERFORMANCE is a high-tech, benefits-driven range that takes account of the body's unique physiology.

Designed for the active lifestyles of men and women, adidas launches a range of cleansers designed to perform harmony with the body. adidas PERFORMANCE Shower Gel and Body Wash are formulated to work with the unique and demanding physiology of every individual.

From lathering to rinsing, and beyond, the high-tech formulas incorporate active compounds, effective minerals, skin-friendly botanicals to optimise user benefits. At the same time, sensory textures and specific fragrances make PERFORMANCE an all-round experience.

No matter what challenges your body experiences - physical or mental - adidas works hard to deliver a revitalising and energising feeling that lasts and lasts.

adidas knows the world of competition - on the field and off. It's for everyone and every day.

adidas Performance Shower Gel - Revitalising 250 ml is a clear gel that leaves a clean, fresh feeling. Enriched with minerals, it revitalises the skin without disturbing the natural pH balance. The fresh aquatic fragrance is intensely refreshing and revitalising.
RRP: $5.49

adidas Performance Body Wash - Hydrating 250 ml is a creamy body wash that gently cleanses, leaving skin soft and supple. This protein rich formulation hydrates the skin without disturbing the natural pH balance. A crisp citrus fragrance mellows into softer florals and vanilla. RRP: $5.49

The adidas PERFORMANCE look is ultra-modern, smooth and streamlined. Leak-proof twist-lock caps and a sportswear-inspired grip make adidas PERFORMANCE Shower Gel and Body Wash ideal travelling or sporting companions for energy that lasts.

adidas PERFORMANCE is available from Priceline, Target, K-Mart, Coles and selected pharmacies nationally.