SANDLER SHOWS OFF A DARKER, MELANCHOLY SIDE
Adam Sandler, Funny People Interview by Paul Fischer.
There is a key moment in Judd Apatow's comedy/drama Funny People, in which Adam Sandler's George Simmons wakes up in an empty house and the reality of his sheer loneliness is inescapable.
Simmons is a successful comedic movie star whose alienation of friends and family only hits home when confronted by his own mortality. Adam Sandler casually dressed and in a cheerful mood as we chat in a Santa Monica hotel, admits that he can relate to the themes of Apatow's darkest film to date, but little else. "If God forbid I got sick like this guy, I don't think I'd handle it the same way but I did identify or I did realize that this was a way to go. For a guy in this situation who's insanely famous, been around a long time, doesn't have any close friends and finds himself in a very heavy situation and doesn't have anyone to talk to. In my real life, I have a lot of people to talk to so I'm not going to have to go through this but I do know people like that who might have to go through it like this. It's lonely but they find a way to be funny about it."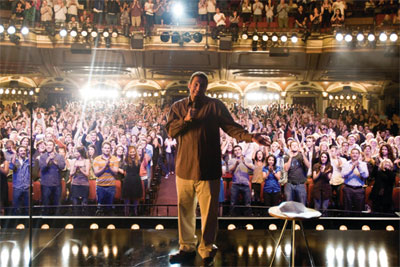 Adam Sandler has been a part of American film comedy for two decades, but rarely has he gone places he ventures throughout Funny People. He may never had done it, had it not been for his off screen friendship with director Apatow that stretches back well before success and fame for both. This was a challenging piece for Adam Sandler, whose younger fan base will be shocked at what the actor often says and does, and Adam Sandler admits there were times shooting was fraught with difficulty. "Certain scenes were heavy and I knew Judd just went through stuff with his mom and I went through stuff with my dad, so we saw firsthand what goes on with people who are incredibly sick. Therefore I wasn't excited about diving into that but I knew it had to be done and I just did it," he says, matter-of-factly. The actor said it was an advantage having Apatow as director because he could use their friendship to push all of Adam Sandler's right buttons. "Yeah, he knows everything. He knows a lot about me, which did help. He knows just stories that only Judd and I know, so he could bring those up and definitely bring me to different places." Did that feel like cheating? "The only thing in my head I'd have to do is think Apatow will take care of me. I've got to let the secret out and just did.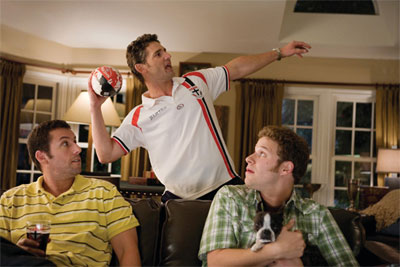 I just gave into what Apatow wanted. I didn't think about it. If he told me to bring something from my real life, I did. This guy that I play, is leading a different life than I live but there are some things that hit close to home."
The other challenge was to return to his stand-up comedy roots. It was here that a younger comic would be discovered, but as he returned to stand-up in order to shoot key scenes from Funny People, the actor reflects on how different it is doing stand-up at this stage of his life. "I'll tell you what, doing stand-up when you're 42 years old is a lot more pressure than it was. When I was in my 20s, I had a goal and that was to become a movie star. I was pretty crazy. I don't know why I was like but I would go on stage and if I did great, I was like all right, we're getting closer to me getting what I need. When I did bad, I would just hit my head and go, 'Wow, those people didn't understand how great I am.' When you're 42 years old and you go on stage and you say a joke and no one laughs, you're just like, 'Wow, why am I here right now? This is very humiliating.' I was too dumb when I was young to even notice good or bad."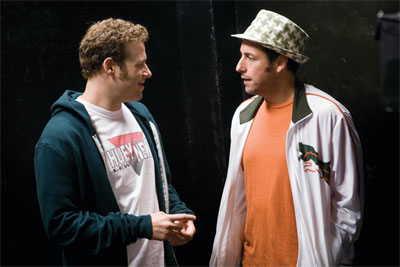 And the stand up material he perfected for Funny People is not what his younger fans may expect, but it's raw and often brutal as the performed well into the night. "I would tell Judd after every set I would do, this was stuff I haven't done in a long time. I haven't talked that filthy in front of people. People recognize me. I've been around a long time. I go on stage, these nice people who know me as a certain type of person and then I'm on stage and I'm as filthy as can be. I'm watching, some people are into it, some people are going, 'No, don't ruin it for us.' Then I would drive home and I'd be in my driveway alone and I have my two little kids sleeping and I just felt like the biggest, dirtiest human being. I was mad at Apatow. Why am I doing this movie?"
And Adam Sandler admits he is in no hurry to go that dark again any time soon. "It was a lot of work, and when I finished it, I loved Apatow and we hugged and I was very relieved to take a break. I don't know how these other actors go movie to movie and lose their mind in their roles and have a real life. I was happy to jump into my real life, be with my kids and wife and work on that part, but I'm sure if it comes down the road someday, Judd thinks it's right or someone else thinks it's right, but I'm not at night thinking, 'God, I've got to get there again. I'm happy I got this one," he says, smilingly.
Next for Adam Sandler he voices the part of a monkey in the Kevin James comedy Zookeeper and is currently "doing a movie right now with a bunch of my friends, comedians, called Grown Ups." Clearly he is enjoying just being a funny person again.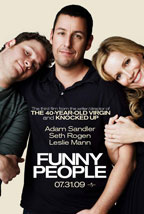 Funny People
Starring
: Jonah Hill, Adam Sandler, Seth Rogen, Leslie Mann, Eric Bana, Jason Schwartzman, RZA, Ken Jeong
Director
: Judd Apatow
Genre
: Comedies
Runtime
: 2 hrs 20 mins
Over the past few years, writer/director Judd Apatow (The 40-Year-Old Virgin, Knocked Up) has shown that nothing?not even losing your virginity or the miracle of childbirth?is sacred. About his... Over the past few years, writer/director Judd Apatow (The 40-Year-Old Virgin, Knocked Up) has shown that nothing?not even losing your virginity or the miracle of childbirth?is sacred. About his third film behind the camera, he says, "I'm trying to make a very serious movie that is twice as funny as my other movies. Wish me luck!" Apatow directs Adam Sandler, Seth Rogen and Leslie Mann in Funny People, the story of a famous comedian who has a near-death experience.
Adam Sandler, Eric Bana, Jason Schwartzman, RZA and newcomer Aubrey Plaza join a cast that reunites Judd Apatow with Seth Rogen, Leslie Mann and Jonah Hill in their third comedy together.