DITO - Robert Downey Jr.
YOUNG DITO - Shia LaBeouf
MONTY - Chazz Palminteri
FLAURIE - Dianne Wiest
YOUNG ANTONIO - Channing Tatum
YOUNG LAURIE - Melonie Diaz
MIKE O'SHEA - Martin Compston
LAURIE - Rosario Dawson
GIUSEPPE - Adam Scarimbolo
DIANE HONEYMAN - Julia Garro
YOUNG NERF - Peter Tambakis
ADULT NERF - Scott Campbell
FRANK - Anthony De Sando
JENNY - Eleonore Hendricks
UNCLE GEORGE - George Di Cenzo


The Story - A Guide to Recognizing Your Saints
A successful writer living in Los Angeles, Dito (Robert Downey Jr.) is summoned home to Astoria after a 15-year absence by his mother (Dianne Wiest) when his father (Chazz Palminteri) becomes seriously ill. His father never forgave Dito for leaving home and thus the two have a very strained relationship. Memories of his youth come flooding back as Dito (played as a teenager by Shia LaBeouf) revisits the old neighborhood, encountering the few childhood friends (the "saints" of the film and memoir's title) who aren't in prison or dead. As Dito finds himself whisked back into the childhood events that shaped him, we meet an unforgettable cast of characters living in the thick of a sweltering 1986 Queens summer.

These "saints" include Laurie (Melonie Diaz), Dito's childhood sweetheart; Mike O'Shea (Martin Compston), a transplanted Scot with an Irish name who dreams of becoming a punk rock musician; Giuseppe (Adam Scarimbolo), a reckless, destructive and possibly insane member of Dito's street posse; and the unforgettable Antonio (Channing Tatum), Dito's cocky and volatile best friend grappling with an abusive father. As Dito comes to terms with the ghosts of his past, he must fight to rebuild a relationship with his emotionally distant father.

An honest, unflinching account of a bittersweet return to a neighborhood where relationships can never be what they once were, A GUIDE TO RECOGNIZING YOUR SAINTS is about coming to terms with misplaced love, reconciling with family, and embracing the ghosts of your past. It's a mesmerizing debut from a truly gifted new director.

The Characters - A Guide to Recognizing Your Saints

ROBERT DOWNEY JR. (Dito)
has evolved into one of the most respected actors in Hollywood. With an amazing list of credits to his name, he has managed to stay new and fresh even after three decades in the business. Downey received an Academy Award nomination and won the BAFTA for best actor for his performance in the title role of CHAPLIN, released in 1992 by TriStar Pictures.

Downey has completed production on a number of films that will be released this year. The first is A SCANNER DARKLY, which is being released in July 2006. It co-stars Keanu Reeves, Winona Ryder, and Woody Harrelson who play characters living in a futuristic America that has lost the war on drugs. FUR teams Downey with Nicole Kidman in a film inspired by the life of Diane Arbus, the revered photographer whose images won great acclaim in the early 1960s. Downey will then be seen alongside Jake Gyllenhaal and Gary Oldman in the David Fincher film ZODIAC for Warner Bros. The film is based on the Robert Graysmith book of the same name, and is about the notorious serial killer who haunted San Francisco during the 1970's.

In 2005, Downey was in the Academy Award nominated film GOOD NIGHT AND GOOD LUCK, directed by George Clooney. He was also seen in the action comedy KISS KISS BANG BANG (Warner Bros.), directed by Shane Black and co-starring Val Kilmer. In October 2003 Downey was seen in two very different films. The ICON film THE SINGING DETECTIVE was a musical/drama/remake of the popular BBC hit of the same name. He also starred in the Warner Bros. thriller GOTHIKA opposite Halle Berry and Penelope Cruz.

Downey made his primetime television debut in 2001 joining the cast of the Fox TV series "Ally McBeal," playing the role of attorney Larry Paul, for which he won the Golden Globe Award for Best Performance by an Actor in a Supporting Role in a Series, Mini-Series or Motion Picture Made for Television, as well as the Screen Actors Guild Award for Outstanding Performance by a Male in a Comedy Series. In addition, Downey was nominated for an Emmy for Outstanding Supporting Actor in a Comedy Series.

In 2000, Downey co-starred with Michael Douglas and Toby Maguire in WONDER BOYS, directed by Curtis Hanson. In April 2000 he starred alongside Steve Martin and Eddie Murphy in the hit comedy BOWFINGER.

In September of 1999 he starred in BLACK AND WHITE, written and directed by James Toback, along with Ben Stiller, Elijah Wood, Gaby Hoffman, Brooke Shields and Claudia Schiffer. In January of 1999, he starred with Annette Bening and Aidan Quinn in the Dreamworks SKG film IN DREAMS directed by Neil Jordan.

In 1998, Downey co-starred with Tommy Lee Jones and Wesley Snipes in Warner Bros. U.S. MARSHALLS directed by Stuart Baird. He also starred with Heather Graham and Natasha Gregson Wagner in the critically acclaimed TWO GIRLS AND A GUY directed by James Toback.

In 1997, Downey was seen in Robert Altman's THE GINGERBREAD MAN starring with Kenneth Branagh, Daryl Hannah and Embeth Davitz; HUGO POOL directed by his father Robert Downey Sr., starring Sean Penn and Patrick Dempsey; and in New Line Cinema's ONE NIGHT STAND directed by Mike Figgis and starring Wesley Snipes and Nastassja Kinski.

In 1995, Downey starred in Miramax's RESTORATION with Hugh Grant, Meg Ryan and Ian McKellen, directed by Michael Hoffman. Also that year, he starred in RICHARD III, for MGM/UA, in which he appears opposite his RESTORATION co-star McKellen. In Oliver Stone's NATURAL BORN KILLERS (1994) with Woody Harrelson and Juliette Lewis, Downey starred as a tabloid TV journalist who exploits a murderous couple's killing spree to boost his ratings. In Robert Altman's SHORT CUTS (1993) he appeared as an aspiring film make-up artist whose best friend commits murder. For the comedy HEARTS AND SOULS (1993) Downey starred as a young man with a special relationship with four ghosts.

His other film credits include THE LAST PARTY, SOAPDISH, AIR AMERICA, CHANCES ARE, TRUE BELEIVER, JOHNNY BE GOOD, 1969, LESS THAN ZERO, THE PICKUP ARTIST, BACK TO SCHOOL, TUFF TURF, WEIRD SCIENCE, FIRST BORN and POUND, in which he made his feature film debut and which was directed by Robert Downey, Sr.

On November 23rd, 2004, Robert Downey Jr. released his debut album called "The Futurist" on the Sony Classics Label. The album contains eight original songs that Downey wrote, as well as two cover songs.



CHANNING TATUM (Antonio)
With exceptional roles in three upcoming films, Channing Tatum is a talented young actor who is sure to establish himself as a breakout star in 2006.

Besides his breakout role in A GUIDE TO RECOGNIZING YOUR SAINTS, Tatum was also recently seen starring opposite Amanda Bynes in the Dreamworks film SHE'S THE MAN, which was released on March 17, 2006. This film is directed by Andy Fickman and produced by Lauren Shuler Donner. Inspired by the Shakepeare play, "Twelfth Night," the film stars Amanda Bynes as a boarding school student, Viola, who enrolls in the school disguised as her twin brother and finds herself falling in love with her handsome roommate, Duke, played by Tatum. Again, Tatum drew exceptional reviews including Daily Variety referring to the film as having a "bright and enthusiastic cast, centered on the swarthy and magnetic Channing Tatum as Duke..."

Tatum will next star in the Disney film STEP UP, directed by Anne Fletcher and produced by Adam Shankman. The film centers around Tyler Gage, played by Tatum, a street smart juvenile delinquent who gets sentenced to community service at a high school for the performing arts. After first distancing himself from the rest of the students, he falls in love with a beautiful dancer who helps him to discover his own talent for dance. The film will be released on August 11, 2006.

Channing Tatum was born in Alabama and grew up in Florida. At age 23, he starred in an international Pepsi commercial with director Tarsem and two highly popular national Mountain Dew commercials directed by Kinka Usher. His natural charisma and athleticism in these commercials brought him to the attention of both extreme sports fans and Hollywood industry executives. He was then signed by a talent agency and started taking acting classes with Harold Guskin and at the Dena Levy Acting Studio.

In 2004, he had his first guest appearance on a television show with a role on an episode of "CSI: Miami". In 2005, he starred in HAVOC opposite Anne Hathaway and Joseph Gordon Levitt and then in COAH CARTER with Sam Jackson as Jason Lyle. That same year, he starred as motorcross superstar Rowdy Sparks in the Fox film SUPERCROSS and also shot the lead role in the WB pilot "The Prince" for director Gavin O'Connor.

Channing Tatum currently resides in Los Angeles.



SHIA LaBEOUF (Young Dito)
burst upon the scene and has quickly become one of Hollywood's most sought-after actors. His natural talent and raw energy are quickly earning him a reputation as one of the most promising young thespians.

Shia is currently shooting the action adventure TRANSFORMERS for director Michael Bay. The film focuses on dueling alien races, the Autobots and the Decepticons, who bring their battle to Earth, leaving the future of humankind hanging in the balance. LeBeouf recently completed filming the thriller DISTURBIA for director D.J. Caruso. Shia stars as a teen living under house arrest who becomes convinced his neighbor is a serial killer.

Later this year, Shia will be seen in the drama BOBBY for director Emilio Estevez. Starring opposite Demi Moore and Elijah Wood, the film centers around 22 people who were at the Ambassador Hotel where U.S. Senator Robert F. Kennedy was assassinated.

Shia was most recently seen as the lead role in the film THE GREATEST GAME EVER PLAYED for Walt Disney Pictures. Directed by Bill Paxton, the film was based on the best-selling book by Mark Frost, and tells the true story of the legendary 1913 U.S. Open, in which Frances Ouimet, a 20-year old golf amateur from Massachusetts, shocked the golf world by defeating the British champion.

Shia's additional feature film credits include CONSTANTINE opposite Keanu Reeves, I, ROBOT, with Will Smith , HBO's Project Greenlight production THE BATTLE OF SHAKER HEIGHTS, and the hit action- film CHARLIE'S ANGELS II - FULL THROTTLE. In 2003, LaBeouf made his big screen debut starring opposite Sigourney Weaver and Jon Voight in the film HOLES.

On television, LeBeouf garnered much praise from critics everywhere for his portrayal of "Louis Stevens," on the Disney Channel's original series Even Stevens. In 2003, he earned a Daytime Emmy award for "Outstanding Performer in a Children's Series" for his work on the highly rated family show.

LaBeouf attended the Magnet School of Performing Arts at USC and currently resides in California with his family.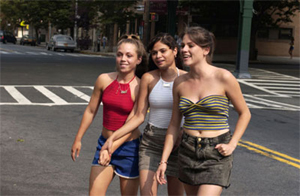 ROSARIO DAWSON (Laurie)
With numerous films already to her credit, including female leading roles opposite today's hottest film actors and directors, Rosario Dawson has emerged as one of Hollywood's most sought after leading ladies.

Dawson was last seen in the starring role of 'Mimi Valdez' in the film adaptation of famed Broadway play RENT. Dawson toplines the Chris Columbus directed version of the Pulitzer Prize-winning Jonathan Larson musical, joining many of the original cast members including Anthony Rapp, Adam Pascal, Jesse Martin, and Taye Diggs.

Dawson recently wrapped starring roles in two films, both for the Weinstein Company, including Kevin Smith's sequel to CLERKS titled PASSION OF THE CLERKS and John Madden's KILLSHOT alongside Mickey Rourke, Diane Lane and Johnny Knoxville. Dawson is currently starring in and producing her first film for director Talia Lugacy. This will be Dawson's first self produced film.

Dawson's was recently seen in the Robert Rodriguez/Frank Miller film noir drama SIN CITY. She plays the role of 'Gail' in the third and final installment of the film based on Miller's graphic novel series, which also stars Bruce Willis, Benicio Del Toro, Clive Owen, and Brittany Murphy. Dawson also recently starred in the Oliver Stone epic ALEXANDER for Warner Bros. She joined an all-star cast playing opposite Colin Farrell, Angelina Jolie, Anthony Hopkins, and Jared Leto. Dawson can also be seen co-starring with The Rock, Sean William Scott and Christopher Walken in Universal's action/comedy THE RUNDOWN.

Dawson co-starred last year in the Lions Gate drama SHATTERED GLASS with Hayden Christensen, Chloe Sevigny and Steve Zahn. She also appeared this year in the indie film THIS GIRLS LIFE, which has been making its run in the festivals this year. Additional credits include SIDEWALKS OF NEW YORK, a romantic comedy, written, directed, and starring Ed Burns as well as Heather Graham, Stanley Tucci and Brittany Murphy; THE FIRST $20 MILLION IS ALWAYS THE HARDEST, written by Jon Favreau and directed by Mick Jackson; Ed Burns' ASH WEDNESDAY, along with Burns and Elijah Wood; amd LOVE IN THE TIME OF MONEY, written and directed by theater director Peter Marrei; Spike Lee's THE 25th HOUR, opposite Edward Norton, Philip Seymour Hoffman and Barry Pepper. MEN IN BLACK 2 with Will Smith and Tommy Lee Jones; and Ethan Hawke's CHELSEA WALLS.

Dawson made her film debut in the highly acclaimed and controversial hit KIDS. Directed by photographer Larry Clark, with a script by Harmony Korine, KIDS depicted 24 hours in the life if a group of New York Skaters and the havoc that runs through it. The film features a group of kids actually pulled from the streets in New York, as opposed to professional actors. With a surprise midnight screening at the Sundance and a spot in the main competition at the Cannes Film Festival, her film career was well underway.

Dawson's other film credits include: Spike Lee's HE GOT GAME opposite Denzel Washington; LIGHT IT UP, opposite Forrest Whitaker and Vanessa Williams; DOWN TO YOU with Freddie Prinze Jr.; and, JOSIE AND THE PUSSYCATS, with Rachel Leigh Cook and Tara Reid.

Born and raised in New York, Rosario continues to make her home there.


DIANNE WIEST (Flori)
Perhaps best known for her Oscar winning supporting roles in Woody Allen's HANNAH AND HER SISTERS and BULLETS OVER BROADWAY, Dianne Wiest has also had memorable roles in Allen's films RADIO DAYS, SEPTEMBER and THE PURPLE ROSE OF CAIRO. She was also nominated for an Oscar for Best Supporting Actress in Ron Howard's PARENTHOOD. Other memorable film roles include work in Tim Burton's EDWARD SCISSORHANDS and Mike Nichol's THE BIRDCAGE. Wiest last appeared onstage in Wendy Wasserstein's Third at Lincoln Center and on Broadway with Al Pacino in Salome directed by Estelle Parsons. Other theatre appearances include The Shawl, Hunting Cockroaches, After the Fall, Beyond Therapy and The Art of Dining.


MELONIE DIAZ (Young Laurie)
Melonie Diaz was born in NYC. She was raised in the Lillian Wald Projects of the Lower East Side of Manhattan. She has attended the prestigious Professional Performing Arts High School for drama and is now pursuing to complete her Bachelor of Fine Arts in Film at NYU's Tisch School of the Arts. Melonie is also an accomplished actress; she has been featured in notable films such as Tom DiCillo's DOUBLE WHAMMY, Peter Sollet's RAISING VICTOR VARGAS (official selection of the Cannes and Sundance Film Festivals) and LORDS OF DOGTOWN (from Catherine Hardwick, director of THIRTEEN). She has also starred in "Scenarios U.S.A," a short film promoting safe sex, and "From an Objective Point of View," directed by Jim McKay and Hannah Weyer. Melonie has participated in the First Annual Hip Hop Theater Festival at P.S 122.



MARTIN COMPSTON (Mike O'Shea)
Martin makes his US screen debut in A GUIDE TO RECOGNIZING YOUR SAINTS. The experienced young Scottish actor starred in Ken Loach's 2002 film SWEET SIXTEEN, for which he won a BAFTA Award and a British Independent Film Award. The role also garnered him Critics Circle, European Film Academy and Cannes Film Festival Best Actor nominations. Martin has appeared in WILD COUNTRY, TICKETS and NICELAND, as well as on British television, with roles on "Monarch of the Glen" and "Casualty," among others. The Glasgow, Scotland native can be seen in 2006 in RED ROAD and alongside Robert Carlyle in DRAGNET.



ADAM SCARIMBOLO (Giuseppe)
A GUIDE TO RECOGNIZING YOUR SAINTS marks Adam's first lead-acting role in a feature film. His prior roles include a featured part in UNDEFEATED, a John Leguizamo-directed film for HBO; supporting roles in LYMELIFE, BITTERSWEET PLACE and ANNE B. REAL; and a lead role in "Gasline," which was awarded Best Short Film at the 2002 Sundance Film Festival. Adam has also appeared on television in guest starring roles on "Third Watch" and "The Sopranos." Adam studied theatre arts at Brooklyn College.



JULIA GARRO (Diane Honeyman)
Julia makes her screen debut in A GUIDE TO RECOGNIZING YOUR SAINTS. The Spanish-Italian first generation American was born in New York City where, at the age of 13, she began acting classes at Biz Kids. She later studied drama at the prestigious LaGuardia High School of the Performing Arts. During that time, she also studied in Argentina and at the French-American Association for Cinema and Theatre in Paris. A dedicated athlete and yogi, Julia currently attends Barnard College, where she is majoring in Women's Studies and Film.



PETER TAMBAKIS (Young Nerf)
Before his role as the reluctant troublemaker Nerf in A GUIDE TO RECOGNIZING YOUR SAINTS, Peter appeared in the blockbuster films THE SIXTH SENSE and RANSOM. He has also had supporting parts in IGBY GOES DOWN, LIVE FREE OR DIE and SNOW IN AUGUST, among others.



SCOTT MICHAEL CAMPBELL (Adult Nerf)
Besides Scott's turn as the down-on-his-luck Nerf in A GUIDE TO RECOGNIZING YOUR SAINTS, he was recently seen in Ang Lee's BROKEBACK MOUNTAIN and is in the forthcoming films CRAZY and AMERICAN GOTHIC. His prior film credits include FLIGHT OF THE PHOENIX, HART'S WAR, RADIOLAND MURDERS and BULLWORTH. He has also appeared in many popular television shows, including "Grey's Anatomy," "The West Wing," "Frasier," "E.R." and "Crossing Jordan."



ANTHONY DE SANDO (Frank)
Anthony starred in the dramatic films FEDERAL HILL, CEMENT, and A DAY IN BLACK AND WHITE, as well as the comedies KISS ME GUIDO, PARTY GIRL and THE WHOLE SHEBANG. Other film credits include NEW JACK CITY, OUT FOR JUSTICE, and HBO's HYSTERICAL BLINDNESS. On television he has played series regular roles on "LA Law," "Under Suspicion," "New York News" and "Welcome to New York." Anthony has also had recurring roles on "Crossing Jordan" and "The Sopranos." Additionally, he has guest-starred on "Sex and the City," "Third Watch," "Without a Trace," "Numb3rs," and "NYPD Blue." On Broadway, Anthony played the role of Toddy Koovitz in Richard Greenberg's 2003 Tony Award Winning Best Play "Take Me Out." He recently completed BEER LEAGUE in which he co-stars with Artie Lange and Ralph Macchio.


Cast Interview www.femail.com.au/a-guide-to-recognizing-your-saints-interview-characters.htm


Order Now from Dstore
Order Now from Top Shop
Order Now from Chaos
Order Now from Sanity