MANDYLOR SEES BLOOD.EXCLUSIVE by Paul Fischer.Australian actor Costas Mandylor is under no illusions that when you sign onto a Saw franchise, youre not playing Hamlet. Playing a cop on the hunt for Jigsaw in the fourth instalment of the hit franchise, his character appeared briefly in the third film. "At some point I was introduced to the director and he asked if I wanted to come up and have some fun for a week on Saw III. So I thought why not, theyre some good guys and all that, so were gonna have some fun. So being in that movie for a minute or two, I made the most of it and had fun with the guys."
Then lo and behold, Costas Mandylor recalls, "they said weve got a surprise for you and in Hollywood, you get a lot of surprises that arent always the best, and sometimes you get lucky." So, Costas Mandylor says laughingly, he fell into Saw IV "and from what Ive heard, it is the best one yet, so Im like a pig in poop, you know what I mean?" While Costas Mandylor has played a cop before, most notably in David Kellys Picket Fences TV series, he doesnt see this cop as being especially unique "because its such a structured thing and its got its own life, so my main thing was not to screw anything up, not ruin the movie, or the parts or the movie that Im in," Costas Mandylor laughingly explains. "Basically I wanted to fit in to this puzzle thats its own animal already, and have a few laughs in between all the madness and be a decent actor. Ive kept my job so Im all right."
For Costas Mandylor, he didnt feel it was necessary or important to have seen all previous Saw films to prepare for this one. "I was a late bloomer and hadnt seen the movies, even though Id met with Helen and James before the movie got going. I educated myself to see what it was about and for me even though theres all this gore and blood, I think its clever." Costas Mandylor sees this Saw as being "about redemption, and about seeing how far youre willing to go to avenge yourself and then the rest happens. I just think its a clever film that has madness added to it, so thats probably why its got a winning feeling."
Born in Melbourne, Australia of Greek descent, Costas Mandylor abandoned a professional soccer career after sustaining injuries and relocated to Hollywood to pursue acting. Costas Mandylor recalls that "I was a kid watching Burt Lancaster, Anthony Quinn and Kirk Douglas in certain movies like your Spartacus and all these, big classics and you think to yourself, wow, look at these heroes on the screen, the symbolism, the mythology and at some point I just came to America for a holiday and I went to acting class. I wasnt that interested in school but this is a type of school that I could get into, so I started studying, and all of a sudden, I start working with Anthony Quinn and going, Boy, this is really happening." Costas Mandylor quickly won a co-starring role as Willem Dafoe's younger brother in the Holocaust drama "Triumph of the Spirit" (1989). Director Oliver Stone cast him as a drugged-out Italian aristocrat in his biopic "The Doors" (1991) and Costas Mandylor went on to star as a young Frank Costello in "Mobsters" (1991), another Hollywood picture romancing the image of Chicago gangsters and Prohibition. He also played an actor in the soap opera spoof "Soapdish" (1991).
On "Picket Fences" Costas Mandylor made his small screen debut as Officer Kenny Lacos, whose sometimes quirky behaviour led to run-ins with his female partner (Lauren Holly). He went on to appear in a 1993 episode of "Tales from the Crypt" and had a villainous role in the TV-movie "Falling for You". Other credits include the post-nuclear "Fist of the North Star", the suspense thriller "Almost Dead" and the futuristic sci-fi "Last Exit to Earth". Earth".MandylorMandylor has appeared in several movies since his "Picket Fences" fame, but none have really caught on with critics or audiences. He was bodyguard to a mobster's moll in "Fatal Past" (1994), a mysterious stranger in the soft-porn "Delta of Venus" (1995) and Denzel Washington's doomed partner in a virtual reality world in the big-budget sci-fi actioner "Virtuosity" (also 1995). He then returned to low-budget dramas and thrillers like "Crosscut" (1995), as a good-natured criminal, the sci-fi film noir "Venus Rising" and as a murder suspect in "Portraits of a Killer" (both 1996).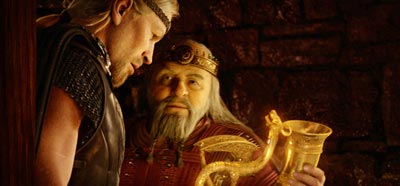 Costas Mandylor says that for him, the challenges he faces in Hollywood these days is expressing his versatility as an actor. "Sometimes you get a good experience, sometimes you have to fight for em ,and sometimes you never get em. What Ive decided to do, with a little bit more experience and having done some little movies is Ive tried to be versatile, and Ive gotten a couple of breaks, where you compete against a bunch of other actors and some people just get the job and some people dont. Sometimes its you and sometimes its them." Most recently, Costas Mandylor adds, he joined a stellar cast in Beowulf, "starring Ray Winstone, whos wonderful, Anthony Hopkins, whos the King, and Malkovich. My character is a womanising violent Viking by the name of Honshu and something terrible happens to him in the movie, so its gonna be a little bit memorable." Asked how he prepares to play a womanising Viking, Costas Mandylor says laughingly, "Well, you grow up in Melbourne first, then you put on the dress, put a sword in your hand and just go for it." As with director ZemecZemecvkiskis previous Polar Express, Beowulf was shot digitally on a soundstage and required an arduous process. "First of all you feel like youre in a wet-suit, but they have to glue like eighty dots on our faces that are sort of sensors. That was a long process, but it forces you to go to bed early so you can get up at five to put this stuff on. The funny thing is that when I first met Malkovich and Anthony Hopkins they were both exactly like me and everybody else with these dots and all these wet-suits and I said, Jesus. everybody in the world wants to works with Sir Anthony Hopkins and John Malkovich and every young actor would dream to be in the same room. Look at em, they look as ridiculous as me. So, it looks ridiculous, but on the screen Im telling you its beautiful."
Costas Mandylor says his priorities these days are to "make anything thats quality with good people, but Ill tell you now the first chance I get to go home and do a movie, I would jump on it." Costas Mandylor did have the chance to go back to Melbourne for the first time in 17 years. "I did a little movie called Torn thats going to come out soon, a little movie, but good actors and great producers. I didn't get a chance to really enjoy my old home, because I had to leave the day after I finished shooting, so any chance I get again Im going to stay. because I miss it terribly." "Tom is - a thriller about two guys, one has the greatest life the other a shitty life, and they bump into each other one day, their lives intertwine and it ends very badly. But its very clever and I heard its turning out pretty good so I guess people are going to hear about it soon. It was the most incredible experience, because I hadnt been home for ten years. I grow up in South Melbourne, in St. Kilda, and all of the shooting took place in those areas. Ill never forget this one thing. Talking about missing home. We were shooting in the South Melbourne market where you can see the whole city, it was the final night of shooting and I looked across and I said, I grew up here, this is amazing to me and I took it in. The next morning I got on a plane and came back to America, but I tell you what, I cant wait to do it again."Though Costas Mandylor has been in Los Angeles for almost two decades, he laughingly concedes that he remains very much Australian. "Theres nothing thats gonna change this Greek Aussie into anything else."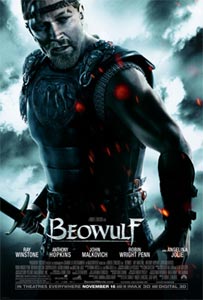 Beowulf
Starring: Ray Winstone, Anthony Hopkins, John Malkovich, Robin Wright Penn, Brendan Gleeson, Crispin Glover, Alison Lohman, Angelina Jolie
Director: Robert Zemeckis
Beowulf's groundbreaking animation, stunning visuals, and talented cast make for an extremely entertaining time at the movies.
In a legendary time of heroes, the mighty warrior Beowulf battles the demon Grendel and incurs the hellish wrath of the beast's ruthlessly seductive mother. Their epic clash forges the timeless legend of Beowulf.
Groundbreaking director Robert Zemeckis offers a unique vision of the Beowulf saga in a way that it has never been told before.
---
Beowulf Interviews
Angelina Jolie -
www.girl.com.au/angelina-jolie-beowulf-interview.htm
Ray Winstone -
www.girl.com.au/ray-winstone-beowulf-interview.htm
John Malkovich -
www.femail.com.au/john-malkovich-beowulf-interview.htm
Anthony Hopkins -
www.femail.com.au/anthony-hopkins-beowulf-interview.htm
Costas Mandylor -
www.femail.com.au/costas-mandylor-beowulf-interview.htm