DITO - Robert Downey Jr.
YOUNG DITO - Shia LaBeouf
MONTY - Chazz Palminteri
FLAURIE - Dianne Wiest
YOUNG ANTONIO - Channing Tatum
YOUNG LAURIE - Melonie Diaz
MIKE O'SHEA - Martin Compston
LAURIE - Rosario Dawson
GIUSEPPE - Adam Scarimbolo
DIANE HONEYMAN - Julia Garro
YOUNG NERF - Peter Tambakis
ADULT NERF - Scott Campbell
FRANK - Anthony De Sando
JENNY - Eleonore Hendricks
UNCLE GEORGE - George Di Cenzo
The Story - A Guide to Recognizing Your Saints

A successful writer living in Los Angeles, Dito (Robert Downey Jr.) is summoned home to Astoria after a 15-year absence by his mother (Dianne Wiest) when his father (Chazz Palminteri) becomes seriously ill. His father never forgave Dito for leaving home and thus the two have a very strained relationship. Memories of his youth come flooding back as Dito (played as a teenager by Shia LaBeouf) revisits the old neighborhood, encountering the few childhood friends (the "saints" of the film and memoir's title) who aren't in prison or dead. As Dito finds himself whisked back into the childhood events that shaped him, we meet an unforgettable cast of characters living in the thick of a sweltering 1986 Queens summer.
These "saints" include Laurie (Melonie Diaz), Dito's childhood sweetheart; Mike O'Shea (Martin Compston), a transplanted Scot with an Irish name who dreams of becoming a punk rock musician; Giuseppe (Adam Scarimbolo), a reckless, destructive and possibly insane member of Dito's street posse; and the unforgettable Antonio (Channing Tatum), Dito's cocky and volatile best friend grappling with an abusive father. As Dito comes to terms with the ghosts of his past, he must fight to rebuild a relationship with his emotionally distant father.
An honest, unflinching account of a bittersweet return to a neighborhood where relationships can never be what they once were, A GUIDE TO RECOGNIZING YOUR SAINTS is about coming to terms with misplaced love, reconciling with family, and embracing the ghosts of your past. It's a mesmerizing debut from a truly gifted new director.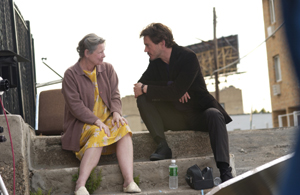 Interview:

Writer-director Dito Montiel, the son of a Nicaraguan immigrant and an Irish mother, was a kid "from nowhere going nowhere," as he wrote in his memoir A Guide to Recognizing Your Saints. Growing up in Astoria, Queens in the seventies, he pulled pranks for Greek and Italian gangsters, confessed at the Church of the Immaculate Conception, took furtive hits of mescaline, and snuck into Times Square brothels.
As a young adult, he discovered the grit and grime of Lower Manhattan back when it still felt authentic, formed a punk band called Gutterboy (signed to Geffen for the then unheard of sum of one million dollars), and was himself discovered by the city's vibrant underground culture. He was embraced by an eighties fashion and art cognoscenti that included Andy Warhol and his Factory cohort Cherry Vanilla; photographer Bruce Weber (for whom he modeled Calvin Klein underwear); Liza Minnelli and Allen Ginsberg. Montiel's memoir A GUIDE TO RECOGNIZING YOUR SAINTS, published in 2003, was a rollicking tour of the highs and lows of life both on the streets of Astoria and later in the electrifying milieu of pre-gentrified downtown Manhattan.
In his memoir, Montiel writes about his exploits in Manhattan and on the road as if they are out-of-body experiences: "When we walked in, Liza Minnelli, to whom they had once before introduced me, remembered my name, and thanked me for coming," Montiel writes. "I was in shock and trying very hard not to let her, or anyone, know just how freaked out I was."
The memoir often takes an impressionistic approach, painting scenes with clips of memory and bits of pop music:
And the vision was quick. As quick as it was vivid. And it was of you. Of you and mewalking down a jazz-filled Miles Davis Saint Mark's Place. "So What" (especially oncethe trumpet kicks in). And just as that vision faded, the sweetest sound of pleading Curtis Mayfield took us all the way up to 111th Street (Eddie you should know better). Oh, andthat was where we kissed...Annette. Where we kissed that magic kiss and wrote poemswhere every line rhymed. And being this was all a vision, a dream, a daydream, well thenwe went back downtown with the Isley Brothers "Who's That Lady" filling up the emptycracks along 8th Avenue's 1970s spent red-lit bars (around 38th Street).
For the film version of his book, the protagonist Dito (who despite sharing a name with its creator is a fictional character) is someone who has matured into a sensitive, literary type. His adult life has taken him worlds away from the old neighborhood to which he reluctantly returns after many years of self-imposed exile in LA. Embracing and confronting one's past is the essence of Dito's story in the film.
The real-life Dito is a talented screenwriter and director who has, with this debut film, concocted a living temple to the lasting power of memory. The faith practiced at this particular temple is the spirit of youth - of the events of one particular summer when everything changed for a particular young man. Rather than recount bit-by-bit the events detailed in his memoir, Montiel has distilled and transformed his own source material into an evocative mood piece that ranks as one of the more indelible accounts of New York City street life in years.
The person who first thought Montiel's memoir might make a good movie was actor Robert Downey Jr.
"A friend of ours, Jonathan Elias, brought Downey (into my life)," Montiel recalls today. "They came to a reading I was doing at Book Soup in Los Angeles and Downey was like, 'you wanna make a movie outta this?' And we did. Ridiculous, right?" he laughs.
At first, Downey thought A GUIDE TO RECOGNIZING YOUR SAINTS might be a good project with which to make his debut as a director. "I think he liked the idea of working on something from scratch," Montiel recalls. But Downey became preoccupied with a flurry of other projects, including GOOD NIGHT AND GOOD LUCK, KISS KISS BANG BANG, FUR and A SCANNER DARKLY. In the interim, Downey introduced Montiel to his friend Trudie Styler, whose Xingu Films ultimately put together the financing for the movie.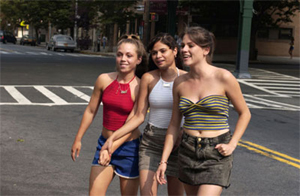 "In Dito's memoir, I saw the kind of material I tend to respond to, which is material that comes from a place of true passion," Styler says. "I began as a documentary filmmaker, so an autobiographical tale of a young man's real-life journey really made sense to me. The title itself resonated with me on a personal level. I certainly have my own 'saints' that have guided me though life."
"I think Robert thought of me for GUIDE because he saw what we did with Guy Ritchie and his first film, LOCK, STOCK AND TWO SMOKING BARRELS" Styler adds. "He knew I had an interest in first-time filmmakers and thought I was the woman for the job."
Downey concurs. "My first thought about making SAINTS into a movie was, 'I don't want to walk into the office of a quintessential Hollywood producer with this,'" he recalls. "Dito and I are, first and foremost, friends. There are a lot of creeps in the netherworld between true indies and studio movies and a lot of producers who will give up on a project too easily. Not Trudie Styler. She's a really savvy business woman, but once she sets her mind on something she won't stop until she succeeds."
In a development process that took over four years, Montiel, Styler and Downey worked diligently developing the parallel stories of Dito's youth and his return home.
"Robert and I talked a lot and ultimately decided that the heart and soul of the movie should be young Dito's coming of age and his return home," Montiel says. He laughs about his wild days in Manhattan: "Who'd want to see that?"
"Trudie really gets story," adds Downey, "and she really kicked our ass to get the right script. She was really diligent. At one stage she had me, Dito, and her Head of Development Alex Francis basically locked into a room in her apartment in New York, and wouldn't let us out until we'd nailed the structure. She was pretty much working on the project when I wasn't, and when I'd come out of an acting gig we'd go and work together on it some more."
In addition to Downey and Styler, Montiel worked with a wide range of mentors. He workshopped the script at the Sundance Screenwriter and Filmmakers Labs with such mentors as director Frank Pierson and novelist Walter Mosley. He then met with producers at Original Media and Belladonna Productions, who, from their respective projects THE SQUID AND THE WHALE and TRANSAMERICA, among many others, knew how to make movies in New York on a budget. Next he enlisted the services of noted cinematographer Eric Gautier, who had recently shot THE MOTORCYCLE DIARIES.
With this team in place, Montiel shot a richly detailed period film, often in the precise locations where the pivotal events of his youth played out. Ironically, Montiel says, it was harder to make his old neighborhood look like the present day than it was to get a mid-80's feel.
"The place doesn't change," he says. "That's what I love about it."
Because A GUIDE TO RECOGNIZING YOUR SAINTS in film form mainly focuses on the director's very specific memories and events of his youth, casting these roles became a challenge for both the filmmaker and his producers. As Montiel recalls, "I was insane about the casting of this film. I'd walk around all night, everywhere, looking for any ragged, under-aged kid out too late, and when I came across one I'd walk over and say, 'Look I know this is weird but I'm gonna give you a number and you should come down and we'll do this thing for a movie.'" Montiel reports holding seven open casting calls on his own, in Queens, Brooklyn and Manhattan.
"It's almost funny now when I think about the fact that I was so obsessed with discovering unknowns -- it never seemed strange to me," Montiel says today. "The idea of using actors, especially 'child actors,' was at that point unimaginable."
Downey and Styler had different takes on Montiel's desire to cast unknowns.
"Ultimately, my only job as producer on this movie was having Dito's back," Downey says. "If he became obsessed with one approach or another, my role was to say 'OK, go explore it.' My feeling is you can never go wrong by instilling in your director that they've got to go through what they've got to go through."
Styler took a more practical approach.
"Dito hadn't had the benefit of making films," she explains, "and at the beginning didn't realize the extreme time constraints he'd be working under just to shoot the movie. Ultimately it became clear that kids off the street simply wouldn't be viable. We'd need actors with experience and stamina in order to make our days."
"I was busy fighting against my cast and luckily I lost battle after battle," Montiel laughs. "At the time, Shia LaBoeuf seemed a million miles from the Dito I wrote, yet I came to discover that he somehow understood all the undercurrents of the character. He did it his way. He's great and no one would have done it better. All the actors in the film gave me gifts I'll carry for a lifetime."
The director's interest in casting unknowns ultimately did pay off, however.
"I loved this white girl in New York named Eleonore. I wanted her to be 'young Laurie' and I felt like I'd found Jodie Foster in TAXI DRIVER. But Rosario Dawson wanted the role of 'adult Laurie' and there was no way white Eleonore was going to grow up to be Rosario Dawson."
But Dawson led Montiel to Melonie Diaz, a young actress who'd charmed audiences in RAISING VICTOR VARGAS.
"She was the most perfect young Laurie I could wish for," says Montiel. "I did, however, sneak Eleonore into the film as this recurring extra that talked all over the place, and she just naturally became Laurie's friend, Jenny."
Styler is proud to have discovered Martin Compston, who plays young Dito's friend Mike O'Shea, when she served on the jury for the British Independent Film Awards. He won a Best Actor award there for his work in Ken Loach's SWEET SIXTEEN.
Styler is particularly passionate about the younger actors in SAINTS.
"Martin's performance in SWEET SIXTEEN haunted me," she says, "and he really lifts our movie by playing a character that's not so many degrees away from his own background. I am so glad that we cast a real Scottish actor in the role. His foreignness is alien to Dito and all his friends, and for Dito this new guy opens up a whole new world for him, beyond his insular existence in Astoria. Mike is almost exotic - a poet as well as a foreigner. To someone like Antonio, this is a threat. But to Dito it's like he's been shown a way out."
Of the stunning breakout performance delivered by Channing Tatum, who plays Dito's volatile and vulnerable best friend Antonio, Styler is adamant in her opinion that Tatum brought to the film a huge, bright spark. "Antonio was one of the most difficult but also one of the most important roles in the film. Channing needed to convey tremendous vulnerability despite his character's tendency toward violence," Styler insists. "Channing manages to generate huge empathy for Antonio. We can see how troubled he is, and we can see that everything he does, while it may be misguided, is done out of love and friendship for Dito."
"Like any low-budget film, making SAINTS was hard work for everyone, especially our younger actors," adds Styler. "They never once let us down."
Anyone familiar with film production knows that most movies are shot out of sequence so that a production can "shoot out" an actor on consecutive days. SAINTS was no different. Because Downey and LaBeouf were playing the same character at different points in life, their actual shooting schedules never overlapped. Although audiences will surely notice how the young Dito and the returning Dito share many of the same mannerisms - by all accounts the two actors never studied up on each other's comportment.
Says Downey: "The day before I started shooting I watched Dito and everyone shoot the scene in church where Antonio flips out. I'd heard the kid [LaBeouf] was great, and he was, and we talked. But we didn't get into any heavy technical stuff. I think it probably works simply because it's an example of good casting. But the key might have been that neither one of us were trying to play Dito per se."
Styler thinks each actor's work plays so well against the other's because "it has to do with their acting chops. Robert of course is one of our greatest actors. And Shia is one of the newest crop of talented young leading men. They both immersed themselves into their roles. They share in common an uncanny ability to combine tremendous charisma with great sensitivity. They each command an audience's attention in scenes without ever resorting to grandstanding. I think it's because they both seem to hold within them a curious and very strong sense of solitude."
Making a movie based on the life one actually has lived created both challenges and opportunities for the filmmaker and his actors.
While shooting in the neighborhood in which he grew up, Montiel encountered a number of old friends who watched as actors playing people with their same names performed the script. "My old friends were always hanging around, telling the actors, 'I would never say that!'"
Actor Anthony De Sando, who brings life to Frank the Dog Walker in a very memorable turn, sought out the real-life Frank the Dog Walker - who now lives on Manhattan's Upper West Side - without telling his director.
"It was the most amazing acting research I've ever done," enthuses De Sando, "because he'd lived and breathed it. I saw this movie as a very fine line between cinema verité and fiction, and talking with this guy was just incredible."
"He hung out with him for three days and never said a thing," says Montiel, shaking his head in disbelief. "Anthony totally freaked me out when we shot his scenes."
Other events and characters in the film were changed to fit the movie's new narrative. The death of Giuseppe on the elevated train tracks is one such example: "Giuseppe is alive and well but got deported to Italy for being a career criminal," explains Montiel. "My friend Billy Cockeye died riding on the roofs of trains, which is where that idea came from." However, the harrowing scene in question was shot at the train station nearest Montiel's childhood home, a location that was very difficult to secure.
The real-life Laurie lived above "some kind of locksmith" and not a grocery store, says Montiel, "but a place very similar. I jumped out of her second-story window more times than I can remember. Her father was always chasing me."
After shooting the film, the biggest challenge confronting Montiel was found in the editing room. He had to balance a story line from the past with one set in the present, featuring different actors. Montiel also sought to create an unconventional narrative strategy that said something about the very nature of time and memory.
One of the film's recurring motifs is the withholding of information from the audience as the storyline from the past plays out. Twice we experience characters playing out scenes against breathtaking visual backdrops that Montiel doesn't reveal until the end of the respective scenes, as if to suggest visual exclamation points. One such scene involves the personal threat against Dito that is spray-painted around his bedroom window - an act to which Dito, Antonio and his friends respond long before we actually see it on screen. Another similar scene is a wide, nighttime shot of the majestic Astoria Park Pool, which we only see after a long period of intense dialogue between Dito and Mike O'Shea on the subject of their futures. This "backwards" narrative strategy embellishes these scenes with the added depth of a passionate storyteller whose enthusiasm for telling stories in new and inventive ways has led him to "save the best for last," in an effectively visual manner.
A GUIDE TO RECOGNIZING YOUR SAINTS was put to together by Montiel while working with two editors. Chris Tellefsen started out as an assistant editor for Martin Scorsese on THE COLOR OF MONEY and went on to edit the early films of Whit Stillman and films for Milos Forman, David O. Russell, Larry Clark and M. Night Shyamalan. Jake Pushinsky had worked with Montiel for several years on his music and on Montiel's short films, but had never cut a feature.
Needless to say, it was an unusual process.
"I'd just come off learning that 'INT' meant 'interior' and 'EXT' meant 'exterior,'" Montiel explains, "and my friend Jake, who'd edited nothing, ever, except for my short films, didn't even know what an AVID was.
"My producers allowed him on as an assistant and hired Chris, an excellent, experienced editor. I spent all day with Chris and all night with Jake. Both were equally amazing and both deserve full credit for helping me find the movie in what we'd shot."
In the editing room, Montiel discovered that "the script was really only there to put people in particular positions. Once we got them there it was time to sit back, enjoy and cut it up!"