by Paul Fischer in New York.
Ziyi Zhang has come a long way since our first encounter a few years back while promoting her villainous turn in Rush Hour 2. The epitome of gracious elegance and donned in a Marc Jacobs black velvet jacket, over a black silk camisole with jeans, Zhang speaks a more hesitant English this time around compared to her complete lack of the language demonstrated during the Rush Hour press junket. " Ive been learning English very hard", Zhang acknowledges quietly. "Actually, Im doing a Chinese movie right now in Beijing and just every day I try to find five hours to study outside at the hotel as I just try to learn more" the beautiful actress concedes, smilingly.
In a New York hotel room, the actress is here to promote her starring role in the Rob Marshall-directed screen adaptation of the best-selling novel, Memoirs of a Geisha in which she assumes the title role of a young woman's final transformation from impoverished servant to elegant geisha in 1930s Japan. Zhang admits that her toughest challenge to play the distinctively Japanese character was "the language because English is my second language and when I got the news that I got this role, I wasnt sure I could do that," Zhang concedes. "Because a long time ago, some friend from the film business who is Chinese, told me that its impossible to act in a second language because that would be a barrier as you just cannot get into your character deeply enough. But after filming this movie, I have to say thats not true as I felt that I could get into Sayuris mind. What the person said to me made me really push the work extra hard and I think I should thank him if my efforts show in my performance" Zhang explains.
As to getting into the mindset of such a complex and culturally distinctive character from herself, the actress says that her biggest challenge was having to "really understand what you are saying, which is why I really think Rob did a great job. He made some very intensive training for us, and so about two months before we started shooting, we had to learn how to walk, bow and all the small, subtle gestures in order to become a convincing geisha, not to mention having a very intensive dialect class."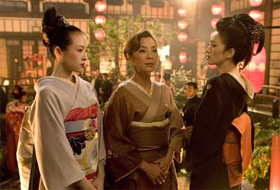 Zhang also researched geishas and disagrees with the criticism that the film romanticizes the life of the geisha. "I think geisha are artists as well as very strong and independent" she maintains. "Of course they live in a very special world and have a very strict code of conduct. For instance, if they loved somebody, they had to hide their true feelings. I think, if it were me, I couldnt do that, Id just tell the person. I couldnt wait for ten years!" she adds laughingly. "They are very brave and not at all like servants, but very well respected in Japan."
Zhang specifically describes her character in 'Memoirs' as someone who "at the end, became the greatest geisha in the Hanamachi because she had a very difficult childhood, was psychologically and physically abused by the people who took her and she had a very tough start. But, because of The Chairman, who showed her kindness, from that very small act, she found strength to survive and, for the rest of her life, became very determined and so tried to find that same kindness again. In the film I had many chances to cry aloud but, for who she is, she always held back and didnt like to show people her sadness, which is typical of the Japanese. For Sayuri, because of who she is, shes internally very strong." Asked if Zhang could relate to her in any way, the actress pauses. "Yeah. Last week I watched the movie in L.A. and, at the end, I cried. I just couldnt stop and I was so embarrassed. My agent and my manager were all there and I just had a runny nose and tears. I was just like the audience and felt like Sayuri sitting there watching her whole life, so finally, I could cry for her."
Zhang has evolved as one of China's biggest stars despite beginning her artistic life as a dancer, she quietly recalls. "When I was 11 years old, I went to the Beijing Dance Academy and had six years training for traditional Chinese dance. When I was 17, I had to decide to continue the dance or go to another college and, for me, I just felt I couldnt see the future for myself because I have to say that, in my school, I wasnt a good dancer", she recalls smilingly. "In my school I was in the middle so I think I couldnt become a very good dancer so maybe Id try to learn something else. Some friends said why dont you try to go to the Central Drama Academy, which is a very good acting school?" The rest, as they say, is history. Though making a name for herself as an action star, Zhang is happy to cut down on the action. "Actually Im quite happy with what Im doing now and I like tragedies, and dramas as opposed to action. For me, its much easier physically but I think I still have the ability to do action movies and I guess I dont mind doing both. If I have a good script for an action movie, I would love to do that." Zhang admits to being surprised by her attained level of success. "Ive never felt that one day I could become an actress, because my only dream was to become a kindergarten teacher. When I was at the college in my second year, I was so lucky, in that Zhang Yimou discovered me and I did my first movie. The next year, I did Crouching Tiger, Hidden Dragon and suddenly I became an actress with a lot of people taking an interest in me. I think I will be always grateful to those great directors who helped me before, since I think today I have results because of those great directors."
Zhang then laughs when asked if the Chinese media thinks she has sold out making American films. "If they like me, theyre happy for me, but If they don't then they dont."
Zhang has played many a tortured character throughout her career and finally yearns for a change. " I would love to try a princess. I really love Roman Holiday and Audrey Hepburn, because shes so sweet and elegant. I love that movie because I had thought if I could make the same story, I would love to change the ending. The end would be somehow they get together, she could do something different and run away with the guy." Ah so Zhang is a romantic at heart, it seems. "Oh yes, I am very romantic."