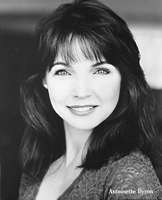 Playing her favourite role

Antoinette Byron has always been ahead of her time. While most girls in their early teens are not thinking much past their plans for 'next weekend'. Antoinette was dreaming of Winter in New York, Summer in L.A and dizzy dreams of the fame and fortune, fairy tale. The Nicole Kidman stories are few and far between, but Antoinette's story is far from the hard luck ones, that so many Aussies actresses have endured before her. Although she may not have an Oscar yet, she's happy as long as the scripts keep coming in, enabling her to work at what she loves best. Antoinette Byron is thankful for her career opportunities to date, but is not a great believer that was fate, she rather chooses to believe a positive attitude has kept her regularly employed, since she officially commenced her career at the ripe age of 19.

Having studied at NIDA (didn't every Aussie actor?) I had to ask (doesn't every journo?) did you happen to run in to Mel, Toni Collette or Russel Crowe while you were in class, Antoinette Byron? "No, no one of any real notoriety" she replies, "NIDA was great for it's purpose as an actors education, but when my first opportunity came along, I flew the coop early and accepted the role of 'Janet' in the Australian stage show "The Rocky Horror Show". I never completed the entire three year certificate at NIDA, because I was ready for my career". I never looked back."

Regularly appearing in much loved Aussie dramas such as E-street (you may remember Wheels-Marcus Graeme a little more clearly, Mmm), Neighbours and having just finnished a lengthy stint on Home and Away. What some Australians may not realise about this Aussie actress, is her moonlighting in America, on our 'fave' past and present soaps. Which include Melrose Place, Bold and the Beautiful, Jake and the Fatman, All my Children, Baywatch and the more obscure serials such as 'Women in prison' (say, that theme sounds familiar..) and 'Pacific Palisades'.

Antoinette comments she is usually cast as "The Bitch", she muses about this casting consistency, and assures me that this is only on set. My instincts tell me, she's telling the truth.....

R.I.P Melrose Place

Antoinette Byron plays the evil Nanny on Melrose who kidnapped Jo's baby.

The storyline went something like this - Jo would have the baby at Kimberly's beach house, Kimberly would fudge hospital records, and Jo would retrieve the baby a few days later. Jo popped out the child but was shocked when Kimberly refused to turn over the child. Jo went to Chief of Staff Peter Burns who ordered Michael and Kimberly to return the child or lose their jobs. Michael returned to child. When Jo hired a British nanny (Antoinette Byron played the Nanny) to take care of her baby, Austin, the nanny strapped him in the backseat and fled. Jo, thinking this was Kimberly's doing, socked her in the face. Jo recruited Jake and the two tracked down the nanny and baby Austin to the Carter's house in the hills. When Jo tried to get her baby back, Mr. Carter pulled out a shotgun and shot Jo in the back. Finally, after another custody hearing, Jo decided to give Austin up for adoption.

Whether you love or hate these shows, admit it, working on these sets would not be a bad way to earn a living, and the lifestyle wouldn't be, well too hard to take. Especially when working along side Heather Locklear, and Ronn Moss ( Ridge Forrester) from The Bold & the Beautiful. The stars mentioned here and the several other household names that Antoinette Byron has worked with are according to her "great people to work with, very friendly and highly professional.

Antoinette deserves enormous credit for getting to where she is today. With virtually no contacts abroad initially, this Aussie girl has trail blazed her way through this cut throat industry, which frighteningly enough has a high unemployment rate of 96%! Anoinette Byronsimply set out armed, with unscrupulous determination, and that positive attitude she maintains.

Antoinette is based in Sydney these days and still regularly commutes to the US for work. After moving from state to state when she was growing up. Antoinette believes her "Nomad" style of upbringing, as she describes it, has instilled a restless spirit that keeps her on a continual journey to fulfil her desire to act, and satisfy the eternal traveller within.

She is truly a free spirit, who is still fueled by childhood dreams of New York. When asked about her love life Antoinette Byronreplies, "I have yet to find that someone special who has, had enough understanding about my career demands. But I never give up hope." It would seem that Antoinette Byronhas found her true love anyhow. It's been acting for as long as she can remember...