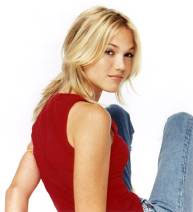 POP STAR MOORE DEALS WITH MOVIES, FAME AND TEEN ADULATION
EXCLUSIVE Mandy Moore/How to Deal Interview
by Paul Fischer in Los Angeles.

Mandy Moore looks nothing like her 19 years. Curled up in a chair in a Beverly Hills hotel room, caressing a pillow, the beautiful adolescent singer/actress is wearing a short, black dress, yet seemingly unaware of how sexy she is. After all, she is as equally careful of how she comes across to her bevy of teenage fans, as she is about her career. Take her latest film, How to Deal, a romantic comedy in which she plays the daughter of divorced parents, trying to avoid love and her mother's mistakes. Naturally, she does fall but during a love scene, stops short in going all the way. For Moore, it was important for the story and her character but equally important for the star, to not only taint her image for the sake of cinematic commercialism, but to do something that she was uncomfortable with. "I do think it would have been more difficult just for me as a person. I've always been allowed to be myself and make my own decisions with music and in films and I don't think I would have felt comfortable doing something like that at this point in my life." But the actress won't be a teenager forever and adds that "hopefully I have that ahead of me, if people are still accepting of me and allowing me to be what I love to do. But that scene in How to Deal was part of the story and things happened this way. I love being able to portray very confident, independent, strong-minded young women " Which is how Moore sees herself, it seems as she, consciously or not, emerges as a role model for her teenage fans, a responsibility she says she has to take seriously. "I'm lucky to be in this position and I think for anybody that's had some success in this industry, there are obviously going to be people that look up to you and consider you to be a role model, which I think it's flattering." Moore doesn't pretend to be anyone other than who she is, "With me, what you see is what you get."

A successful recording artist since the release of her 1999 album So Real, Moore's interest in music originated when she was in elementary school "that had a really big emphasis on the arts," she recalls. "Every student had to participate in drama while the girls took ballet and the boys would take PE so from a very young age I was always singing in school." The youngster was hooked appearing in a sixth grade production of Guys and Dolls. "Every kid had to participate in the show and I was Miss Adelaide. That reaffirmed everything for me." It solidified her life's dream to be on stage. Breaking into the recording industry via voiceovers and commercials, in 1999 Moore became the latest Florida teen to sign a record contract after landing at Sony; her debut album So Real appeared late that year and spawned a hit with "Candy" She was 14 when her recording career began to take shape. "And that was so odd to me. I knew that I wanted to get here some how and I honestly thought it was probably going to be through Broadway and then eventually come into recording and doing film, if I ever got there at all. But, I never thought at 14 that I would be here."

She smiles reflectively when asked if she felt that she missed out on her adolescence. "I feel I missed out on the typical social aspects of football games, the prom, being at school and learning about the gossip." Yet, she adds, "I feel like I had a different path in life. Maybe this is something I was supposed to do? I'm a big believer in fate." She says that her prom nights are the fancy premieres she gets to attend "and getting all dressed up and excited."

Though Moore is still recording [she has a new album due out in September], she is just as busy in front of the movie cameras, yet being selective about her acting career, unlike another successful teenager who tried and recently failed to make it on screen. Though we don't mention her by name, Mandy is fully aware of the comparisons between her and a fellow Florida-born superstar, but won't be drawn on the latter's unsuccessful bid at movie stardom. "In all fairness to some of those people, I have been very lucky in the sense that I'm not the biggest star in the world so with that doesn't come the expectations that might come from people like that, "she says. "So I was a little bit more anonymous and had the ability to kind of manoeuvre into roles that were a little bit more nexpected from me because people didn't expect much from me at all."

From the popular cheerleader in Princess Diaries, through to the dying teenager in A Walk to Remember, and now her latest starring role in How to Deal, Moore is defined by her ability to play characters that are consistently distinctive. She loved playing the often cynical Halley Martin in How to Deal because she found it hard to relate to the character. "Unlike her, I have a great family life, love my parents and have a great relationship with them. I consider myself to be a romantic person and am pro-love in every single way and, so Halley could not be more opposite to me She has a very cynical outlook on life and on love and rightfully so because of what's going in her, life, so I thought it would be a bit of a challenge playing her, because I couldn't find too many parallels betweenthe two of us and I wanted to get in her frame of mind and ask myself: Why is this girl feeling this way?" While Moore is not romantically cynical, the reverse is true when it comes to discussing the business side of fame. "I would say I'm definitely more cynical than I was four years ago when I started off."

Moore's acting career continues to go from strength to strength, currently in London shooting the romantic comedy/drama First Daughter, and other projects ready to go, in between continuing with a busy singing career, "which is fun because I kind of get a sense of both worlds. I'm doing what I want to do and when I want to do it so it's nice to be a little bit choosier " Her next album, 'Coverage', which hits stores in September, is a cover album "featuring everything from Cat Stevens and Joan Baez, Joni Mitchell." It's a risky project for the 19-year old, but she thrives on risk. I want to do something different, and take a bit of a left turn. I didn't grow up listening to these artists and I've only discovered that music in the past like two years. I'm passionate about it and I want people my age to be passionate about it and hopefully get them listening to the original artists then and kind of discover what I've discovered the past couple of years."

Moore is in the perfect place in her life, and says she's having a ball. Her only ambitions, she says, are to "continue to just be happy, having fun in what I'm doing and not taking myself or life too seriously."

HOW TO DEAL opens on July 2.