Australian Centre for the Moving Image and Melbourne Spring Fashion Week present Yves Saint Laurent on Film
Monday 1 September - Sunday 7 September, ACMI Cinemas


The Australian Centre for the Moving Image (ACMI) and Melbourne Spring Fashion Week will present a celebration of the life and brilliant career of legendary French fashion designer, the late Yves Saint-Laurent.
This showcase will feature a selection of documentaries and feature films starring his muse, actress Catherine Deneuve.
One of the true innovators in the history of fashion, Yves Saint Laurent is credited with changing the silhouette of the 20th century woman, introducing feminine pant suits, and in 1962 became the first couturier to use black runway models. Worldwide, he was a great influence on 1970s fashion, pioneering the androgynous look which catapulted him to the top of the fashion world and resulted in his fashion house branching out from couture to ready-to-wear collections, allowing him to benefit from a time when women were gaining more economic freedom.
"Yves Saint Laurent was not only an extraordinary designer but made a significant contribution to film, making this season an obvious choice for ACMI and a fitting way to celebrate his life and career through film this Spring," said ACMI Head of Film Programs, Richard Sowada.
Beginning with an Australian Premiere documentary, Yves Saint-Laurent - His Life and Times, this tribute will take audiences deep into the life and career of the reclusive, bespectacled French maestro of high fashion. The documentary starts with Yves childhood in Algeria, early fascination with fashion and the discovery of his potential at a very early age, resulting in his succession of the house of Dior at the age 21 and the birth of his own fashion house only five years later.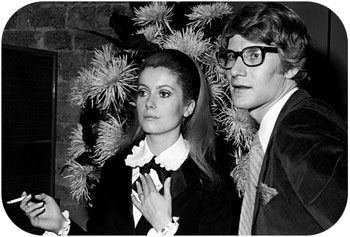 Regarded as one of the greatest fashion designers of the 20th century, Yves Saint-Laurents work penetrated Europes film set, garnering a list of famous supporters, including screen goddess Catherine Deneuve.
In the 1967 film Belle de Jour, Yves Saint Laurent was hired to design the wardrobe for the films leading lady (Deneuve) and so began a lifelong friendship with the actor. She became his muse and he won her loyalty. She insisted on wearing his clothes in many of her films, an association that led to Deneuve becoming a true style icon.
As the New York Times put it: "Catherine Deneuve and Yves Saint Laurent did more than create the most scandalous, erotic film of the day. Belle de Jour gave a double life to luxury clothes so powerful that designers have been fantasizing about it ever since."
Famously regarded as Louis Buñuels last great film, Belle de Jour, sees Deneuve (Séverine) play a bored but immaculately attired newlywed who finds that marriage is not the beginning of contentment, but a key which unlocks the doors of her abusive past to allow her imagination to run unfettered.
In the 1983 vampire classic, The Hunger, the agelessly elegant Deneuve radiates in Yves Saint Laurent. Perfectly cast as the alluring but lethal vampire, Deneuve stars alongside David Bowie, haunting nightclubs on the prowl for young blood. Deneuve and Bowie present as the two best-dressed bloodsuckers of all time in their sleek and sexy outfits, but there is a price: Bowie starts to age so fast he wrinkles up in the waiting room of a doctor's (Susan Sarandon) office.
After 4 decades at the top Yves Saint-Laurent retired and closed his couture house in 2002. Titled 5, Avenue Marceau, 75116 Paris, the address of Yves historic couture house, this Australian Premiere film captures his last great collection in the Spring of 2001. Director David Teboul takes us behind the scenes, as we witness the construction of these highly priced garments made by an army of loyal seamstresses, who lovingly translate the vision of Yves Saint Laurent onto fabric one last time.
ACMIs salute to Yves Saint-Laurents life and work is not to be missed by lovers of fashion this spring.
For more information and bookings:
www.acmi.net.au
Yves Saint Laurent on Film
Monday 1 September - Sunday 7 September
ACMI Cinemas
Full $13 Concession $10
3 Session Pass: Full $30 Concession $24