WESTINGHOUSE ICE & WATER FRIDGE: MADE FOR THIRSTY WORK
Australians consume more than 50,000 litres of water a year1, so to help quench the nation's thirst, Westinghouse has launched its smart new Ice and Water Fridge.

The new side-by-side fridge is not only aesthetically appealing, but is highly innovative and uses a more environmentally friendly refrigerant, made with the modern family in mind.

Children will love the new Ice and Water Fridge too as it helps make filling their narrow necked water bottles a splash-free exercise. The new AquaDirect bottle fill dispenser provides a dedicated dispensing action at the water outlet, which means no more water puddles on the kitchen floor.

The new Westinghouse Ice & Water Fridge also offers extra space by adding eye-level shelves and putting the ice maker in the top of the cabinet, leaving more room for storing leftovers or stocking up on ice-cream! A detachable ice storage bin is a great tool to make filling eskies easier when getting ready for a family picnic. The fridge boasts an innovative combi lever on the ice and water dispenser to allow for easy, one-handed ice and water dispensing.

Lyndon Craig, Senior Design Manager, Electrolux Australia says: "Made for the modern family, we've designed the new Westinghouse Ice & Water Fridge to make it more spacious and functional for all the family. Kids love being able to refill their own water bottles - and now they can, even the narrow necked water bottles - without creating a fuss, or a mess, for Mum and Dad."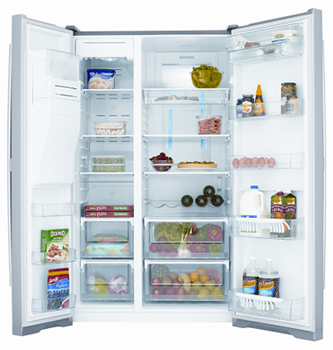 Other features include:
- Fingerprint resistant stainless steel: Say goodbye to imprints of sticky fingers with the fingerprint resistant stainless steel finish
- Door alarm: Leaving the fridge door open spoils food and allows bacteria to breed. The door alarm sounds after two minutes if anyone forgets to close it
- Easy glide crisper: Easy to access crispers make life easy and the telescopic runners make them a joy to open

Models and Pricing:
- WSE6970SF - $3479
- WSE6970WF - $3069
- WSE6070SF - $3069
- WSE6070WF - $2639

Review: Westinghouse has proven over the years that they make reliable household appliances. I recently bought one of these fridges and I couldn't be happier. The spaces are well thought out, and compartments make it easy to extend the life of your food. The Westinghouse Fridge ticked all my boxes for space, flexibility and I love the icemaker & cold water despenser (kids drink more), plus it looks great.

Westinghouse is part of the Electrolux family. Share more of our thinking at www.westinghouse.com.au






---

Made for the modern family, Westinghouse has been a household name for generations. And while we've been helping Australian families for years, times have changed. And we've changed with them... Life is much busier than it used to be, filled with work, extracurricular activities, not to mention just raising a family! We know it's not always easy, which is why all Westinghouse products are designed to make your life a little simpler. Although we can't solve everything (sorry!), we can help keep your kitchen in control and looking great. So whether it's the auto reheat microwaves, for busy mid-week meal dilemmas, or dishwashers that get the perfect wash, no matter how you stack; you can always be sure it's been Made for Modern Families.

1 According to the Australian Bureau of Statistics, Australians consumed 51,012 litres of water in 2009-2010.
http://www.abs.gov.au/ausstats/abs@.nsf/lookup/4610.0Media%20Release12009-10