Volvo S60 Review
First Impressions
From the moment I laid my eyes upon this surprisingly sexy sedan, I was impressed. Volvo certainly has upped their game in the last few years and the S60 is Volvo's most advanced model to date. Jam-packed with safety features and specs equivalent to those you would find in "much more expensive cars" (think Mercedes-Benz C300, BMW 335i or Audi A4), this model surely does impress, especially with the price tag!

The now (pleasantly) out-dated 'bloody Volvo driver' adage (that would once conjure up thoughts of terrible older drivers in their 1980's 200 Series wagons causing havoc and driving incredibly slowly (amongst other things), and stress and road rage for nearby drivers) is now thankfully redundant. Volvo is back and better than ever before.

Looks
This really is one good-looking car! With its smooth, sexy, flowing lines and contoured body, the S60 has the unexpected look and feel of a sporty coupé however maintaining the practicality a 4-door sedan. I particularly love the fluid roofline that flows smoothly up to the double wave shoulders thus creating the illusion of a sporty coupé. Also the view from the rear with Volvo's name badge stamped proudly beneath the low chin spoiler; the racy L-shaped tail lamps and the sleek curved rear window.

Take one look inside and you are instantly wowed. With sporty leather seats, and a sophisticated leather dual-tone steering wheel that floats proudly above a driver-focused cockpit and onboard computer (with large LCD display of course), this view impresses. If you look to the back seats you will find air vents mounted to the door pillars conveniently placed for rear passengers.

The S60 T6 AWD model I drove was a real stunner. The smooth lines of the body paired with its metallic black sapphire exterior lured you in for a closer look, and the shimmer graphite décor inlays offset perfectly the leather soft beige seats and off-black contrasting trim. To me, this car is reminiscent of a luxury BMW 335i with its looks (mainly because of its 'shark fin' antennae that BMW's are renowned for) yet it is alluringly different. The S60 has that real 'je ne sais quoi' factor.

The styling and quality of all integral parts of the exterior and interior harmoniously meld together. This is the kind of car that will slap passers-by with a face full of envy! Overall this car looks classy, luxuriously expensive and superbly-designed.

Comfort
The new heated leather sports seats with extra side supports are wonderfully comfortable and ergonomically designed to ensure long pleasurable drives. With separate, easy-to-use, simple controls for front seat heating functions, both driver and front seat passenger can enjoy the warm luxurious feeling of heated leather seats swathed beneath their backsides.

We found the heated seats a particular luxury in the cold winter weather in which we tested this car. As with the Electronic Climate Control (ECC) (which comes standard with all models of the S60) easily ensured we were cosy and warm at the simplest touch of a button.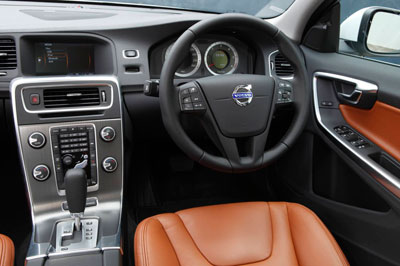 With a premium Dolby Pro-Logic top-of-the-line audio and infotainment system (that connects with most media formats and players) and also features an integrated 7-inch multimedia screen, means you can watch DVD's or TV broadcasts when the car is stopped at a standstill. I was impressed the visual and audio experience alone is second to none. There are 12 premium sound loudspeakers that blow you away with crystal clarity when playing your favourite tunes.

The illuminated multi functional front centre armrest contains handy cup holders which makes driving with the morning coffee a breeze. We also found the storage compartment contained in the front centre armrest very handy when needing a place to store the morning breakfast sandwich whilst driving. In fact, we found storage compartments throughout the cabin rather plentiful with enough cup holders for 4 passengers; useful front door panel storage pockets; an illuminated lockable glove box; it also comes complete with a practical coat hanger that doesn't obscure rear vision and a generous 380 litres of boot storage.

My favourite element however, is the park assist camera with guided (lane) lines that ensures parking is a breeze. And you won't hit anything behind you either with park assisted rear sensors that emit a pulsating to continuous tone from the rear loudspeakers. In fact, I found this car easier to park in reverse than any other means. Perfect reverse parking every single time.

Performance and Handling
Put bluntly, this car is fun to drive. Really fun! The S60 is without doubt an exhilarating experience with a sporty, six-cylinder 3.0 litre turbo-charged petrol engine; the T6 delivers 224 kW of power and 304 hp (which is a lot, apparently). When I needed the stick, I got it. The engine, full of grunt, was responsive yet smooth. Turbo lag was virtually non-existent. Basically when I needed power, I got it, I just put my foot to the pedal.

I really felt like I could trust this car to do what I asked it to; it handled superbly, from the stability and excellent grip of the all-wheel-drive and the firm suspension, to the big breaks that felt good against the pedal.
The T6 boasts 0-100km/h in 6.1 seconds with an impressive top speed of 250km/h.

For a sporty sedan packed full of safety features, the S60 T6 is Volvo's safest, most advanced model to date. The very sporty nature of this car is so unassuming yet so natural. It is powerfully responsive, agile and fun to drive. Pushing this car to its limits I was still assured of my safety which was a great feeling. I lust for this car!

Fuel Economy
We wanted to see how the S60 performed regarding fuel economy, as value for our fuel dollar is so crucial these days. So in six days we drove approximately 380 kilometres, mixing it up with both city and highway driving. At first, the fuel meter never seemed to move. Not until we covered some serious kilometres that is. But in fairness, there were many times we gave it plenty of stick to overtake and test acceleration.

For our model S60 T6 which has a six-cylinder turbo charged engine mind you, our trip averaged around 13 l/100km fuel consumption, which was ok (especially if you take into account the fun time we had testing the performance and the turbo).
This car is rather economical if you treat it right however, with Volvo stating 7.5 l/100km for highway driving, 14.9 l/100km for city driving and 10.2 l/100km for mixed.

I believe that for a high-performance, driver-focused car that likes to be driven, fuel economy for the S60 is more than satisfying.


Features and Technology
Absolutely jam-packed with intelligent standard features, safety features and technology, here are the main elements I found rather noteworthy:
Pedestrian Detection with Full Auto Brake: (which is a world first in safety technology) Via a camera and radar that scan the road ahead, the all-new S60 is able to brake itself if a pedestrian moves into the path of the car and the driver fails to respond to warnings.
City Safety: (standard) At speeds up to 30 km/h, this laser-based technology can sense if a vehicle in front within 6-8 meters is at a standstill or is moving slower. If City Safety senses an impending collision, the brakes are pre-charged to act faster on your response. And if you don't brake, City Safety automatically applies the brakes and switches off the throttle to help mitigate the effects of a collision. And if the speed difference between your car and the vehicle in front is 15 km/h or less, City Safety can even help you avoid a collision. City Safety is activated when you start the car.
Collision warning with full auto break: Unlike Pedestrian Detection, and City Safety, this automatic braking technology is designed for higher speed, such as that encountered on freeways. A radar sensor fitted behind the grille, and a digital camera behind the windscreen, automatically monitor the distance to the vehicle in front. If the vehicle in front suddenly brakes, is stationary or too close, a red warning light flashes on the windscreen and a warning buzzer sounds. The braking system is also automatically pre-charged to prepare for panic braking: the pads move very close to the discs and hydraulic brake pressure is increased. If the driver does not react to the warnings and a collision is imminent, automatic braking is applied to reduce the severity of the accident. As with Pedestrian Detection, this system can avoid collisions up to 35 km and reduce the severity of the impact at speeds over that.
Roll Over Protection System (ROPS): The gyroscope in the crash sensor detects an angle at which a roll over is unavoidable and the system is activated. This includes the deployment of the Inflatable Curtain and the activation of the seatbelt pre?tensioners - on all seats. The fuel supply is cut off, doors are unlocked and interior lights are turned on. The Volvo safety cage then plays its part in maintaining the body structure and preventing roof deformation.
Voice controlled navigation: (standard in the T6) and standard Bluetooth can connect the driver's own mobile phone to the infotainment system.
Immobiliser and theft protected locks: Not only will the door locks withstand most break-in attempts, the electronic immobiliser makes it impossible to start the car without the right key. And even if a would-be thief manages to get into the car, via the window, for example, the deadlock system makes it impossible to open the door from the inside.

The list goes on and on with the S60 as it is absolutely chock-a-block with clever safety features and technological advancements that you must wonder how Volvo sells it for the price they do!

Marketing Campaign
Volvo's clever marketing campaign positions this model as 'the naughty S60'. The sleek styling, luxurious quality, exceptional performance and feature-packed S60 appeals to both male and female, younger and older demographics. And it's not hard to see why! Check out the videos here and select 'The Naughty S60' link. The videos ranked from 1-4 on the level of naughtiness show off the S60 in its finest light with thrilling performance tests (level 4 naughtiness acceleration test "drives head-on to a speeding truck…pulls a 180 turn… and up onto the back") and showcases astoundingly incredible driving skills. The marketing is fresh, exciting and most importantly, very naughty. If you haven't had the pleasure of watching this yet, I definitely recommend a look!

Overall Impression
The all-new Volvo S60 is well-priced and maintains remarkable value-for-money. It is packed to the brim with safety features yet not compromising on performance, luxuries or comfort. This is a drivers' car. Built for drivers who love to push the car to its limits and feel the open road. But its versatility also appeals as a family car with luxurious creature comforts, safety features and smooth refinement. For a prestige medium-sized sedan the S60 offers everything from an exciting drive, to comfort, to good looks, to power, to sophistication. The S60 makes a fine alternative to the Mercedes C-Class, BMW 3 Series and Audi A4 and saves you at least a few thousand dollars in doing so.

Unassuming yet supremely confident, this really is one naughty car!
-Reviewed by Emma Jade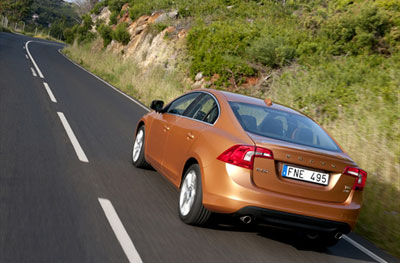 Volvo S60 Wins Two Global Consumer Lifestyle `Car Of The Year' Awards

The new Volvo S60 has been awarded the 2011 International Sedan of the Year at the New York International Auto Show by the International Car of the Year (ICOTY) jury and the "Best Family Car" by Women's World Car of the Year 2011.

The sporty sedan was deemed best-in-class for the most superlative connection with consumer lifestyles. The selection was made by a jury of 12 recognised automotive journalists.

"These awards demonstrate first-hand that the Volvo S60 connects with consumers' lifestyles on both an emotional and rational level - globally and here in Australia. From our advanced technology safety features and masterful Scandinavian design, to its best-in-class fuel economy and award-winning engine, the S60 delivers something for everyone," said Doug Speck, president and CEO of Volvo Cars North America, who accepted the award.
In its 15th year, the ICOTY Awards remain a respected industry honour, measuring what no other automotive award does, the emotional connection between car and consumer.

"The ICOTY Awards are not based on camshafts and chrome but rather lifestyle compatibility and how well automakers achieve that goal," said Courtney Caldwell, ICOTY executive producer.

Outranking six other leading brands, the all new Volvo S60 was awarded ``Best Family Car'' by Women's World Car of the Year 2011. It is the second time in three opportunities that a Volvo car is the women's choice.

Women's World Car of the Year was presented for the first time in 2009. Last year the Volvo XC60 won the best Family Car category, an achievement now repeated by the S60.
The judging panel for the Women's World Car of the Year was made up of 14 judges from around the world including Australian motoring journalist Liz Swanton.