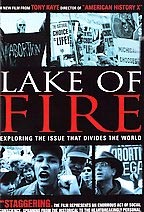 KAYE TAKES THE ABORTION DEBATE FRONT AND CENTRE.
EXCLUSIVE Tony Kaye Lake of Fire Interview by Paul Fischer.

British director Tony Kaye says he learned a lot since American History X was lioterally taken away from him. Older and certainly wiser, Kaye spent 15 years making his powerful black and white documentary Lake of Fire. In this candid conversation with Paul Fischer, Kaye discusses the film and the mistakes he made with his initial foray into Hollywood.


Paul Fischer: One of the controversial aspects of Lake of Fire is the abortion sequence. Did you always intend to visually show the abortion? Was that something that was organic in your approach to this piece?

Tony Kaye: Yeah. I mean, it had to do with my curiosity as an artist and a filmmaker and I was very curious to see what it was, actually. I never thought in a million years that I would see it in such a way that I did. But in the process of the film, it became apparent to me that I started off as a pro-life film, you know? I mean, really, still within the film, there is the hard truth, which is what the pro-life organizations show - you know, the fanatical pro-life organizations show to scare people off from having that type of abortion. And in fact, they showed it to Michael Griggs and he ended up killing a doctor. Lake of Fire is really an investigation into the hard truth and that's why I have to show abortions myself, to show you, "Well, that's what it really is."


Paul Fischer: Do both sides of the debate feel that you've shown them in the correct light?

Tony Kaye: Well, I haven't really shown it in the Bible Belt yet, so I don't know how they're gonna view it. I mean, I've had very good reactions from pro-choice and they actually think it's a pro-choice film, which is great. It's not, but they think it is - well, maybe it is a pro-choice film.


Paul Fischer: It's a very cinematic film, obviously, with the black and white, your use of music, the way it's put together, so it was your intention to do more than just a standard documentary. Was it always your intention to be as broadly cinematic in your approach?

Tony Kaye: Well, again, I mean, it's a film and a documentary film, because that's the genre that it falls into. But if you're making a film, you've got to utilize some sort of film sense, you know?


Paul Fischer: What did you learn the most by the whole American History X episode and what did that teach you about Hollywood politics?

Tony Kaye: Well, you know, I learned a lot of very personal things, with American History X. But that depends. I mean, I was really egotistical, and I ran into a wall and that kind of torpedoed my career, you know? I kind of did it on purpose, because I felt, I guess, deep down I didn't have the skill to deal with things necessary you need to deal with when you're making a film. I didn't understand a lot about the rhythms of life, about reactivity, and you can't live a reactive life. So I was very egotistical, and arrogant and I learned that that doesn't work. I am a fan of America, of American culture, and American films, and I went there to make American films which is what I've been doing. But in a way, I just kind of got going, as a filmmaker. It's taken me a long time to really figure it out.


Paul Fischer: Has Hollywood forgiven you, do you think?

Tony Kaye: I don't know, really. I mean, I think they're certainly intrigued now with Lake of Fire and I think with Black Water Transit, that I'm finishing now, which I'm quite excited about and its is a narrative film. So I think they will. I mean, my goal, really, as a filmmaker, is about performance, about acting, about getting back to it and the special effects that I'm more keen to utilize. So, I think that I can get good performances from people, because I had a very rocky past myself. I understand up, down, in the middle, to one side. When I work with a performance artist I like to think that's what actors are I can elicit the best they've got. So, I think it takes me a long time to kind of get there.


Paul Fischer: Can you talk about Black Water Transit,

Tony Kaye: Yeah. Yeah, it's a story about a number of people who bump into each other in New Orleans, three months after the flood and about it's actually a story about an African-American family that sort of reacting and reactivity and how that doesn't sort of work.


Paul Fischer: Who have you cast in this?

Tony Kaye: It's got Brittany Snow, Lawrence Fishburne. Karl Urban, Beverly D'Angelo, Steven Dorff, Justin Martin is the kid actor who was the lead in Lion King. Aisha Tyler, Bill Cobbs.


Paul Fischer: Is the movie going to Sundance, do you think? Is it going to be ready in time?

Tony Kaye: I don't quite now. I'm scheduled to completely finish the film by April, so, I don't know. I think that they're looking at, like, picking up at Cannes, actually.