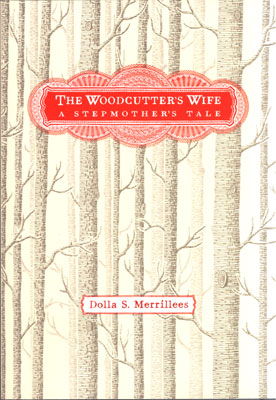 Right, we hate to break the bad news to you, but Cinderella was a liar. Stepfamilies arent that bad... theyre worse!


"That's not my Mummy - that's Dolla! She sleeps with my Daddy. My Mummy lives in Adelaide."
Once upon a time there was a classic 30-something modern woman; single, well-educated, successful, independent. But something was missing.... until one day her very own Prince Charming came along, bringing a four-year-old son and dramas with the ex from hell - a heroin addict.

Dolla Merrillees soon realises that happy endings don't occur in the twinkling of an eye. Now she's supposed to play mother to someone else's child. Will she descend tot he Dark Side, like the evil stepmother in Snow White, and the hideous old crone in Hansel and Gretal?

Honest, beautifully acerbic, witty, hair-raising and heart-warming, The Woodcutter's Wife is no fairy tale;
it's warts 'n' all story of a woman who doesn't have all the answers;
of a little boy coping with rejection and a painful past riddled with drugs;
and of the idea that maybe a stepfamily can become a real family after all.


"Mummy uses those," he stated bluntely, staring down at the needle in the gutter. "Mummy puts them in her arm."
Merrillees debut book is bracingly honest and funny as she recounts her struggle to bond with her partners four-year-old son, cope with the boys off-stage mother and adjust to the emotional tug-of-war that occurred when her own child was born- but will it help any family of the noughties feel a little less dysfunctional. And does Dolla get her happy ending? We guess youll just have to read it to find out!

Dolla S. Merrillees: was born in Canberra, the youngest daughter of Australian diplomat and archaeologist. A nomadic childhood was spent traipsing around archaeological dig sites and engaging in diplomatic protocol in various war-torn countries including Lebanon, Cambodia and Israel, equipping her with skills she believes has helped her to negotiate the minefield of stepfamily life. She was educated at St Clares, Oxford, UK and Deakin University, Melbourne.

Dolla is an experienced arts administrator having held senior management positions in cultural organisations including Director- Visual Arts, Museums & Galleries NSW (2003-2007); and Exhibition Manager for the 2000 and 2002 Biennales of Sydney working with such internationally acclaimed artists as Yoko Ono, Louise Bourgeois, Bill Henson, Doug Aitken and Yayoi Kusama.

Dolla was Assistant Curator, Decorative Arts & Design at the Powerhouse Museum from 1998 to 1999 and worked closely on the exhibition 4 + 1:5 Contemporary Australian Designs which showcased the work of leading product design studios Dinosaur Designs. Dolla is the recipient of two Ian Potter Foundation Cultural Grants (2001 & 1997) towards research into recurrent international contemporary art festivals and decorative arts/crafts in France. Dolla is currently working as a curator and consultant to the gallery and museum sector.

The Woodcutters Wife: A Stepmothers Tale is Dollas first book.

The Woodcutters Wife: A Stepmothers Tale
Halstead Press, Sydney
Author: Dolla S. Merrillees
ISBN: 9781 9208 31462
RRP: $28.95


The Woodcutters Wife: A Stepmothers Tale