ZIMMER SCORES WITH DARK KNIGHT.
EXCLUSIVE Hans Zimmer, The Dark Knight Interview by Paul Fischer.

Hans Zimmer has been responsible for some of the most iconic film music from the past two decades, from Driving Miss Daisy and Lion King, to more recent scores such as Batman Begins, Kung Fu Panda and his upcoming Dark Knight. One of the hardest working and prolific composers in Hollywood, the German-born musician still has the boyish enthusiasm of his work, while at the same time balancing career with a life.

"Balance is for the times when you're out of work," Hans Zimmer says laughingly on the other end of the phone from his office, where he is been busy promoting the Dark Knight soundtrack. "But let's just put it into perspective. It's not like coal mining, where you have to get up at three in the morning, strap on the pit helmet and go underground and break your back. This is actually something that, frighteningly enough, I really want to do and it's got nothing to do with success, but everything to do with that I genuinely like writing music for movies. I just think I'm a lucky bastard and as long as they're letting me, I'm going to do it."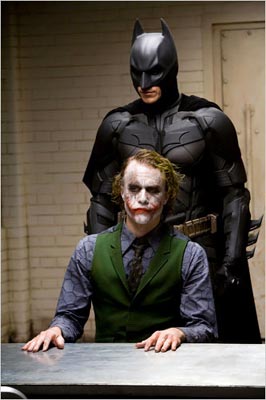 Hans Zimmer has composed or supervised hundreds of musical compositions in career that began in the late 80s. The composer is circumspect when asked how he avoids repeating himself. "It's very simple. You spend hours in frustration trying to make something that fits and I think it's been the same it's ever been. You try to find a singular tone for the thing, try to come up with ideas that are appropriate, and at the same time, original. Of course it's difficult to avoid repetition."

"I mean, part of it is style, part of it is trying to solve questions you have in your head, so you keep going back to certain intellectual themes. Of course you try to avoid repetition and the funny thing with sequels is, you're required a certain amount of repetition but at the same time, you're trying to reinvent it, throw the whole thing out, rejuvenate it and make it appropriate for whatever the story is at that moment in time," Hans Zimmer says, referring to the new Batman film The Dark Knight, the score of which he and collaborator James Newton Howard completed.

The music in Dark Knight is a collaboration between these two venerable giants in the Hollywood music industry. Hans Zimmer says that the secret of a successful musical collaboration is "friendship. Part of the secret of writing a piece of music, is it leaves you very vulnerable, in that you cannot write from some incredible intellectual point of view. At one point you have to then go, and it has to become very vulnerable and when you play it to somebody else, and you play to another composer, it does up the ante. So friendship is the hundred percent requirement for us to be able to do this."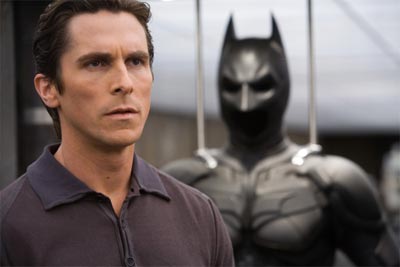 In contrasting Batman Begins with The Dark Knight, Hans Zimmer says, "I think it's a better movie and I think it's more intelligent. I loved the writing, it's somehow more epic and it encompasses this larger theme. I mean when you've worked on a movie, every time you see it many times, from different perspectives from each time, because otherwise you're going to get bored. So, the last few times I've looked at it, I've looked at it literally like a philosophical treatise with great action bits in the middle."

And clearly, Zimmer and Howard's music expresses that. "We worked in great privacy, up until this moment with the interviews, and we're now having to actually show our things to people, which is terrifying. But we did work in great privacy, which afforded the opportunity to be far more daring, in a way. I think one of the things about the score is, it's pretty provocative, and I think it's pretty provocative, ostensibly, for a Hollywood summer movie and I don't think anybody's ever really just gone where we've gone with this before."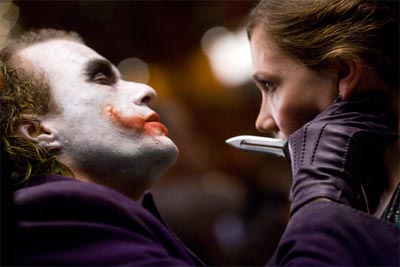 Movie audiences will be able to judge the music of Hans Zimmer and James Newton Howard when The Dark Knight bursts onto movie screens on July 18.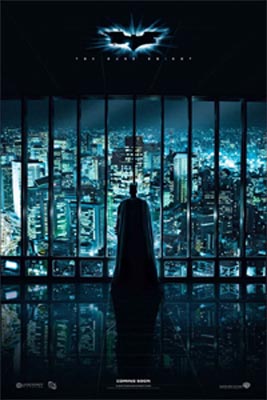 The Dark Knight
Starring: Christian Bale, Heath Ledger, Aaron Eckhart, Maggie Gyllenhaal, Michael Caine
Director: Christopher Nolan
Screenwriter: Jonathan Nolan, Christopher Nolan
Story
: Christopher Nolan, David S. Goyer
Producer
: Charles Roven, Emma Thomas, Christopher Nolan
Composer
: Hans Zimmer, James Newton Howard
Genre
: Action/Adventure
Rated
: PG
Synopsis: Director Christopher Nolan returns to Gotham City with this sequel to the critical and fan favorite BATMAN BEGINS. In THE DARK KNIGHT, Batman (Christian Bale) squares off against a new foe: the Joker (Heath Ledger). Director Christopher Nolan returns to Gotham City with this sequel to the critical and fan favorite BATMAN BEGINS. In THE DARK KNIGHT, Batman (Christian Bale) squares off against a new foe: the Joker (Heath Ledger).
The Dark Night Interviews:
Aaron Eckhart -
www.femail.com.au/aaron-eckhart-the-dark-knight-interview.htm
Christian Bale -
www.femail.com.au/christian-bale-the-dark-knight-interview.htm
Christopher Nolan -
www.femail.com.au/christopher-nolan-the-dark-knight-interview.htm
Gary Oldman -
www.femail.com.au/gary-oldman-the-dark-knight-interview.htm
Hans Zimmer -
www.femail.com.au/the-dark-knight-hans-zimmer-interview.htm
Health Ledger -
www.femail.com.au/heath-ledger-the-true-hollywood-story.htm
Maggie Gyllenhaal -
www.femail.com.au/maggie-gyllenhaal-dark-knight-interview.htm