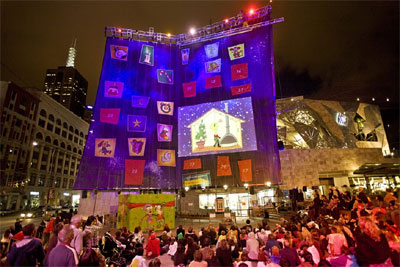 Federation Square in partnership with Optus and City of Melbourne present The Advent Calendar
Celebrate the spirit of Christmas as the East Shard at Federation Square is transformed into a magical Advent Calendar
24 days, 25 windows, 25 performances....
Melbournes much-loved giant Advent Calendar is returning to Fed Square this Christmas.From Monday 1 December to Wednesday 24 December, Federation Square will present a special dailyritual that opens a window on the city.
Located on the facade of the East Shard building, the Advent Calendar uses multi-media projection, aerialperformance and a colourful window display of 25 Christmas icons. Watch as some of Melbournes mosttalented and daring aerialists perform in front of a magical animation and unveil the days window on theside of a three-storey building.
On a journey to find the value of Christmas, two whimsical characters called Hope and Faith search thestreets, shops and horizons of Melbourne. Each night they search for the value of Christmas and behindeach window lies a clue - a Christmas tree, a toy drum, a star, a toy train, 24 windows of Christmassymbols. On the final day (midnight of 24 December) Hope finds the value of Christmas - the ultimate gift.Enjoy a free performance at 9pm every night in December and an extra, finale at 11.30pm on ChristmasEve. A special guest performance by musical comedy act Tripod will follow the 13 December show. And ifthats not enough, The Fracture Gallery will be transformed into an Australian Summer Aquarium whilethe Atrium features a Christmas flight with giant pelicans suspended from the ceiling.
The Advent Calendar at Fed Square has become an iconic event that is recognised around the world as aunique celebration of Christmas in the city. Over the past two Christmas seasons, audiences from all overMelbourne have come to Fed Square in their thousands and people as far away as London and Berlinlogged on to their computers to watch the nightly performance of Advent Calendar live at Fed Square.
The Advent Calendar is presented as part of the Creative Christmas Program at Fed Square.

Dates: 1-24 December, 2008
Time: 9pm nightly, with an extra finale performance at 11:30pm on 24 December
Duration: 20 minutes
Location: East Shard, Fed Square
www.fedsquare.com