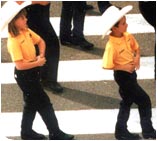 The Tamworth Country Music Festival is where some of Australia's best musicians get together for a celebration of culture, heritage and identity. The official festival spans ten days, from January 17 to 27 2003, and offers free concerts by world-class country music stars, the Golden Guitar Awards and more.
THE OPENING CONCERT

WHERE: Bicentennial Park, Kable Avenue
WHEN: January 17, 2003
TIME: 7pm

The Opening Concert is the first major event on the 2003 Tamworth Country Music Festival calendar and promises to be up there with the best.

Held in the city's beautiful Bicentennial Park, the Opening Ceremony will provide the Festival fans with a taste of the different genres of entertainment, allowing them to sample a little of what lies ahead for the ensuing ten days. Arriving with their fold-up chairs and blankets, around 12,000 enthusiastic people will enjoy this free, open-air event.

During the evening, the official Festival Flag will be raised by the Mayor of Tamworth City marking the start of all the music and fun.

THE GOLDEN GUITAR AWARDS

WHERE: Tamworth Regional Entertainment Centre
WHEN: January 25, 2002
TIME: 8pm

The stars of Australian country music shine at the main event of the Tamworth Country Music Festival, the Golden Guitar Awards. Find out how you can join the thousands of fans, artists and industry people on country music's night of nights.

Since 1973, the Country Music Association of Australia has promoted and developed what they describe as "the music of the land and of the people" through the annual Golden Guitar awards - a star-studded concert featuring the cream of Australian country music and the brightest rising stars.

For more information visit http://www.tamworth.nsw.gov.au or http://www.events.nsw.gov.au.